Next-gen 5G mobile networks are going live all over the country to enable users to casually download data at lightning-fast speeds, and T-Mobile has just activated its own.
Like Verizon, Sprint and AT&T, T-Mobile's initial network will operate on higher-frequency "millimeter wave" (mmWave) bands, which will supposedly provide faster speeds but have less range. (A lot less, if our early experiences with Verizon's 5G network in Chicago are representative.) 
But unlike the other carriers, T-Mobile is augmenting its hyperlocal mmWave coverage with low-range bands below 1Ghz. Those spectrums cover more area but deliver lower speeds, but they could theoretically need less infrastructure reach suburban and rural customers. It's unclear when those will go online, but at least it's a clear plan.
T-Mobile's 28 Ghz mmWave frequency network will be combined into a wider 5G setup with a lower-band 600 Mhz spectrum it aimed to launch in 30 cities later in 2019, per CNET. It's augmented that with a nationwide launch in December of its 600 Mhz spectrum range that covers 60% of the US population across 1 million square miles, according to a T-Mobile post. 
This would theoretically combine with Sprint's mid-band 2.5 Ghz 5G network, assuming the two carriers' merger goes through.
The signature 5G phone coming to many of these carriers? The Samsung Galaxy S10 5G with its Snapdragon 855 chip. T-Mobile customers can pick one up and use an S10 5G, though that's since been accompanied by the Samsung Galaxy Note 10 5G and the OnePlus 7T Pro 5G McLaren Edition.
As expected, the S10 5G will only work on T-Mobile's mmWave networks - not the following mid- and low-range frequency networks, the carrier confirmed to The Verge. If that's not up your alley, you can opt for the OnePlus 7T Pro 5G McLaren Edition, though that doesn't have a price or release date yet.
T-Mobile 5G plans
T-Mobile still hasn't announced many details about the full extent of its rollout plans - indeed, we only learned about its initial six-city 5G network launch the day they went live. 
We also learned what its 5G network will cost...but only if its merger with Sprint goes through. Assuming both carriers combine into the so-called 'New T-Mobile,' the resulting super-carrier won't charge extra for 5G for at least three years along with "strong economic incentive for even lower prices in the future," according to a blog post.
Given that the FCC approved the merger in mid-October, with only a lawsuit standing in the way of it going through, it's even more likely that the New T-Mobile and its multi-spectrum 5G network will be a reality.
T-Mobile 5G coverage map and rollout cities
T-Mobile previously asserted back in 2018 that it would bring 5G to 30 cities to start, and the first customers to get it will be in New York City, Los Angeles, Dallas, and Las Vegas. The carrier made good on its claims, launching in those four cities as well as Cleveland and Atlanta on June 28. 
What's more, T-Mobile did what Verizon and AT&T have thus far failed to do: provide coverage maps. That's right, you can actually go look at where customers should be able to get 5G service in cities where the 5G networks are live. That's a big gesture toward transparency that other carriers have refused to do.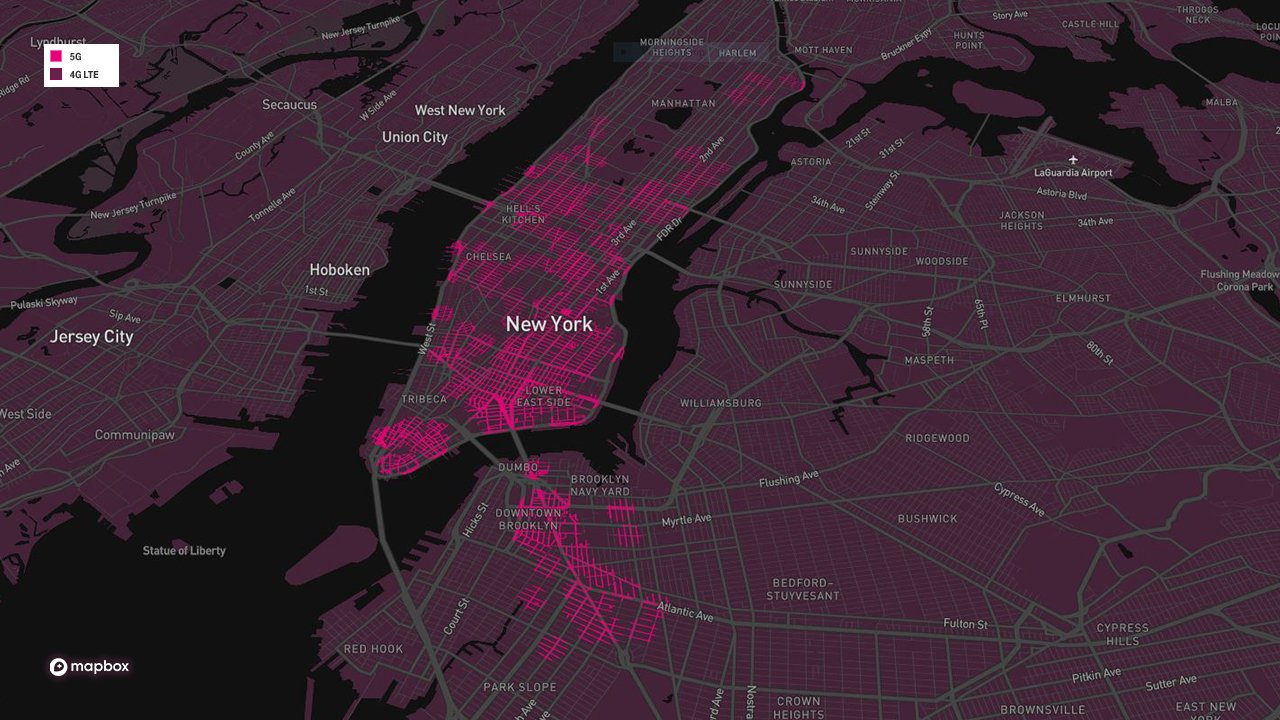 For the sub-600mHz, T-Mobile confirmed that both the Samsung Galaxy Note 10 Plus 5G and the OnePlus 7T Pro 5G McLaren Edition work with on the lower frequency 5G network.
After that is a broad rollout to rural customers. T-Mobile opted for sub-600MHz for its farther range, which should cover more area with less infrastructure than the high-frequency networks other carriers are building out. https://www.techradar.com/news/oneplus-7t-pro-5g-mclaren-edition-will-be-a-t-mobile-exclusive-in-us 
Once fully launched, T-Mobile claims its network will cover over 95% of the country's around 62 million rural residents. The carrier launched its 600 Mhz rural-covering network in December 2019 with an initial coverage of around 60% of the US population across over 1 million square miles, according to a blog post. Put another way: that's more than 200 million people in 5,000 cities and towns.
The speeds from that network obviously won't be as high as those found on mmWave networks, but they'll be the first taste of 5G rural users will have. They might not see the network's standard 450Mbps average download speeds, but two-thirds of rural users will get above 100Mbps by 2021 (up to 90% in 2024), according to the carrier's blog post. If that's true, those speeds will still be notably better than the 30-40Mbps on today's 4G LTE networks.
The network's urban arm saw early testing, er CNET, an employee of Speedtest.net owner Ookla managed to hook up to T-Mobile's network in NYC using one of the carrier's SIM cards plugged into an unlocked Samsung Galaxy S10 5G phone. The outlet reported high speeds just under 500 Mbps (download), which is still impressive even if it pales compared to the over-1 Gbps seen in Verizon's mmWave network in Chicago. 
T-Mobile 5G phones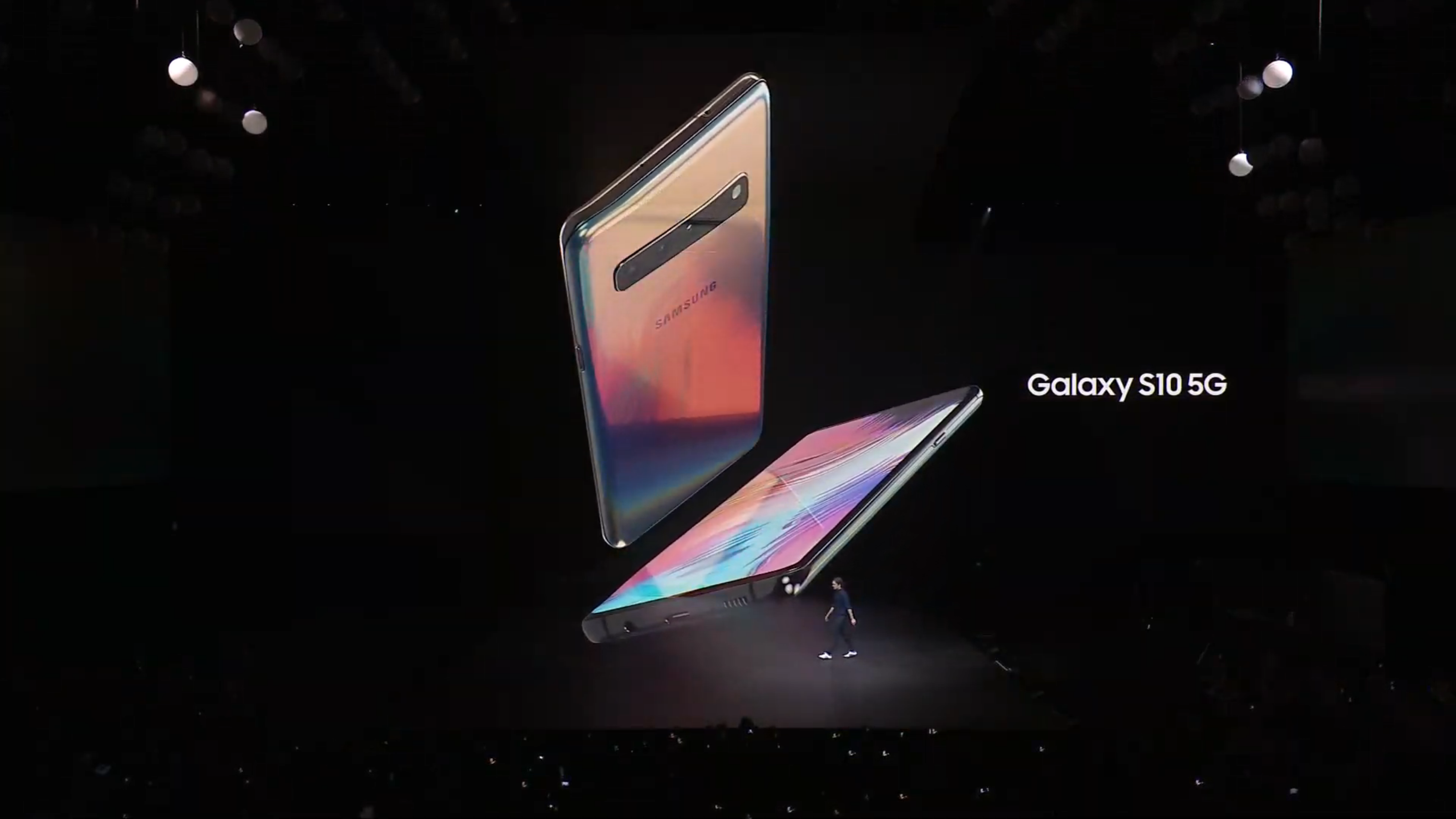 Samsung Galaxy S10 5G
As with the other carriers, T-Mobile will also support the Samsung Galaxy S10 5G. From what we've seen, this will be a true top-tier device: a 6.7-inch AMOLED display, the latest Snapdragon 855 chip, 256GB of storage and 8GB of RAM. We don't know how much it'll cost; the closest comparison, the S10 Plus, starts with lower specs at a baseline of $999 / £899 (about AU$1,398).
The S10 5G is otherwise a stepped-up version of its S10 siblings, packing a trio of rear lenses (12MP wide, 16MP ultrawide and 12MP telephoto) as well as a fourth time of flight sensor to measure depth. There's another TOF sensor on the front for depth-augmented selfies. This phone is coming to T-Mobile customers sometime in summer.
S10 5G first, but not widespread
Early reports suggest the S10 5G won't, however, work on the broader nation-spanning primary network T-Mobile is working on now: a low-band (sub-600MHz) spectrum to power its early 5G networks. It's expected to offer the opposite of mmWave - less speed than high-frequency networks, but more range for better coverage. 
Eventually, it plans to supplement this with mid-frequency bands as part of its spectrum of service – it's currently testing millimeter wave in Atlanta, Los Angeles, Miami, New York, Ohio and a few other places (potentially covering 100 million people), per an MWC 2019 interview with PC Mag. But the carrier plans to add much of its mid-frequency bands after the carrier's proposed merger with Sprint – which US Senators have opposed.
In lieu of those other bands, T-Mobile has carried on testing its sub-600MHz 5G network, and is purportedly rolling out 5G it in its planned first 30 cities, which customers won't be able to take advantage of until more phones come out. For the sub-600MHz line, this might not be until the second half of 2019, per CNET. 
The reason? There just aren't any phones out that'll work with the low-band network. Not yet, anyway.
Remember the Samsung Galaxy S10 5G? Its Snapdragon 855's LTE modem doesn't support 5G, so the phone relies on a discrete modem – the Qualcomm Snapdragon X50 – to connect. 
But the X50 modem doesn't support 'sub-6GHz' (in T-Mobile's case, its sub-600MHz) networks. At a Snapdragon summit back in December, Qualcomm's president implied that a modem won't be available to support T-Mobile's early 5G networks until at least mid-2019, per PCMag.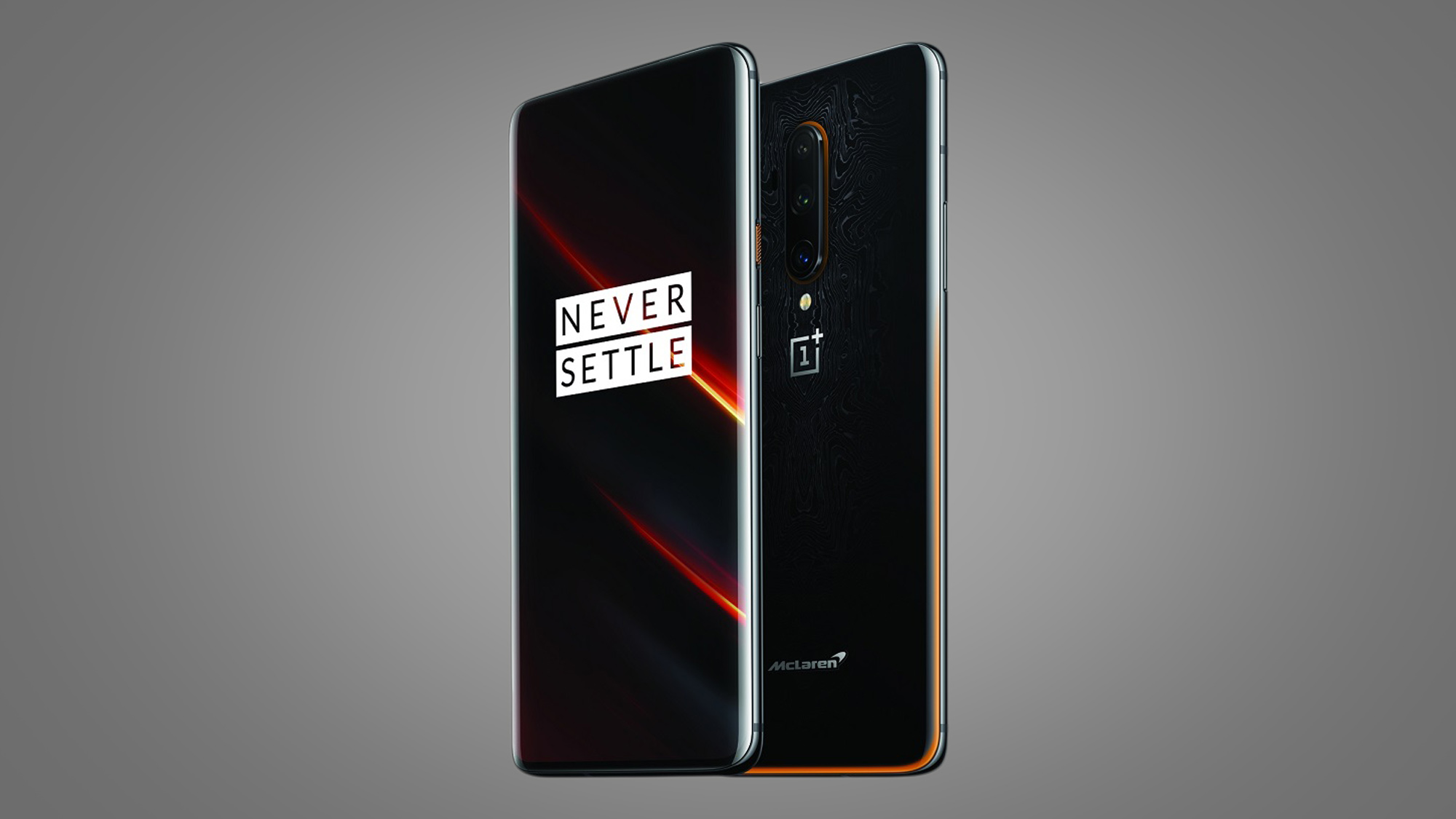 OnePlus 7T Pro 5G McLaren Edition
While Sprint got the OnePlus 7 Pro 5G, T-Mobile nabbed exclusive rights to release the OnePlus 7T Pro 5G McLaren Edition. We don't know when it will go on sale or how much it will be, but it will certainly be a pricey option for T-Mobile customers.
The OnePlus 7T Pro 5G McLaren Edition is identical to its non-5G counterpart - which is still a powerful device, maxing out the RAM at 12GB paired with a Snapdragon 855 Plus. Befitting its branding, the specialized flagship also has a sleek orange-and-black color scheme.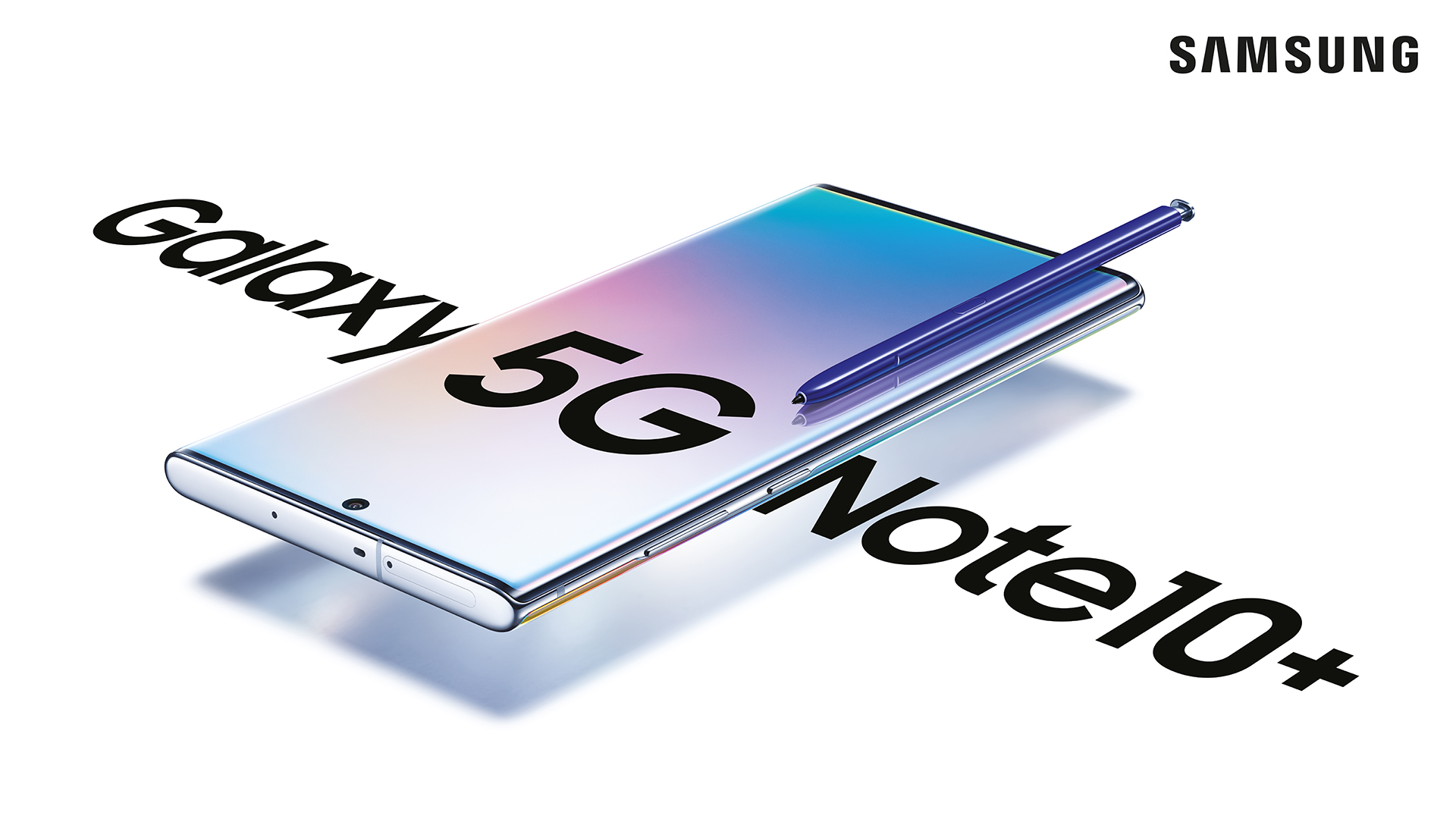 Samsung Galaxy Note 10 Plus 5G
When T-Mobile announced its sub-600 Mhz suburban- and rural-oriented network at the end of December, it stated two phones would be compatible: the OnePlus 7T Pro 5G McLaren Edition and the Samsung Galaxy Note 10 Plus 5G. The latter is, of course, the extra-size Samsung flagship with S Pen stylus.
With a 6.8-inch display, Snapdragon 855 chipset, 12GB of RAM and starting 256GB of storage, the Galaxy Note 10 Plus 5G is a seriously beefy phone. Couple that with a triple-rear-lens + time-of-flight sensor for camera capabilities and the handset seems as well rounded as it gets. Just be aware of its equally hefty $1,299 pricetag, though T-Mobile likely has special offers to incentivize new adopters to its 5G network.
Could T-Mobile's 5G plans change
If the carrier merges with Sprint, it's unclear if the combined company's ur-network would support additional higher-band devices like the Samsung Galaxy S10 5G, or if 2019's 5G phones will stay compatible along carrier lines until long into 2020 and beyond. 
That could change with the next generation of Qualcomm modems the company announced before MWC 2019. The Snapdragon X55 modem will surpass this year's X50 in several ways, including allegedly supporting virtually any band in any region in the world. 
The X55 is expected to appear in later 5G phones. It's all speculation from here, but the X55 should have a stronger showing in 2020 – when more phones appear that could connect to T-Mobile's 5G network.
In fact, T-Mobile CTO Neville Ray confirmed to PC Mag that the carrier would only launch its 5G network once phones were available on the X55 modem chip. We'll just have to wait for more phone details as they appear.
http://www.techradar.com/news/t-mobile-5g-phones
Source: TechRadar - All the latest technology news
By: David Lumb