It's been an interesting year for even the best Apple Watch apps. In the spring it seemed as if the Watch had lost its sparkle, with many big-name apps either languishing or being pulled from the Watch altogether. The problem wasn't that Apple Watch apps are a bad idea, though. 
Far from it, as our selection here demonstrates. It was that sometimes, apps were designed to answer the wrong question: "could we make a Watch app?" but not "should we?"
Now, watchOS 6 is set to bring an App Store to your Apple Watch for the very first time. That may encourage app developers to take the Apple Watch more seriously, so 2019 may be a big year for great new apps on your wrist.
The Apple Watch 4 is proving pretty popular too, and that's why you're probably here checking out the new apps. In fact, it's one of the best smartwatch options out there, though it has been overtaken by the new Apple Watch 5.
Our favorite apps, the apps that are still here after a bumpy year, both should and could have been made. They exist because they're useful, or because they're entertaining, or because they make your life that little bit better. 
In this round-up you'll find apps for podcasting and procrastinating, for getting fit and getting stuff done, for messing around and for sorting stuff out. 
Before you get into our list remember to head into the Apple Watch main app on your iPhone - that's where you'll see a list of the apps already installed on your phone that can also be transferred to your Watch. If you see any you like the look of here, you'll need to download them to your iPhone first.
And make sure to check this article weekly, as we'll add a new app each week, highlighted below.
Apple Watch app of the week: Transit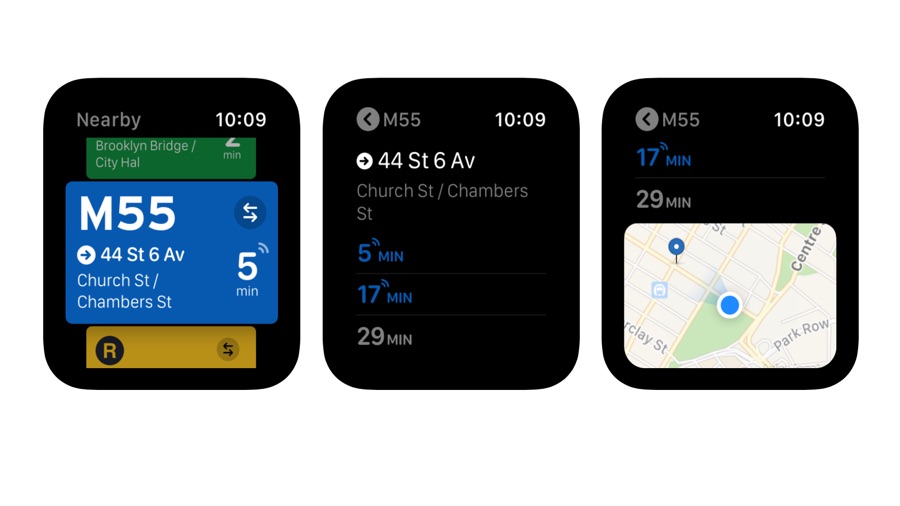 There's a bit of a story to this one. Transit was one of the early adopters of the Apple Watch, and it was one of the first big-name apps to dump the platform too: it has been off the App Store for the best part of two years. And now it's back in what's been described as a vote of confidence in the Watch.
Like its iPhone companion, Transit makes it easy to find your way around using public transport. The Watch version lets you know arrival times for the trains or buses you want to catch, as well as details of arrivals due afterwards, and it also displays a little map to help you find where you need to go.
One of the big draws of Transit is that it provides real-time data: we all know that there's often a huge difference between when a bus or train should arrive and when it actually does.
It can also warn you of delays and service disruptions, schedule changes, and anything else that might affect your travel plans, and the iPhone app enables you to plan trips even when you're offline. Whatever the reason for the developers bringing it back, many public transport users will be glad to get it back on their wrists.
Best Apple Watch apps for fitness and running
There's no denying that the main thrust of the Apple Watch since the second model is for fitness: it's packing GPS, heart rate, water resistance and improved sensors to make the most of the fact people like to work out with this thing - it even connects to gym equipment.
This list of Apple Watch fitness, running, wellbeing and health apps are nearly all must-have - if you're going to do one thing with your new Watch, use it to become a healthier you in mind and body.
Hole19 Golf GPS & Scoring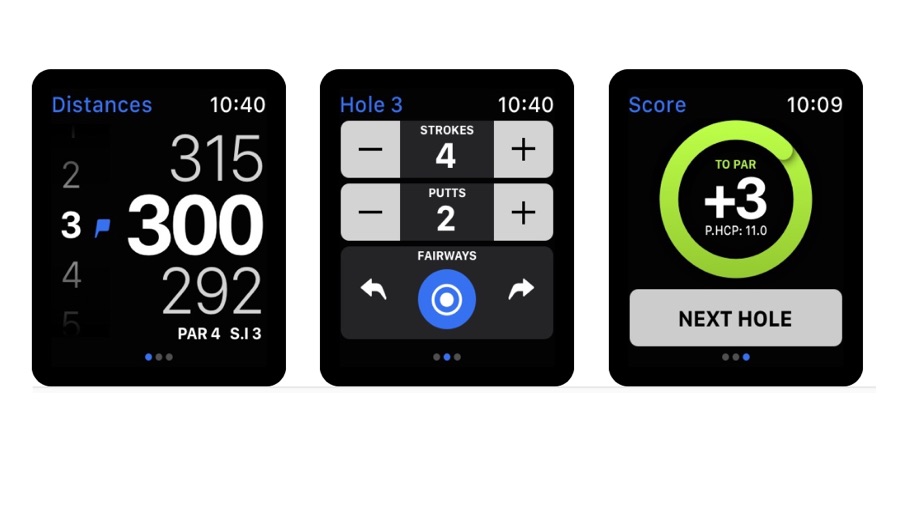 Hole19 claims to be the most-used golf GPS range finder in the UK, with more than 10 million rounds registered, and it claims to be as accurate as a real caddie – although it doesn't specify which one.
As is usually the case with sports apps the bulk of the work is done by the iPhone app, with the Apple Watch companion providing just the essential features and information you need while you're on the green.
The main app offers two key tools: GPS range finding so you can see how far you are from your goal as well as any hazards, and a digital scorecard that you can use to track your stats over time.
On your watch, it shows you the distance to the front, center and back of the green; swipe and there's an input screen where you can track your performance. It's all very simple and straightforward, enabling you to track your playing without distracting you for too long.
The usefulness of the app depends mainly on whether it knows about the course(s) you want to play. Hole19 knows over 42,000 courses in 201 countries, so yours should be covered, but the app's free to try so you can make sure it's right for you before signing up for a subscription.
Gymatic Workout Tracker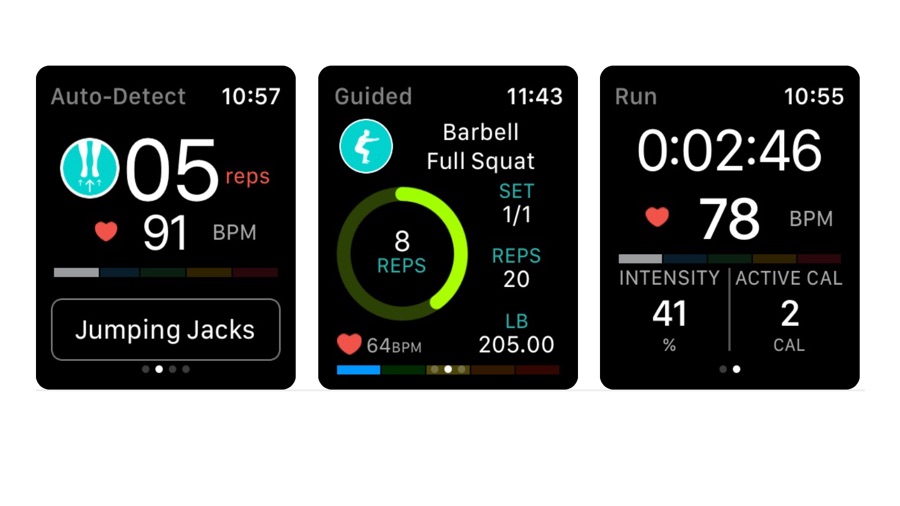 How's this for a sales pitch: Gymatic delivers "data and insights not visible to human eyes". How do you read it, then? Bad marketing copy aside, the app is a powerful and comprehensive workout tracker that can automatically log your workouts and count your reps.
The app also promises more accurate calorie tracking than its rivals because it can identify exactly what kind of exercise you're doing and calculate your calorie usage accordingly.
Gymatic has been designed and tested with a wide range of exercise regimes including but not limited to CrossFit, bodybuilding and weightlifting, HIIT workouts, kettlebell training, calisthenics and machine exercises, and it also automatically tracks running, cycling, rowing and stair climbers.
It's extremely comprehensive. The Apple Watch app provides key stats when you're running or guidance when you're doing barbell squats; if you're doing the latter you'll see your rep counter, the barbell weight, your current heart rate, and how many sets you need to do. There's even a little image showing how to do it.
As with almost all fitness apps, the free version is really just a taster: for the full range of features and tracking you'll need to take out a Premium subscription, which is currently $49.99 / £48.99 / AU$79.99.
RocketBody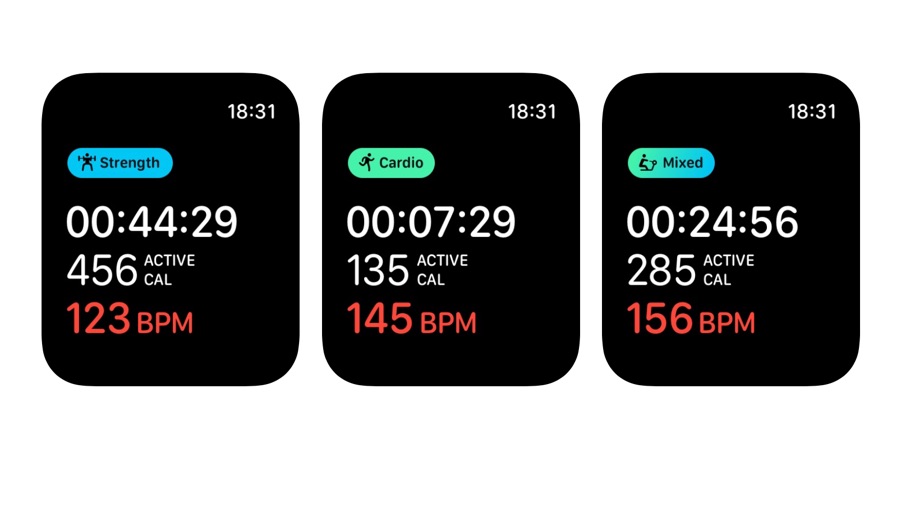 Designed for people who take their fitness seriously, RocketBody doesn't just record what you do. It also predicts your recovery, enabling you to make plans to maximize the effectiveness of future workouts or sports sessions. That's because of its intelligent algorithms, which combine ECG monitoring (from your Watch, if it's a Series 4 or better) with other inputs such as your calorie expenditure during workouts and your food intake.
The main app has been around for a while but the Apple Watch app is new – and surprising, because RocketBody began with the goal of producing a wearable fitness and nutrition tracker. That project appears to have been abandoned and the firm is now focusing largely on software.
The Watch app enables you to control the app's workout tracking from your wrist, displaying your total elapsed time, your calorie expenditure and your current heart rate in a simple, easy to read format.
As with most health apps, RocketBody is a freemium app: to benefit from all of its features you need a subscription. But the price of a yearly subscription seems to vary, so if the app appeals it might be wise to time your purchase carefully.
Heart Analyzer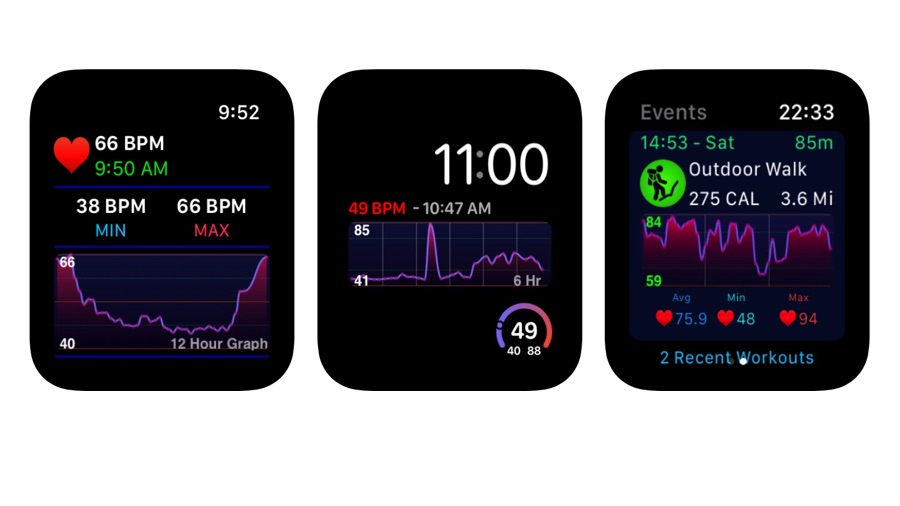 Your Apple Watch does a good job of tracking your heart rate, but it doesn't do such a great job of doing useful things with the data it records. Enter Heart Analyzer, which takes the measurement data and combines it with other data sources to help you develop a much clearer picture of your health and fitness.
This is the seventh version of the app, and its data can now produce monthly PDF reports (via your iPhone). It also has a new Heart Home screen where you can view personalized metrics such as cardiac exercise levels, VO2 max and maximum and minimum heart rates, and compete them against typical values for your age and biological sex.
The bulk of the work happens on your phone, but the Apple Watch bit does some interesting things too. It has a constantly updating graph of your heart rate, and for Series 4 or above you can see the graph as a complication without having to open the app. The Watch app also enables you to see key data when you're doing a workout, combining heart rate information with calories burned and distance traveled. It does an excellent job of presenting a lot of information without being overwhelming or intimidating.
Meditation by 10% Happier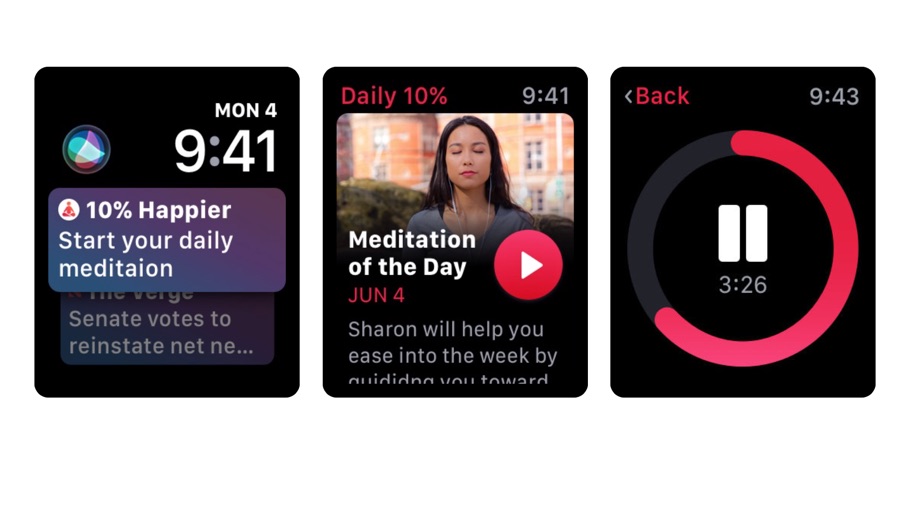 Some apps promise to change your life. Not this one: it just says it can probably make you 10% happier. Meditation By 10% Happier is a former Apple award winner, offering guided meditations, videos, talks and even content to play as you drift off to sleep. It also provides little nuggets of wisdom you can dip into when you've got a moment in your busy day, and the content is updated weekly to stave off familiarity.
The title comes from the best-selling book and life coaching site Ten Percent Happier, in which ABC news anchor Dan Harris decided to change his life after an on-air panic attack. It's designed to distil the things Harris found on his journey from skeptic to, well, 10% happier.
As you'd expect, the bulk of the content is for your phone, but it makes good use of your Apple Watch by reminding you when it's time to chill and enabling you to play audio meditations from your wrist.
As with most apps in this genre, the core app is free but most of the content requires a subscription. That's $99/£87.99/AU$139.99 a year or $9.99/£5.99/AU$11.99 a month, and you can try the app for 7 days before paying.
Seven - 7 Minute Workout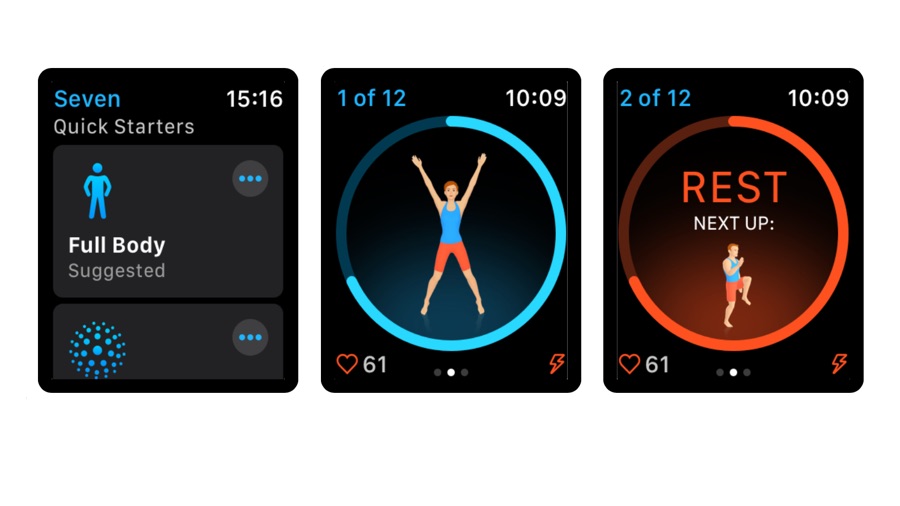 What can you do in seven minutes? You could listen to one and a half pop songs. You could watch one-tenth of an episode of Game of Thrones. Or you could change your life. That's what Seven promises. It's an app based on the idea that anybody can get much fitter if they can spare just seven minutes a day. No gym memberships, no equipment, just you and your Apple Watch.
We'd recommend starting with the phone, though: it shows you how to do each exercise properly, something the Apple Watch's screen isn't big enough for. There's no point knocking yourself out for your seven minute stretch if you're doing it wrong and causing more harm than good. Once you know what you need to do though you can rely on your Watch to time your exercises and breaks and to record your activity.
The app is easy to use, packed with useful exercises and provides good visual feedback and motivation. You can compete with your friends or just earn in-app achievements, and if you sign up for the $9.99/£9.99/AU$14.99 monthly subscription you get access to over 200 exercises to keep your regime interesting. By enabling you to exercise anytime, anywhere, Seven might just help you get the exercise habit.
Swing Tennis Tracker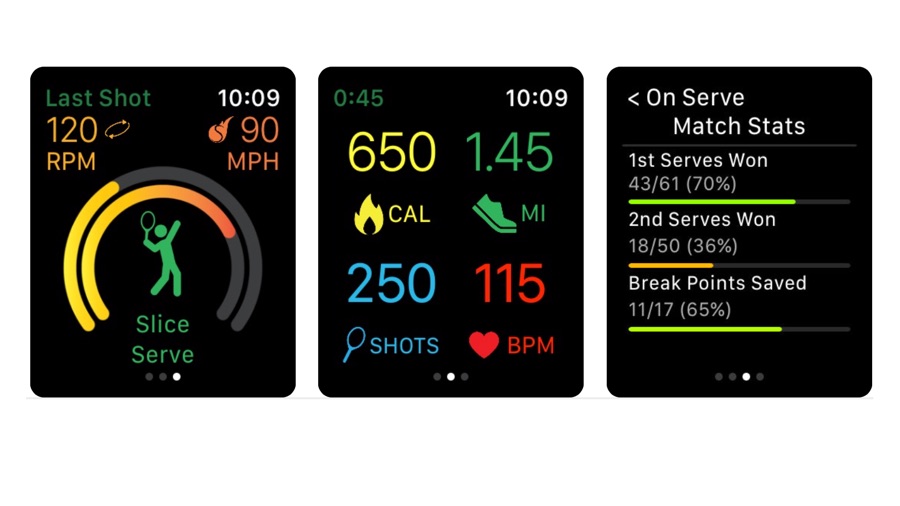 Built for serious tennis players under the guidance of Andy Roddick and James Blake, Swing Tennis Tracker is designed to analyze your swings as well as record your stats. It isn't just a solo app: it can also sync scores with other Apple Watch users on the court. There's excellent Siri integration for starting matches and practice, integration with the Activity and Health apps, and excellent visual feedback to show you how hard you're hitting.
The Watch component concentrates on the recording and feedback, while the phone app takes care of scores, stats and video, as well as providing action advice after each hit. It's a great app for individual players but it can also be used by parents, coaches and in teams, to track others' performance too.
There are two subscription plans, the $4.99/£4.49/AU$7.99 per month Premium and the $9.99/£9.49/AU$15.49 Pro. The former unlocks historical statistic graphics, head-to-head records against non-Swing users and unlimited analysis graphs for each session, while the Pro subscription adds video lessons from tennis pros and intelligent analysis of your performance that identifies key areas for improvement after each session.
Start With Yoga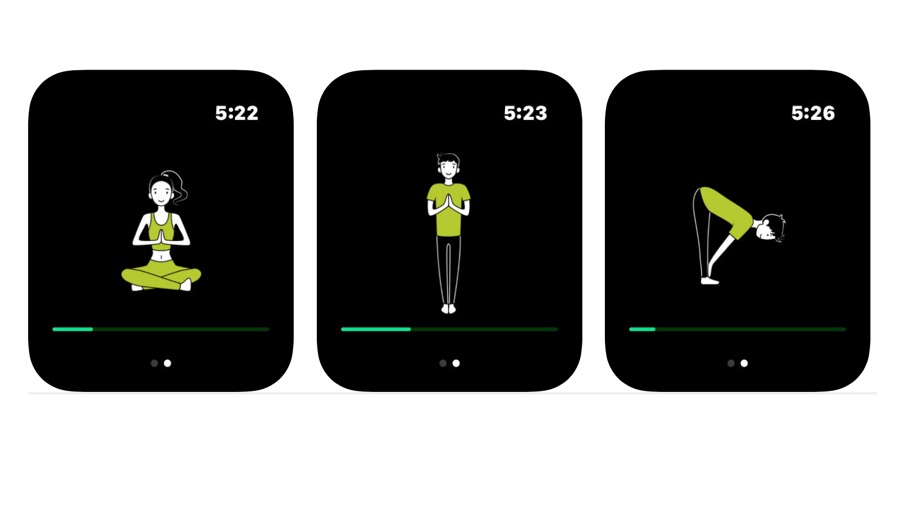 Start With Yoga does exactly what the name suggests: it's designed to help you get started with Yoga. It was designed partly out of frustration with other yoga apps, which didn't come with independent Apple Watch apps. As the developer told us: "Most yoga apps need you to look at your phone, which doesn't really work for yoga." Hence this yoga app for your Apple Watch, which enables you to stay far away from the distractions of your iPhone.
It's very simple, and that's part of its charm. You get five pre-defined routines to begin with, and you can use the iPhone part of the app to create your own custom ones from the clear and cute illustrations. Tell the app how long you want to hold a position for, and it will monitor each stretch, moving on to the next one when it's time.
The emphasis is very much on yoga beginners here: while the app doesn't include some of the more advanced positions more experienced practitioners might expect, there's nothing here that's likely to put your back out either - although as with any exercise app, always get expert advice if you have any health or fitness issues that might affect your ability to exercise.
Tag Heuer Golf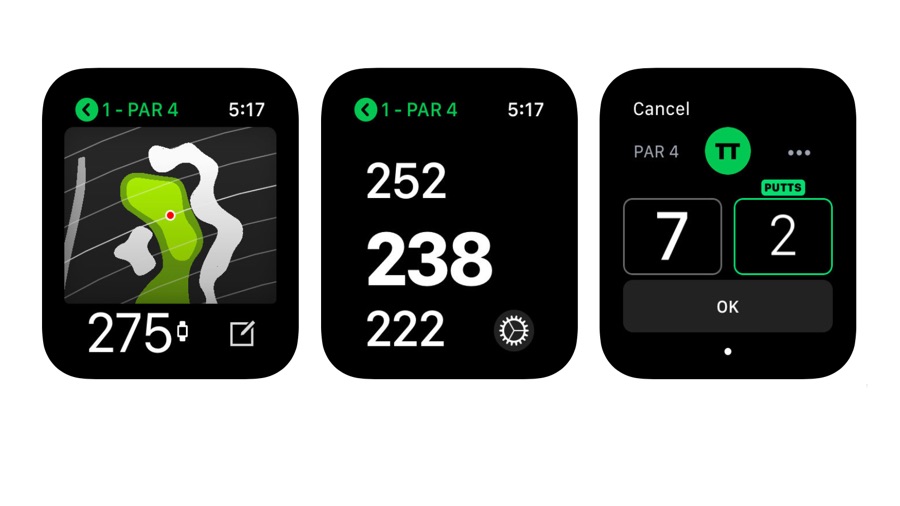 You may know Tag Heuer for its reassuringly expensive timepieces, but you might not know about its prowess in making smartwatches for golfers. With the new Golf app, the company brings its golfing talents to your Apple Watch.
The main iPhone app is free, but the Apple Watch companion is only available to subscribers. If you subscribe, you get most of the features of the firm's smartwatch: maps of nearly 40,000 courses worldwide that tell you where the hazards are, shot distance measurement and real-time statistics. You can track not just your own scores but those of up to three friends too.
As you'd expect, the companion iPhone app is well designed and makes good use of the information from your Watch: it can show you not just how well you performed today, but how well you performed in your last 20 rounds or all time. It's packed with stats: the best score to par, the longest shot, the putts per hole… there's probably a section rating the garishness of your trousers too.
The price might seem steep but golf doesn't come cheap – and when you consider that you're getting much the same feature set as a watch that can cost four figures, it does represent comparatively good value for money.
ActivityTracker Pedometer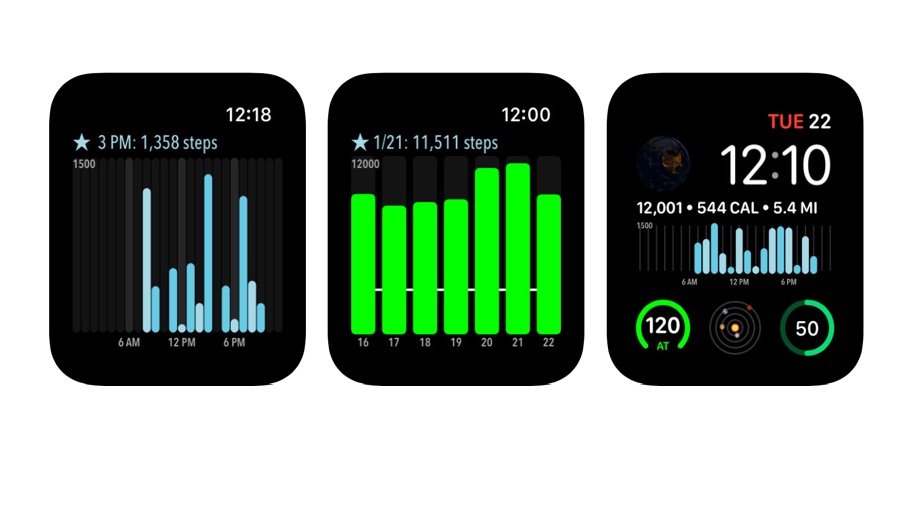 We've covered ActivityTracker before, and it's had some significant updates since we last looked. In addition to support for the Apple Watch 4, the latest iPhones, iOS 12 and watchOS 5, it boasts four new complications for the new Infograph watch face and an updated engine to more accurately record activity times.
As before, the main app is designed to track your activity without using your phone or watch's GPS features, so it's less demanding on battery life. It uses your device's motion processor to record and calculate steps taken, stairs climbed, calories burned, distance traveled and active time, and you can see how well you're doing on an hourly, daily, weekly or monthly basis.
You can also import your historical data from Apple's Health app so you're not starting from a clean slate of data.
If you subscribe to the Pro version for a modest $4.99 / £4.99 / AU$7.99 it offers complications for instant stats on your Apple Watch and synchronization of steps between iPhone, Watch and the Health app. Pro users can also move data from one iPhone to another. Whether you subscribe or not the Watch app gives you an overview of the last hour, day and week in the form of attractive and effective graphs.
Slopes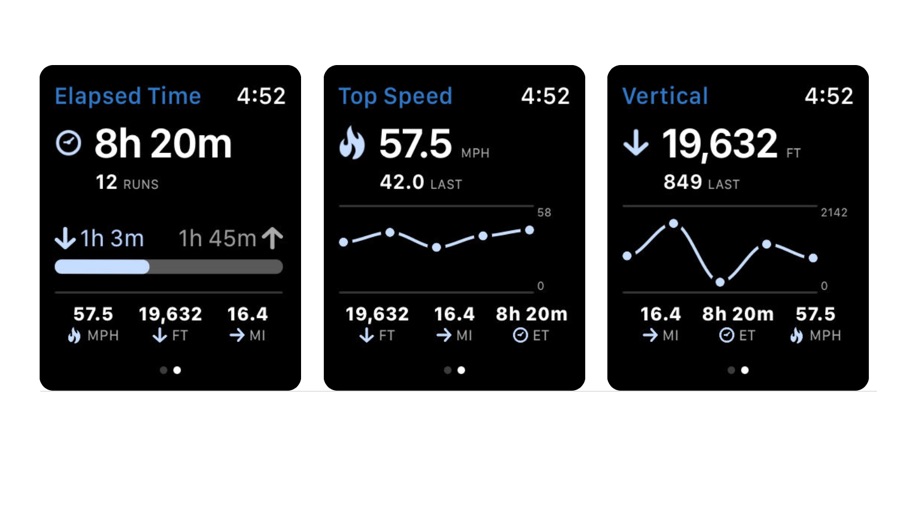 Late in 2018, Apple introduced improved snowboarding and skiing tracking for the Apple Watch Series 3 and later. That's been a boon for snow apps such as Slopes, which can use the improved APIs to gather more useful information than ever before.
With Slopes you can track your speed, vertical, distance, lift vs trail time and more, getting the information you need right now on your wrist and sharing that data with the iPhone so you can analyze it later.
Slopes is very clever. It automatically detects runs and lifts, it can replay your runs in 3D with heat maps showing your speed on each bit of the run, and it even integrates with your photo library to automatically display photos you took on your skiing or snowboarding trips. The app also integrates with the Apple Health app, recording details of your workouts and the calories you've burned.
As with many sport apps the core version of Slopes is free but there's also a premium subscription that introduces extra features. Here that means live run-by-run breakdowns, unlimited run and lift stat breakdowns, premium maps and even virtual 3D mountains to show you where you've been. An annual pass is a very reasonable $19.99/£12.49/AU$17.99.
Strava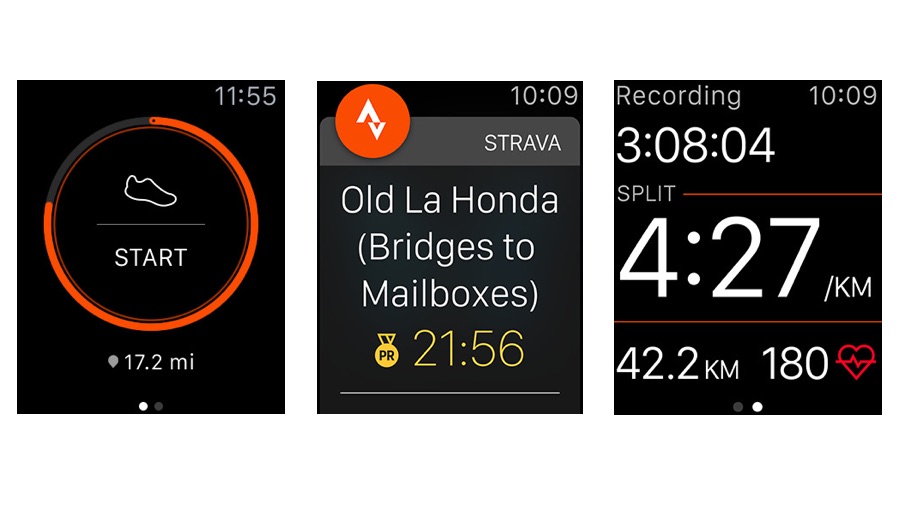 Strava is one of the most popular running and cycling apps around, but it's always required you to have your phone or a non-Apple smartwatch to track your travels and record your vital statistics. Not anymore.
If you have an Apple Watch 2, the Strava Apple Watch app can use its GPS to record your run without requiring you to strap a phone to anything. The interface isn't as pretty as the iPhone app's interface, but when you're running or cycling that doesn't matter: the information you need is presented cleanly enough and the app is simple and straightforward to use.
The main app is free and offers essential features including distance, pace, speed, elevation and burned calories, and there's a premium service for $5.99/£5.99/AU$9.99 per month or $59.99/£54.99/AU$89.99 per year that offers more detailed post-exercise analysis, live performance feedback and personalized coaching - although not through the Watch.
However, if you're someone who uses the premium features like Beacon on the main app, you might not find Strava on the Apple Watch to your liking compared to using it on the phone.
Nike Run Club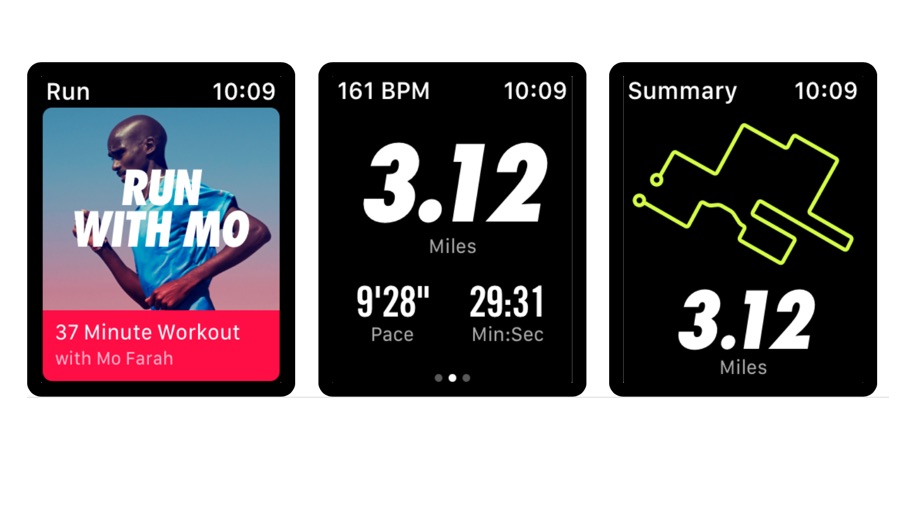 The ongoing love-fest between Nike and Apple continues to bear fruit: the latest iteration of the Nike Run Club app introduces some welcome improvements. 
It now integrates with Siri Suggestions, which means the app can now suggest good times for a run based on your previous runs (the feature is off by default so it won't nag you if you don't want it to), and there are new Apple Watch complications including one for the Infograph face that shows how far you've run this month.
There's hardly a shortage of running apps in the App Store but Nike's budget is a bit higher than most, so the app feels a lot more premium than many others. It tracks and stores all your runs thanks to your Watch's built-in GPS, enables you to listen to audio guides as you run, offers a range of challenges to keep you motivated and has good social sharing features, so you can turn your friends into cheerleaders. 
It's very well designed and the Watch app doesn't sacrifice substance for style: while visually it's very attractive it also shows all the information you actually need as you're pounding the pavements. It's a really good running app.
Nike Training Club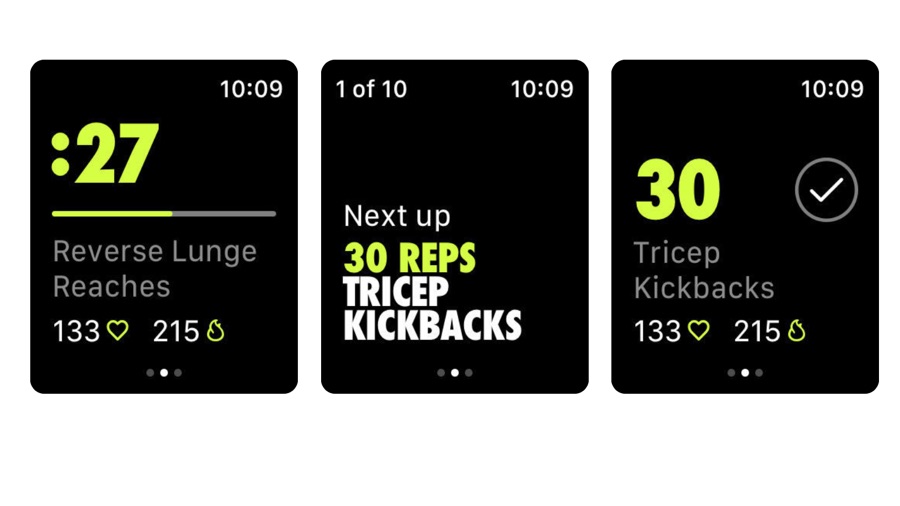 Nike and Apple are best friends forever, so it's not a huge surprise to see Nike unveil another Watch app. This one's really good, too. Describing itself as "your ultimate personal trainer", Nike Training Club has more than 180 workouts covering strength, endurance, mobility and yoga, and they're all free. There are daily personalized picks based on your previous activity, flexible training plans to help you achieve your fitness goals, and tips from top trainers.
The app splits jobs between phone and Watch. The former is where you do the planning and tracking; the latter is what you wear while you're actually working out. By necessity as well as design that means focusing only on the information you really need right now, such as your heart rate and how many reps you still have to do before you can undo all your efforts with some cake and beer.
The app is by no means unique in its combination of Watch and workout tracking, although it does have Nike's immediately recognizable and individual visual style. But what's significant about this app is that none of its many workouts are hidden behind in-app purchases or pricey subscriptions. Everything in the app is free.
Headspace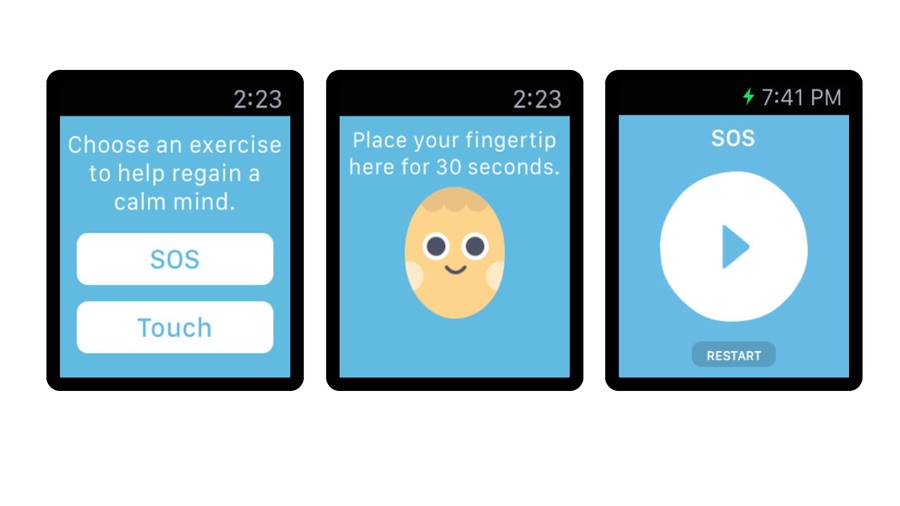 If you've ever felt that life is just that bit too busy or stressful, Headspace could help. It's based around mindfulness, which is all about getting you to feel calmer without too much effort. In fact, it's the opposite of effort: mindfulness is about taking a break from the rush.
The Apple Watch app is part of a wider offering for iPhone and iPad: it acts as a reminder and a coach, urging you to pick an exercise and focus on it for the allotted time. It also has an SOS mode for when things feel too much and you need help instantly. But it's the main app that does most of the work, with daily mindfulness exercises and sessions designed to help with everything from workplace stress to sleep problems.
It's very well done but one thing that might raise your stress levels is the cost: while the app is free to try it really needs a subscription to unlock its most useful features, and that subscription is $12.99/£9.99/AU$19.99 per month or $94.99/£74.99/AU$149.99 per year. That's an auto-renewing subscription too, so you need to disable that in iTunes if you don't want it to recur automatically.
WebMD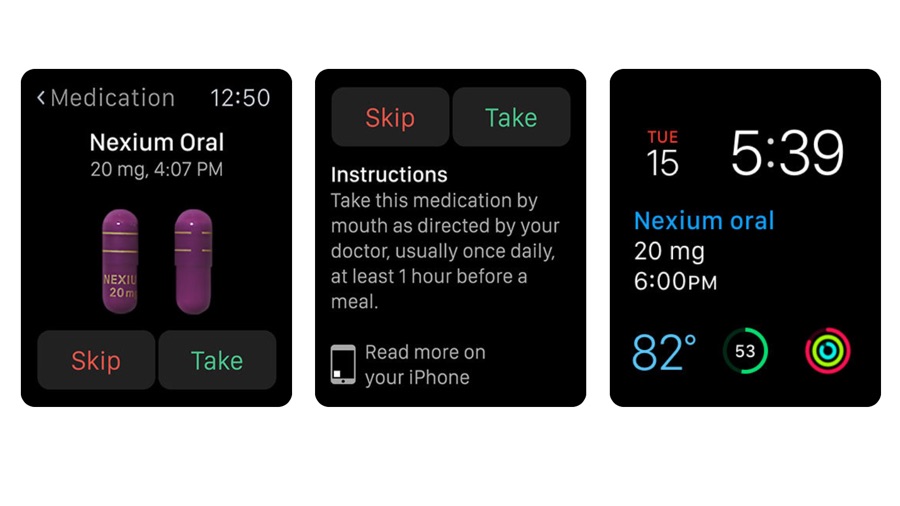 Medical apps don't just exist to persuade you that your mild headache is terminal brain cancer. They can help keep you healthy too. While WebMD does indeed let you compare your symptoms with various illnesses and conditions to scare yourself silly, that's not the most interesting thing about it or its Watch companion app.
WebMD enables you to detail your medication schedules, with dosage information and the option to be reminded of what you need to take and when you need to take it. This can be in the form of a notification, or you can have it as a Watch face Complication so it's right there in the middle of the display.
It can also remind you of any prerequisites, such as whether you need to take your medicine with food or on an empty stomach. It's the sort of simple but very useful thing the Apple Watch does well.
Over on the main iPhone app there's plenty more to discover. You can read up on the side effects and precautions of specific pills or patches, find out if you need to go hiding from the flu or just catch up on the latest health and wellbeing news from various credible sources.
WorkOutDoors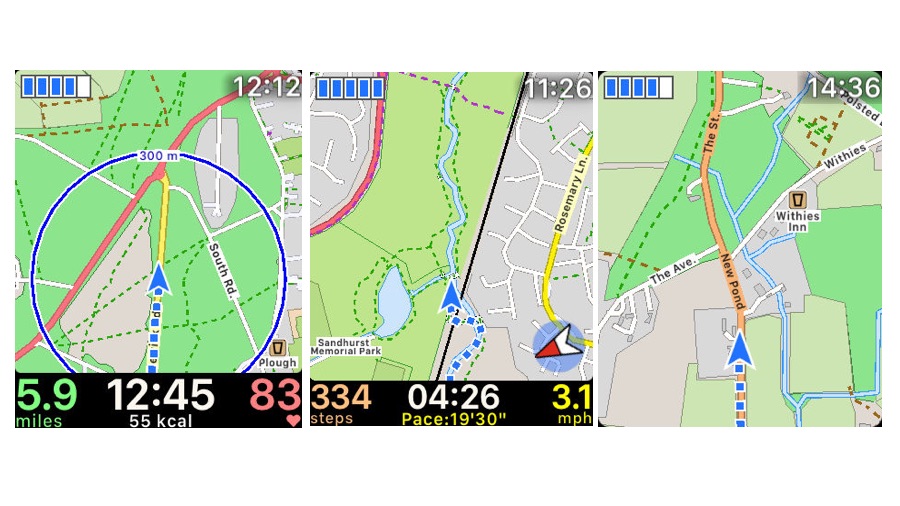 If your idea of good exercise involves going far from the madding crowds, you'll like WorkOutDoors. It's a workout app that's based around vector maps that you can easily rotate and zoom, tracking your location and your progress.
It uses the Watch's GPS (if you have a GPS-enabled Watch) so there's no need to take your phone on a hike, cycle or snowboard run, and features such as breadcrumb tracking, custom points of interest and customizable stats displays enable you to make the app truly your own.
In a nice touch you can export your workouts from the iPhone app in GPX format, which can be imported into many other workout apps and sites.
It's very, very well thought out. For example, something as simple as the stats display is available in a variety of sizes to suit different kinds of activity (not to mention different levels of eyesight).
It makes good use of color-coding to make routes crystal clear, waypoints can provide extra information such as directions, and the map automatically rotates as you move so you're always sure of the right direction. It's a brilliant app for pretty much any outdoor activity.
Streaks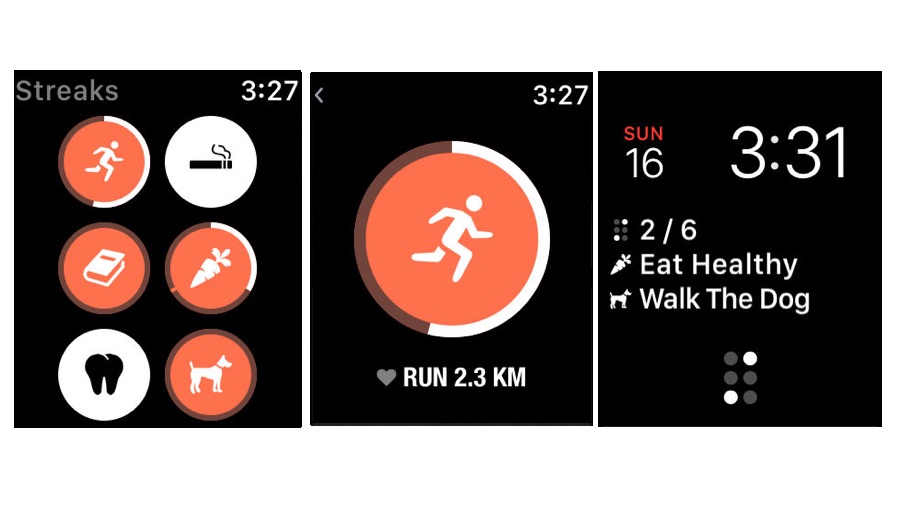 The trick to living better isn't to damn near kill yourself on a treadmill and then give up after a few weeks. It's to make smaller, lasting changes to your life, changes that you can and will actually stick to. And that's what Streaks offers.
Whether you're trying to eat more healthily, exercise more or break a smoking habit, Streaks enables you to track positive and negative habits. It offers a range of reporting tools so you can see exactly how well you're doing, and you can track up to 12 different tasks at once.
They needn't be exercise or eating tasks: you can remind yourself to walk the dog, study, take vitamins or practice a musical instrument. It's good to see wheelchair users included in the default tasks list too.
Where Streaks really shines is in its integration with the Health app, which enables it to pull data to use for monitoring suitable targets you've set. That reduces a lot of the form-filling of similar apps, and it's particularly effective if you're trying to work on good healthy habits or eliminate unhealthy ones, or both.
There's a Complication too, so that you don't forget your goals, and the whole thing is customizable so that you can get it just-so.
MyFitnessPal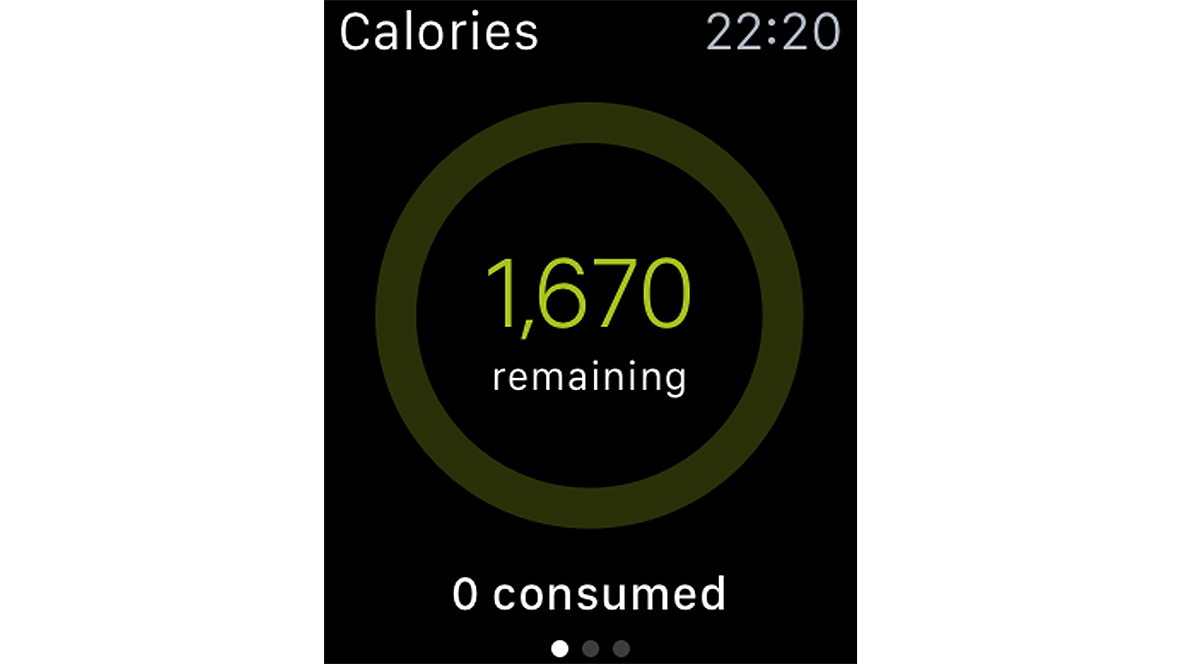 Information is power and if you're trying to lose weight, calorie tracking is a good way to stay focused. MyFitnessPal works out a daily calorie allowance based on how much weight you want to shed. Eat a meal and your allowance is spent, take exercise and you earn credit.
The Watch gives you a running total of remaining calories and how that breaks down into protein, carbohydrates and more. It can integrate with your steps total so you don't have to add those manually. It's simple but convenient and helpful.
Walkmeter GPS Pedometer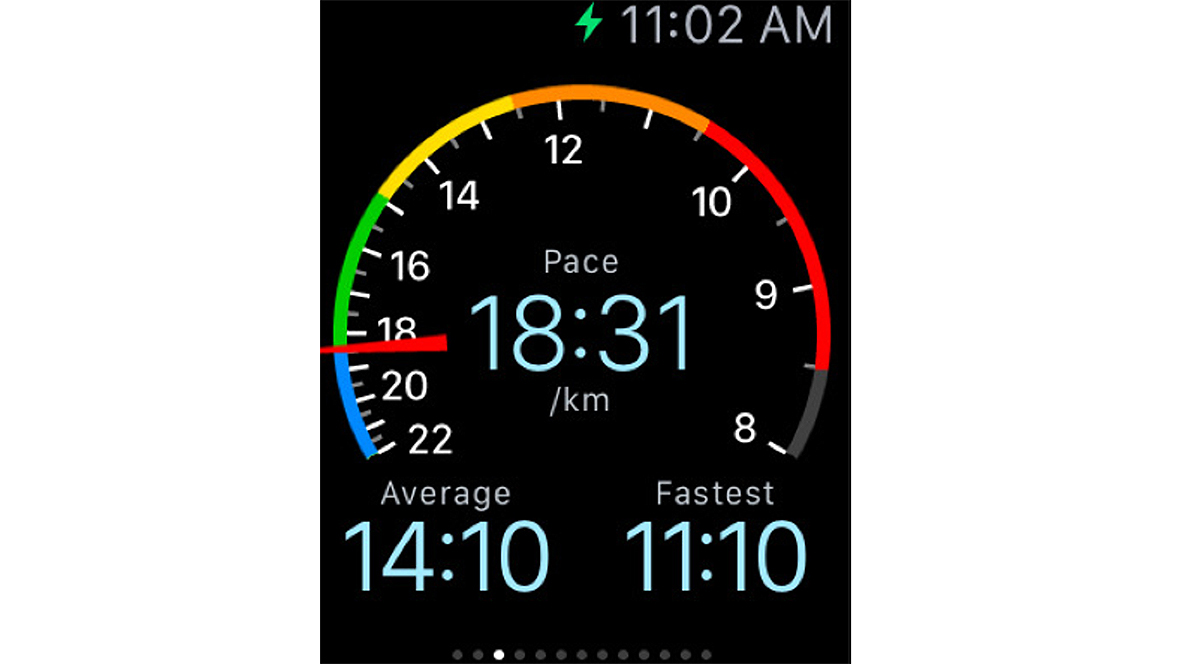 If walking's your thing, Walkmeter helps track your every step, showing your perambulations on a map and generating detailed graphs. The Watch app has clear data reporting and you can start and stop a walk from your wrist using the Watch's Force Touch actions.
Apple's own Workout app does a lot, but this app has more detail and the mapping detail on the iPhone is great. The app is free but for full Watch performance you need to upgrade to the Elite version for $9.99/£9.99/AU$14.99. There's a lot here, including training plans and announcements as you hit targets or distances.
CARROT Fit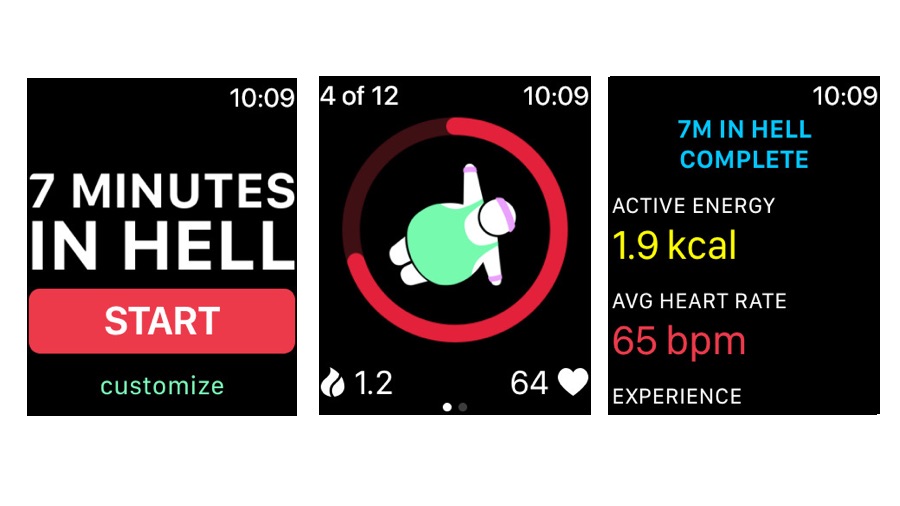 You may know CARROT from its weather app, which combines Dark Sky-style weather forecasting with sarcasm and lies. But CARROT wants to make you unhappy in many other ways - and what's better for a sadistic AI than being in control of a fitness app?
Enter CARROT Fit, which takes a somewhat unusual approach to motivating you to get healthier and lose weight.
CARROT promises to "get you fit - or else". To achieve that it offers a dozen punishing exercises (more are available via in-app purchases) accompanied by threats, ridicule, bribes and the occasional compliment.
It's rude, crude and much more entertaining than trying to complete the rings on Apple's own activity tracker, and we're pretty sure it's the only fitness app that rewards progress with cat facts. But there's a proper fitness tracker in here too: it'll track your steps and weight loss, remember your workouts and add data to Apple's health app.
Most of the personality is in the main iPhone app, but the Watch alerts include such cheery prospects as "seven minutes in hell". If you find getting fit or losing weight a little bit tedious, CARROT might be the, ahem, carrot that you need to get motivated.
Lose It!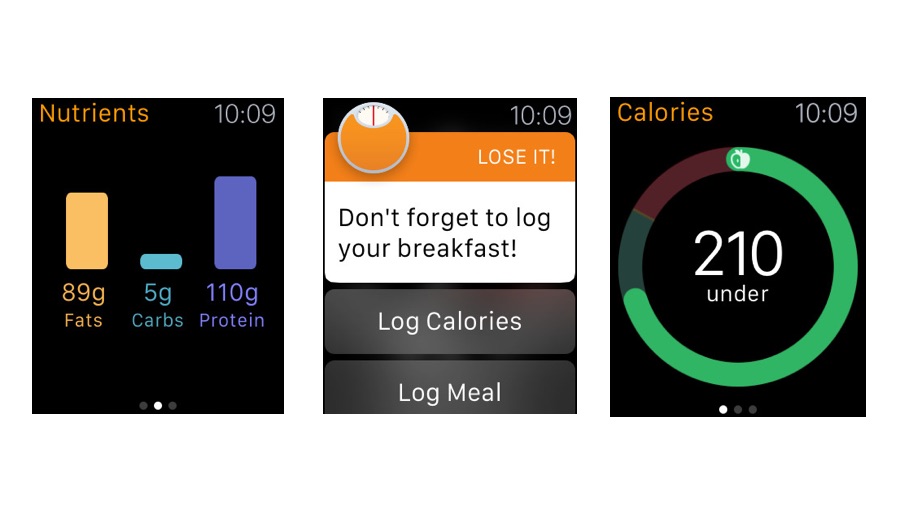 If your Watch strap is feeling a little more snug than it used to, this app may be the answer: it's designed to help you achieve your weight loss goals "without the unsustainable gimmicks, fad diets, restrictive foods, on-site meetings, or large price tags of other weight-loss companies."
It tracks the calories you've consumed and the goals you've set, focuses on nutrition as well as overall calorie intake, works happily with other fitness apps and trackers and provides an online peer group where everybody encourages each other to achieve their ideal weight.
It also enables you to set exercise goals and focus on general wellness, so it's not just about losing weight.
The Apple Watch app doesn't replace the phone app completely - for example, you'll need your phone handy if you want to use the barcode scanner to automatically record what you're eating, and the team-based features such as group challenges are phone-based - but it's a great way to focus on your goals, monitor your progress and keep your motivation no matter how sorely tempted you may be.
The program is $39.99/£29.99/AU$62.99 per year but you can explore the app for free without signing up.
Mount Burnmore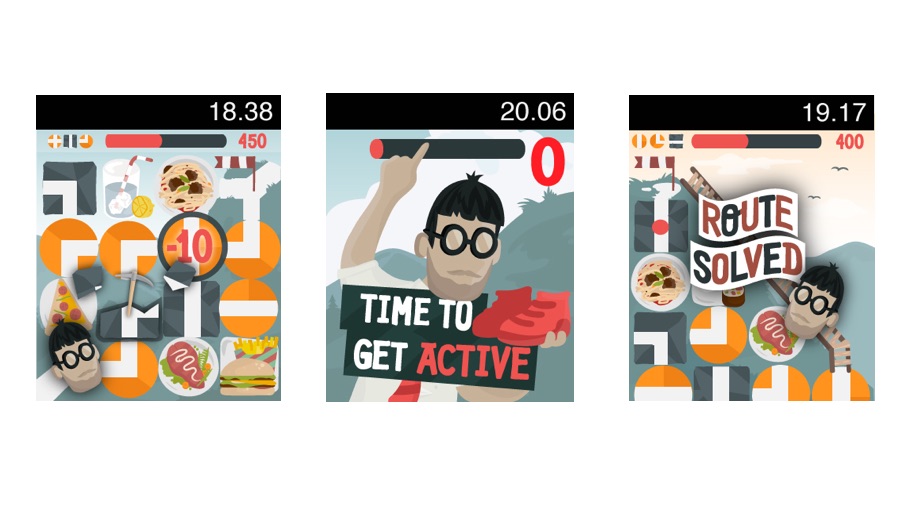 Fitness fanatics look away now: for those that find exercise really boring, and their get up and go often gets up and goes while they stay sedentary. Mount Burnmore could be the answer to that lethargy: it turns fitness into a game.
The concept is quite clever. Mount Burnmore depends on "active energy", which it pulls from the Health app: the more calories you've burned, the more active energy you have in the game.
When you have sufficient energy you can attempt to solve the game's puzzles, which involve finding routes around the titular mountain, collecting in-game items and smashing things with a pickaxe.
There's a Complication that enables you to see your progress without launching the full game, and the app makes good use of the Digital Crown to help you navigate around larger levels later in the game. There are also leaderboards to compare with other players and in-game challenges to win freebies.
It's bright, breezy and a bit brash, and we suspect it's best suited to older children rather than grown-ups - although if you do give this one to the kids you might want to disable in-app purchases, as they can be used to buy in-game items.
Happier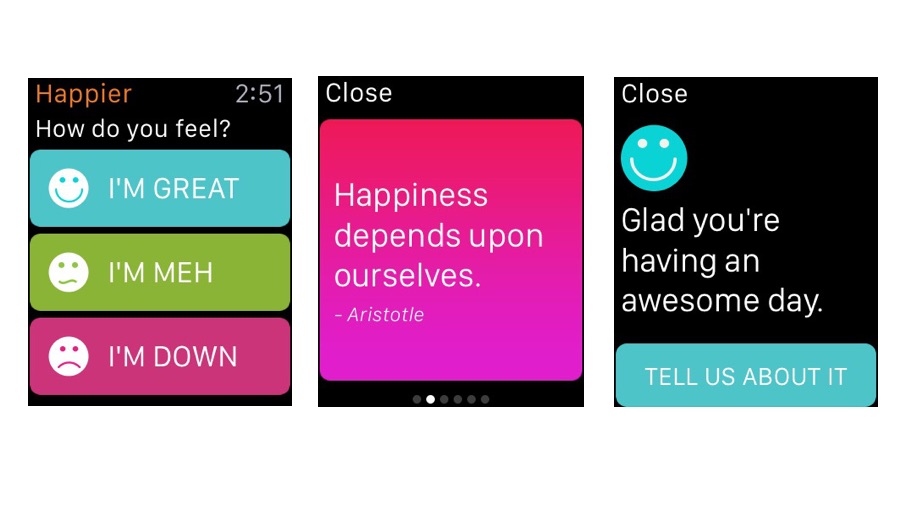 Mindfulness, the art of focusing on being present and aware in the world instead of being constantly distracted by things and thoughts that don't matter, isn't something you'd associate with the Apple Watch. If you aren't careful with your notification settings your Watch pings away merrily all day, interrupting countless trains of thought.
But the Happier app hopes to use the Watch to make you feel better, not more harassed.
The app itself is free, but it's designed as a gateway to paid-for mindfulness courses. If you don't go for them you can still take advantage of the app, though. You can tell the app how you're feeling - we suspect "meh" is the most-used option - and it then responds with uplifting quotes to help you feel a bit more optimistic.
It can pop up to remind you to take a meditation break, and you can dictate a positive thought to a private journal or to the Happier community. That's not as daft as it sounds: there's some evidence that keeping a journal of positive things can boost your mood over time.
Just be careful what and how you share: one iTunes reviewer says that they were able to locate their private journal with Google.
Best Apple Watch sleep apps
It's worth noting that there aren't a lot of apps for sleep tracking, as the Apple Watch can't really last overnight on battery.
That said, there are some clever apps to do it, and many people are now on their sequel Apple Watch and can even have one for the day and one for the night - so sleep tracking with your 'Night Watch' is possible.
NapBot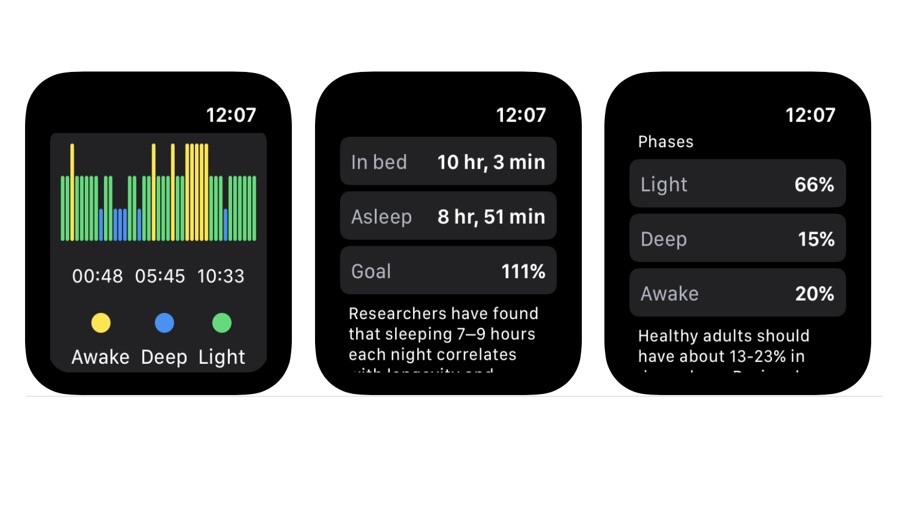 NapBot is an interesting addition to the rather crowded sleep tracking market, and in the absence of Apple's own sleep tracker – which was widely expected to launch with watchOS 6 – it's one of the better options.
It automatically tracks and records your sleep, and it also monitors (but doesn't record) the ambient noise while you're asleep. If you've ever suspected that your sleep is being affected by noisy neighbors, low-flying planes or other environmental factors, NapBot will help you identify when it's happening.
To get the most from NapBot you'll need to subscribe, which at the time of writing is $0.99/£0.99/AU$1.49 a month or $9.99/£9.99/AU$15.99 a year. That unlocks two key features: Sleep History, which as you'd expect gives you an overview of how much sleep you've been getting, and Sleep Trends, which enables you to discern whether there are particular patterns that might be affecting your sleep quality.
The app integrates well with Apple Health, with which it not only shares data but pulls data: its heart rate analysis comes from the Health app rather than trying to reinvent the wheel. Data is presented in clear, easy to read graphs and it's all very straightforward and effective – although at the time of writing there is an unresolved bug that means manually editing sleep times doesn't always work.
Pillow Automatic Sleep Tracker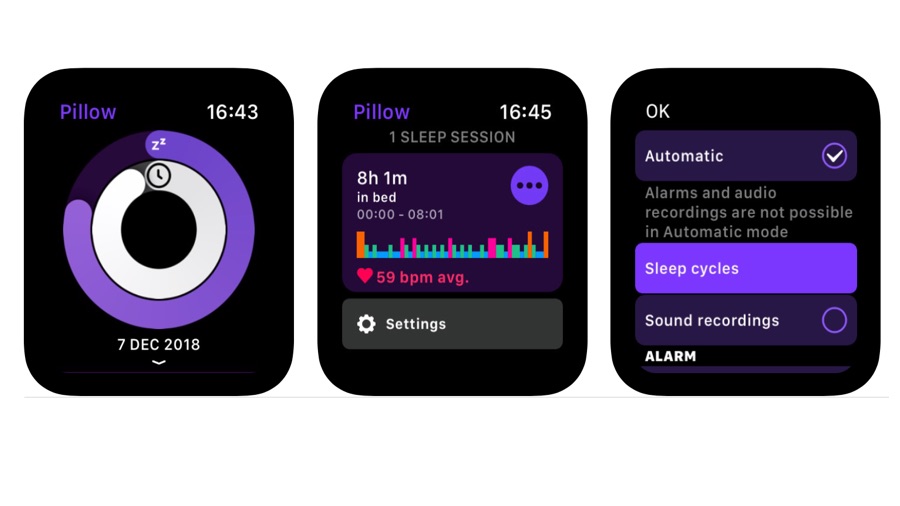 The next time you go to bed, take an extra pillow – one that lives in your Watch. Pillow is a sleep tracker with an interface very similar to Apple's own Activity app, but where that analyzes what you do when you're awake, Pillow does the same when you're asleep.
The app is designed to do two things: to let you know about the quality of sleep you're getting, and to use that information to detect the optimum time to gently buzz you awake so you bound out of bed full of joy and optimism for the beautiful day ahead.
It syncs with the Apple Health app to input into the wider picture of your overall health, so for example if you also sync data from fitness trackers or from Apple's own fitness tracking then you can develop insights into what behaviors seem to lead to the best night's sleep.
If you wish, the app can also record any frightening noises you happen to make in the night or play a particular song from your iTunes library to wake you up, although audio features are not available in the automatic tracking mode: you'll need to stick with manual mode if you want recordings or music playback.
AutoSleep Tracker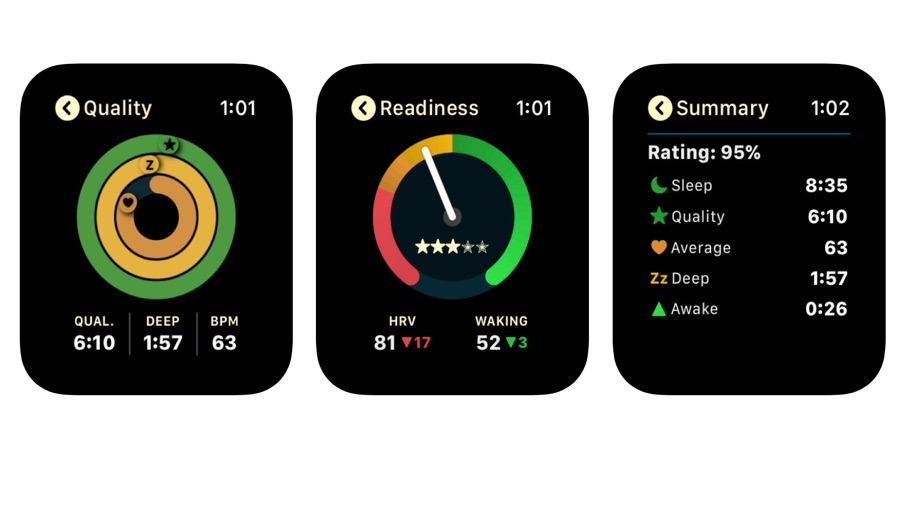 There are plenty of sleep tracking apps in the App Store, but AutoSleep is among the best. Now in version 6 it delivers more information than you could ever ask for, with good use of color-coding to prioritize information. 
AutoSleep presents its analysis in three key areas: Sleep, which as you'd expect tells you how long you slept for; Quality, which tells you how restless you were; and Readiness, which is an attempt to predict how well you're going to cope with the day's demands based on your recent sleep history. The interface is strongly and deliberately reminiscent of Apple's own activity tracking, with the same use of colored rings to show what you've achieved.
The Watch app even works if you don't wear your Apple Watch to bed: simply touch the Watch in the morning and AutoSleep knows you're up. If you do wear it to bed, though, the app will analyze sleep quality based on restlessness, time awake and heart rate – and you can adjust the sensitivity if you're a very restless sleeper. It integrates with Apple Health and Siri Shortcuts, and it also works as a complication for your chosen watch face.
Best Apple Watch apps for music, podcasts and audiobooks
SoundHound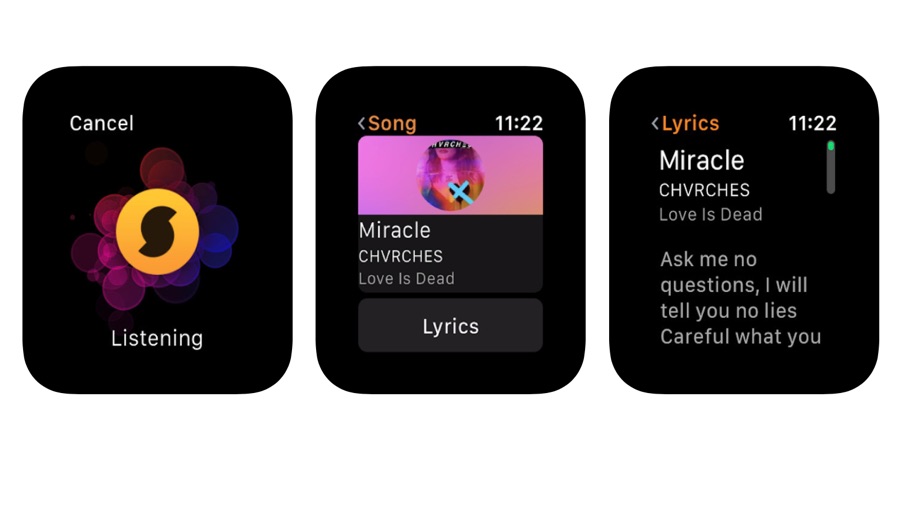 Music discovery, you say? Isn't that what Shazam is for? The answer to that is yes, but also no – because while Shazam does a brilliant job of finding songs based on listening to the currently playing music, it doesn't attempt to recognize your humming and singing.
That's SoundHound's speciality. It promises to identify that song that's driving you crazy: all you have to do is hum or sing a reasonably accurate version of it and SoundHound will do the rest. As you'd expect, it's extremely hit and miss.
That's not all SoundHound offers, though. It brings up the lyrics of the song it has matched, which is helpful if you fancy singing along, and if your Watch is the cellular version you can recognize songs and grab lyrics without needing a connection to your phone.
On your iPhone the app also offers a few features that Shazam doesn't. You can bookmark songs and add them to Spotify playlists, and there are some useful voice-controlled features such as "okay Hound, show me lyrics for…" or "okay Hound, play today's top songs." 
It's that voice control that really elevates SoundHound over rival apps, as it turns the app into a voice-controlled hub for pretty much any musical task.
Pandora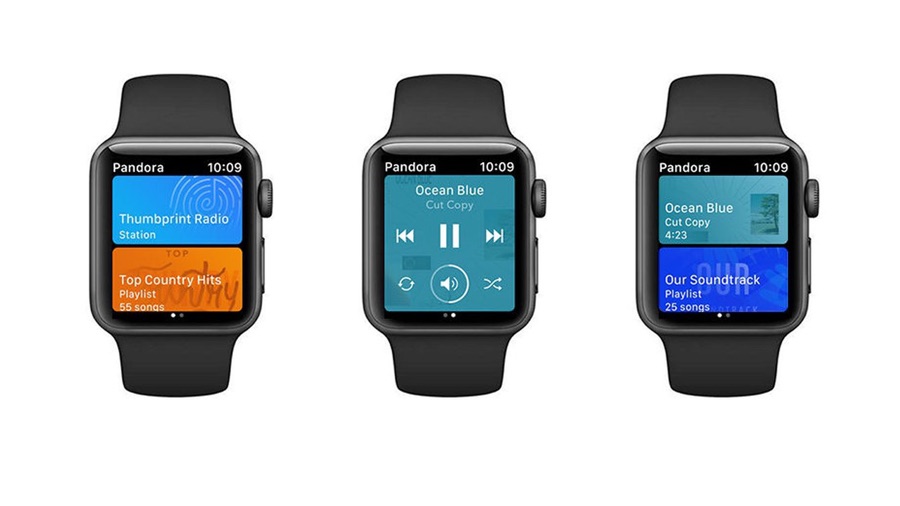 Spotify isn't the only streaming music giant to bring offline listening to the Apple Watch. If you're in the US (the service isn't currently available to international listeners) Pandora does it too. It has released a brand new app that enables you to listen offline, and rate and control your music without having to reach for your phone.
The app itself is free, but you'll need a paid-for Plus or Premium subscription to use it: like Spotify, the free tier doesn't support offline music. Offline listening requires watchOS 5 or later. Plus subscriptions are currently $4.99 per month and Premium subscriptions are $12.99.
The updated iPhone app brings support for Siri Shortcuts, and it also integrates with the Messages app so that you can send and receive songs without leaving the Messages app. There's even an Apple TV app that uses the same subscription.
Pandora is a good way to get hold of not just music but podcasts too. Discovering new content, whether music or podcasts, is simple thanks to a good selection of recommendations and playlists, and if you go for the Plus subscription you can create unlimited personalized stations as well as up to four stations for offline listening.
Pocket Casts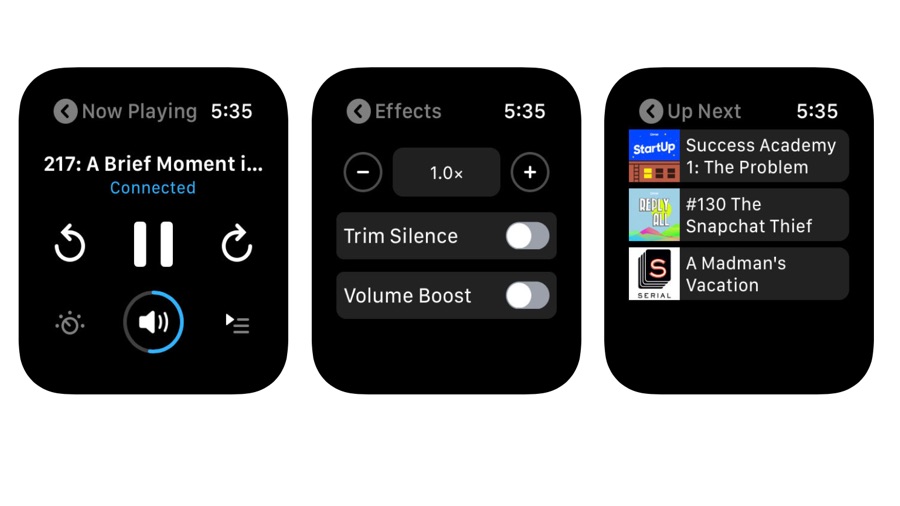 Pocket Casts is a firm favorite among podcast users, with 8 years of constant improvements under its belt. Now in its seventh incarnation, it's one of the best ways to stay on top of your podcast pile. It's also eminently sociable with support not just for the Apple Watch but for Chromecast, Sonos, CarPlay and AirPlay.
Although the app is perfect for beginners, there's a lot here for serious listeners, including excellent filters, automatic downloads, listening history and extensive notifications.
Version 7 enables you to listen to individual episodes without subscribing, streamlines the user interface, has excellent archiving that retains your playback history and supports Siri Shortcuts. There's been a big effort to improve discovery, so the app makes it much easier to find new podcasts it thinks you'll like as well as the podcasts you've found for yourself.
As with other apps of this ilk most of the heavy lifting is done by the iPhone app, with the Watch app there to provide access to the features that make sense on your wrist: playback control, of course, but also speeding the podcast up or down, trimming silence and boosting the volume. You can see what's next, browse new releases and scroll through the podcast charts too.
Spotify Music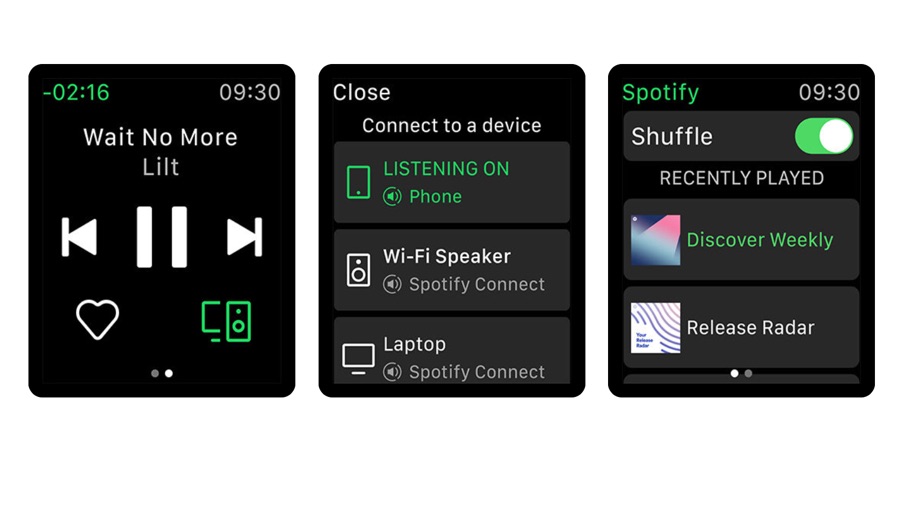 At last! Spotify finally makes its way to the Apple Watch with an app that does everything you might expect it to do. It plays music! It pauses music! It connects to other devices via the magic of Spotify Connect! It gives you playlists! It has a shuffle button!
The one thing it doesn't do, though, is stream: the music you hear via your Watch is coming from your iPhone, not directly to the Apple Watch. We'd expect that to change in future versions of the app. It hasn't been optimized for the larger display of the Apple Watch 4 either, so it looks a bit odd on the most recent models.
We're big fans of and subscribers to Spotify: its catalog is enormous and it's enormously sociable too, with apps for every conceivable platform. Being able to pay once for an ad-free subscription that works on your phone, tablet, Watch, TV, console and in the car is a fantastic thing.
While the ad-funded version isn't too annoying we think the higher quality and convenient offline listening features (already available on iPhone but coming soon to the Watch app too) of the paid-for Premium version are well worth the money.
Overcast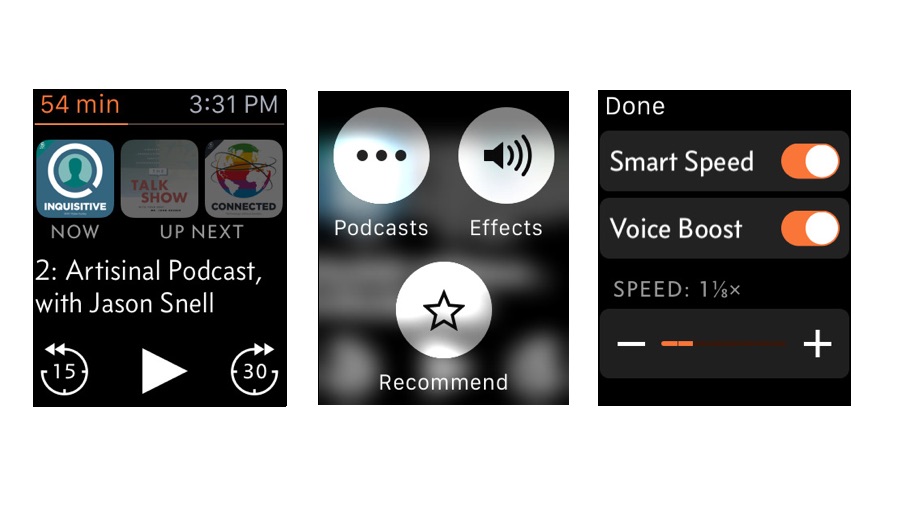 If you love to listen to podcasts and you don't already have Overcast, you're in for a nice surprise: it's a superb app, and its Watch integration is particularly well thought out.
In addition to the usual controls and lists of shows and episodes, it gives you quick access to two really useful features: Smart Speed, which can make the podcast play more quickly without turning into Alvin and the Chipmunks; and Voice Boost, which can make indistinct speech noticeably clearer and compensate for podcasters who can't pick a single spot in front of the mic.
If you've ever strained to hear something only for the host to move closer to the mic and nearly blow your eardrums out, you should be rushing to the App Store already
Overcast is free, or $9.99/£8.99/AU$12.99 without the ads. We'd recommend going for the ad-free version, because while the advertising isn't too invasive this is an app that's been put together by people who really care about the end user experience, and paying for the full app is a great way to ensure that they'll keep on caring. 
Castro Podcasts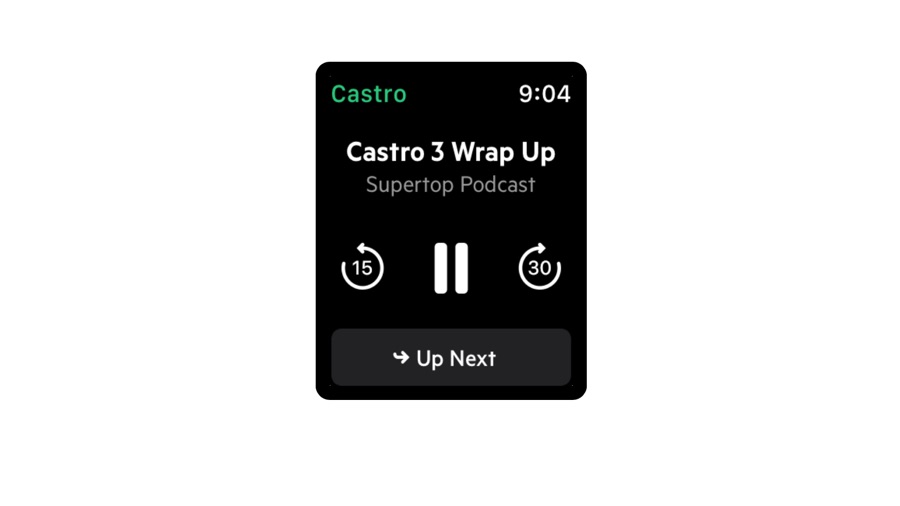 The Castro podcast app has been around for a while and has developed a loyal fanbase, and it's just been given a major overhaul as well as an Apple Watch companion app.
On your wrist it's really very simple: it enables you to move around the audio, change the volume or move between episodes.
On the iPhone the main app has been completely rebuilt with a brand-new playback engine to significantly boost speed and responsiveness, and the player screen now incorporates AirPlay controls for easier streaming to compatible hardware.
It's a very good app, and there are extra features if you go for the optional Castro Plus subscription, including getting rid of silent sections, mixing stereo down to mono, episode limits to prevent your device from downloading entire volumes of podcasts, and automatic start positions to skip past standard intros and other pre-content content.
You can set these preferences on a per-podcast basis, which is a really useful option for power podcast users. You can try Castro Plus for a week before deciding whether to get it, and it's available as a quarterly or yearly sub.
Audible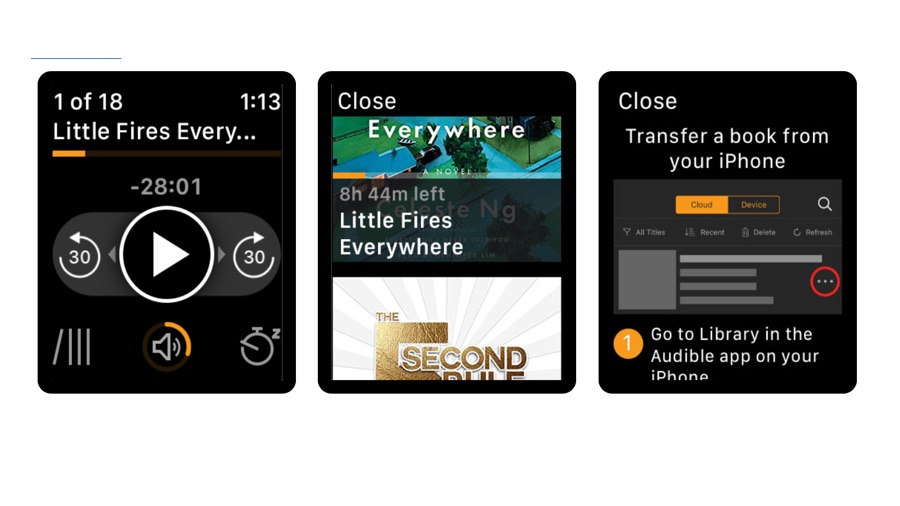 You may know Audible already: it's the Amazon-owned audiobook service that enables you to devour books on the move, in bed or anywhere else you can get comfortable. The catalog is vast, books are often narrated by very big names and the overall quality is very high. And now, you can use it without taking your phone with you thanks to its Apple Watch app.
The app is compatible with every Apple Watch made so far and enables you to transfer audiobooks to your Watch, provided of course that you have enough available storage.
It's important to note that Audible doesn't stream to your watch: you need to sync your audiobook(s) from your iPhone, which can take a while over the Watch's desperately slow connection. But once the book has been transferred you can play, pause, fast forward and rewind. You could listen via the Watch's speaker but we wouldn't recommend it; Audible is best experienced on a decent pair of wireless headphones.
We think the Audible Watch app is best suited to environments where you don't want to have your phone: the gym is the one that springs immediately to mind: we can't be the only people who'd rather listen to a book than pumping techno on a treadmill.
Best Apple Watch apps for photo and video
Lens for IG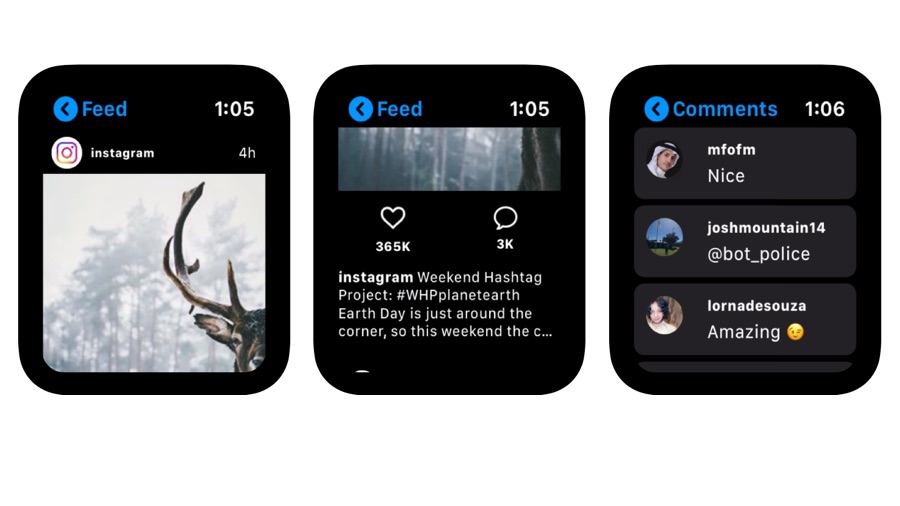 Here's good news for Instagram fans mourning the discontinued official Watch app: Lens for IG is designed just for you. It's a wrist-based Instagram client that enables you to do pretty much everything bar upload photos to the service, and because Apple Watches have bigger screens now it's actually nicer to look at than the original official app was - at least if you have one of the larger models.
The app starts on your iPhone, but sensibly enough it doesn't try to compete with the iPhone Instagram app: it's there purely to connect your Watch app to the Instagram service so you can still get your Insta fix when your phone isn't in your hand.
There are seven sections to the app – Home, Stories, Activity, Explore, Messages, Profile and Search – and they all do what you'd expect. Home is where your timeline lives, and if you tap the comments button you can use Scribble, emoji or the built-in, gesture-based keyboard to write a message.
It's fun, but it's also very new and like many version 1 apps it suffers a little from bugs such as crashing. But then, it's free so you can forgive the odd issue and the version history shows a pattern of regular updates to squash bugs and solve problems.
Camera Plus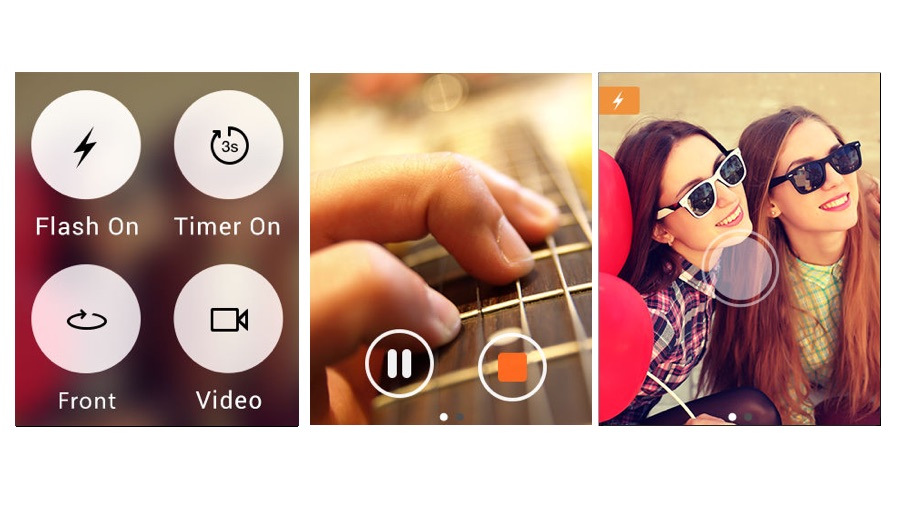 While using Apple's Watch as a remote control or viewfinder can be handy - we can't be the only ones who use it to see what's on top of cupboards or to read the meters when there's loads of stuff between them and us - the app has always felt as if it could do more. That's where Camera Plus comes in.
As an iPhone/iPad app it's an interesting and fun alternative to the iOS 11 default, with a useful feature that enables you to control the camera on one iOS device with the Camera Plus app on another. It adds an extra function to the Watch too.
The Apple Watch bit is obviously a lot less ambitious, but it's still useful. As with the Apple app, you can remote control the iPhone or iPad camera, turn the flash on or off, use a countdown timer and switch between the front and rear cameras. But where the Apple app offers the ability to turn Live Photos on or off, Camera Plus gives you the option to switch between photo and video.
The main iOS app is clearly the driver here, with some fun and useful features including flexible flash levels for better exposure and the aforementioned iOS-to-iOS remote control. But the Watch app is a handy, or perhaps wristy, companion.
HomeCam for HomeKit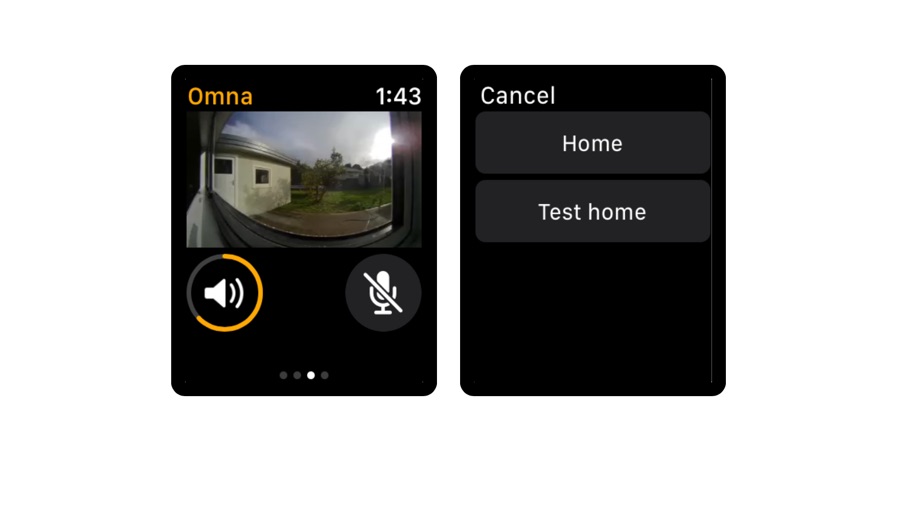 You can probably guess what this one does from the title: it's an app for cameras that use Apple's HomeKit. The app is a remote viewer that enables you to check multiple cameras simultaneously, and if your hardware supports features such as temperature and air quality monitoring you can then take action by invoking other HomeKit devices such as connected air conditioners or heating.
It can also combine data from multiple devices together, so for example you could overlay temperature data over a live camera feed, and it's fully compatible with the new Siri Shortcuts feature in iOS 12, which enables you to create automated actions. You can also use it to control HomeKit features such as the lighting in a room, and you can add a Today widget for even faster access from your lock screen.
The main action happens in the iPhone and iPad app, largely because of screen real estate: the Watch has many good features, but a giant screen isn't one of them. That means the Watch app shows a single-camera view. 
It can use your Watch's microphone and speaker as an intercom (again, if your camera hardware supports audio), but it's best suited for quick camera checking when your iPhone isn't handy.
FiLMiC Pro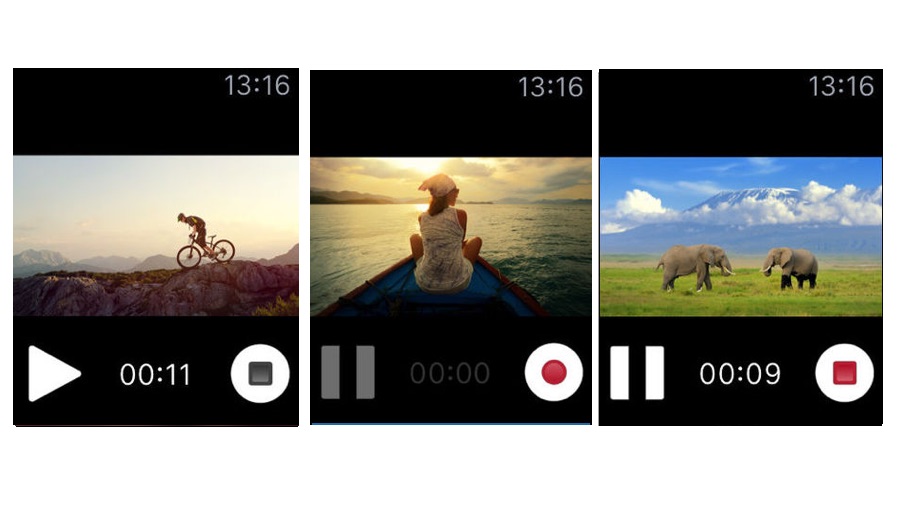 Here's an odd one: FiLMiC Pro has a distinctly average App Store rating of 2.3 out of 5 at time of writing, and yet the developers' shelves are groaning under the weight of the app's many awards from reputable websites and publications who say that for video, it's the best thing since bread came sliced. What's going on?
The short answer is that when you have hardly any reviews, one or two disgruntled users can send your rating down the drain. That's clearly what's happening here.
Negatives first. FiLMiC Pro costs more money than many apps, and it can kill your phone battery in prolonged use. But it's an incredibly powerful iOS camera app used by film-makers, journalists and hobbyists alike. Pair it with a decent editor and your iPhone is a pro-level film studio.
The Watch app is really just a remote for the main event. You can record, pause and resume your recording and see what the phone camera's pointing at, and you can play back what you've just recorded. It's not really different from Apple's own camera Watch app. 
But the app it connects to is a powerhouse: people complaining about the price tag should really be marveling that it's possible to get something so good for so little money.
Best Apple Watch apps for notes, passwords and making life easier
Roku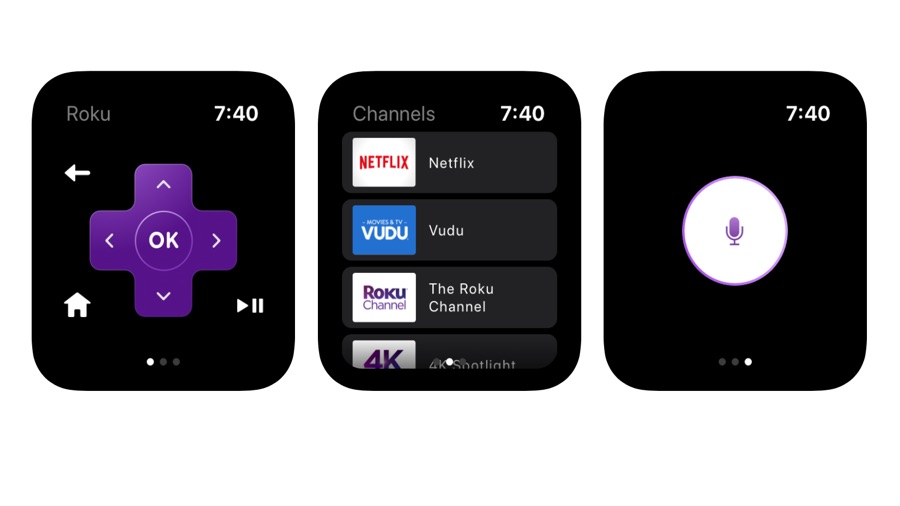 If you're a fan of the Roku media player, Roku TVs or Roku streaming sticks, then you'll be delighted to discover that there's now an Apple Watch app to match the iPhone one.
The Roku Apple Watch app looks just like the iPhone version albeit on a much smaller display, and you can use touch or voice to control your device. Voice control is only available in certain territories, though, so right now it only works in the US, UK and Canada. It even enables you to find a missing remote by getting it to chime until you work out where it is.
The Watch app focuses on three things: voice control, channel switching and remote control, and it works very well for each of those things. For everything else there's the iPhone app, which enables you to search for particular titles, actors or directors, to stream video directly to your device and to take advantage of private listening, which enables you to listen to the audio on your headphones without playing it to everybody else in the room.
That latter feature is hardware-dependent, so it's worth checking the compatibility notes to make sure it will work with what you've got.
HomeRun for HomeKit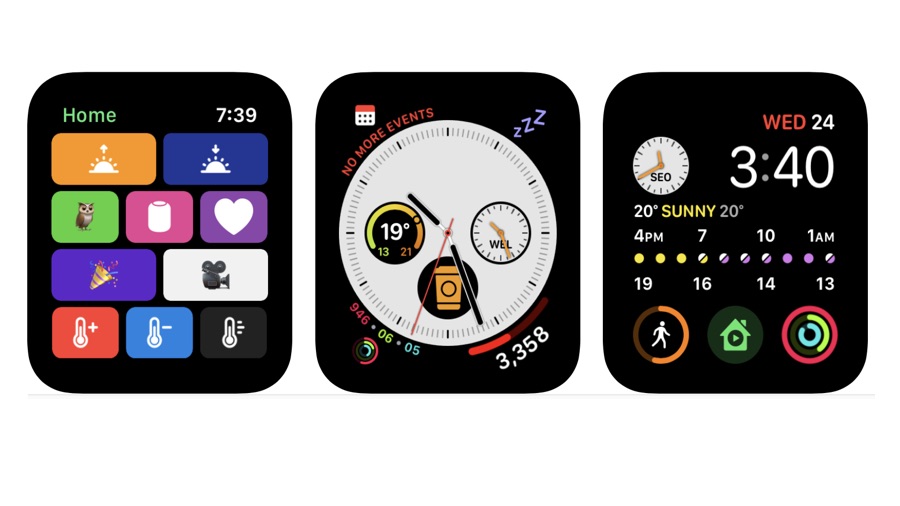 We've covered HomeRun before: it's an excellent and customizable HomeKit controller for your smart home that's designed to make it as easy as possible to control all your stuff both manually and by creating daily routines that make certain things happen at certain times.
It uses a simple and flexible grid-based layout where you can put all your icons just-so, enabling you to access the scenes or features you need with the minimum of effort, and it's as easy to customize as it is to use.
HomeRun is by far the best HomeKit controller you can get for your Apple Watch, and over the course of 2019 it has got better and better: a recent update made it possible to add time-based complications so you'd see different options at different times of the day, and the latest update improves the customization options for your complications and adds the full set of Simpaticon icons.
That means you now have more than 4,460 icons to choose from, enabling you to create a customized smart home controller that's tailored to your exact requirements. The only downside is that it doesn't work on the first-generation Apple Watch, and you won't be able to run it if you haven't upgraded to watchOS 6.
Productive – Habit Tracker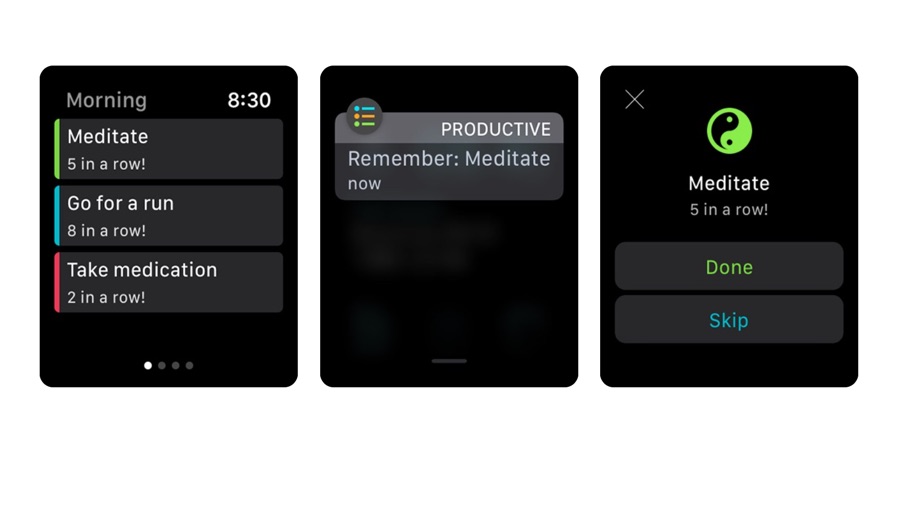 Productive is an alternative to the popular Streaks app, and like Streaks it's designed to help you get things done by establishing regular habits.
Those habits might be to make time for reading or to keep yourself hydrated, to do your morning workout or to strike items off your to-do list. The app enables you to create and track chains of habits, so for example you might want to remind yourself to drink water 8 times a day or meditate 3 times a week.
Where many apps like this are designed with workplace productivity in mind – and Productive can handle that stuff just fine – the emphasis here is more on your whole life: the marketing images prefer to show tasks such as reading a good book and going out for a nice meal rather than hard-charging corporate ladder-climbing.
The app has been designed with simplicity and ease of use in mind, and that extends to the Apple Watch companion too. The Watch app enables you to see what tasks you want to achieve today, reminds you when it's time to do them, and enables you to either mark a task complete or skip that particular instance.
The data then goes back to the iPhone app, which pulls the stats together to let you see how well you're doing and compare your achievements to your intentions.
Google Keep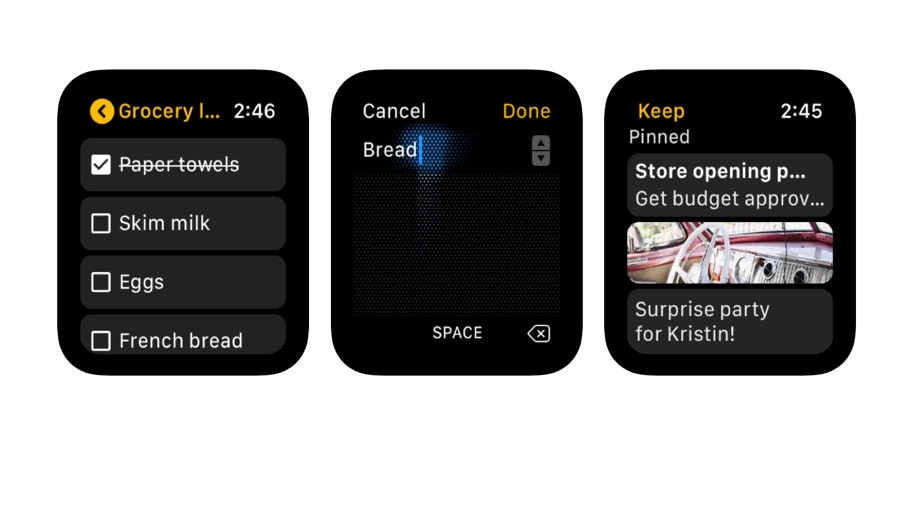 You may remember in 2017, when Google pulled its various Apple Watch apps. But now, it seems Google is back in the wristy business. This month the Google Keep app was updated with a new feature: support for the Apple Watch.
Google Keep is essentially Apple's Reminders for people who prefer Google's way of doing things, and like Reminders it uses the cloud to sync with desktop and online versions of the app. You can use it to create, edit and share notes and to-do lists, to include photos and audio in notes and in a clever touch, to record voice memos and have Google automatically turn those memos into editable, searchable text.
That feature is included in the Apple Watch app, but you can't use your Watch to edit existing notes – although you can create new ones either via your voice, via scribbling or by entering emoji. You can also archive or prioritize notes by using Force Touch.
The app keeps things simple by showing you the ten most recent notes, and while you can do dictation there's no Siri integration. There isn't a Watch face complication either. Here's hoping that Google adds such features in later versions – assuming, of course, it doesn't decide to stop supporting the Apple Watch in the future.
OmniFocus 3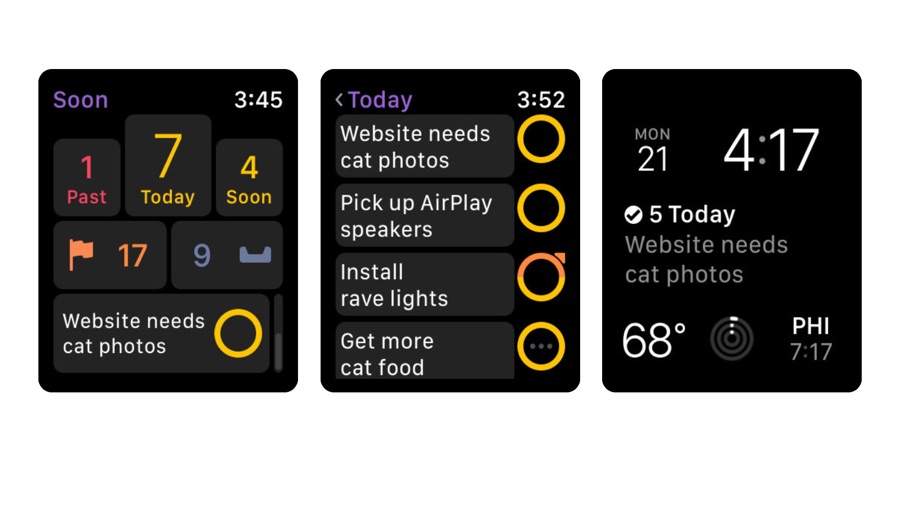 The Omni Group is well-known and well-loved for its productivity apps, and version 3 of OmniFocus is available not just for iPhone and iPad but for the Apple Watch too. It's an extraordinarily useful project and task management app, but while it's very powerful it's also very easy to use.
It also manages to pack a lot of information into the screen of your Apple Watch with good use of icons, numbers and bulleted lists. You can display a quick overview as a complication in the Utility Watch face, or call up the app directly to get an instant picture of what you need to care about now and in the immediate future.
The standard and pro versions of the app are free trials, and you can then unlock Standard for $39.99/£38.99/AU$62.99. That gives you almost everything OmniFocus can do, but if you want to add customization options you can go Pro for $59.99/$54.99/AU$89.99 (if you go for Standard first and want to upgrade later, that's $19.99/£19.99/AU$30.99).
The customization enables you to create custom filters to create a custom perspective on your project, and you can reorder the Today's Forecast to give you the information you want exactly as you want it.
Calendars 5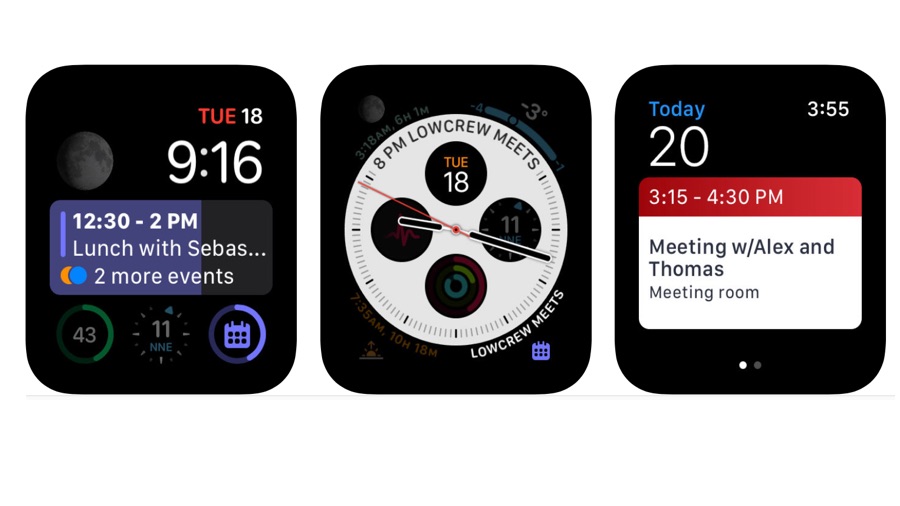 You may know Readdle already: it's the developer behind the superb Spark email app, as well as the popular and useful PDF Expert. Calendars 5 has been around for a while, but the Apple Watch support only arrived in December 2018. As we've come to expect from Readdle apps it's well-designed and useful without unnecessary gimmicks or eye candy.
The app works as a Watch face complication and as a dedicated app. It also supports Siri, so you can ask it to tell you what you've got scheduled or create a new item with just your voice. The app works with both iCloud and Google calendars for easy syncing, and it works both online and offline.
The iPhone app is great too, with natural language input and support for the kinds of things you need a calendar app to do such as complex recurring events (for example, a class that runs every Tuesday, Friday and Sunday), custom alerts and event invitations.
The app also includes a good task manager that enables you to track and clear your various to-do and task lists. It's good on the iPad, too, where it takes full advantage of the big screen to give you a birds-eye view of your week or month.
Fantastical 2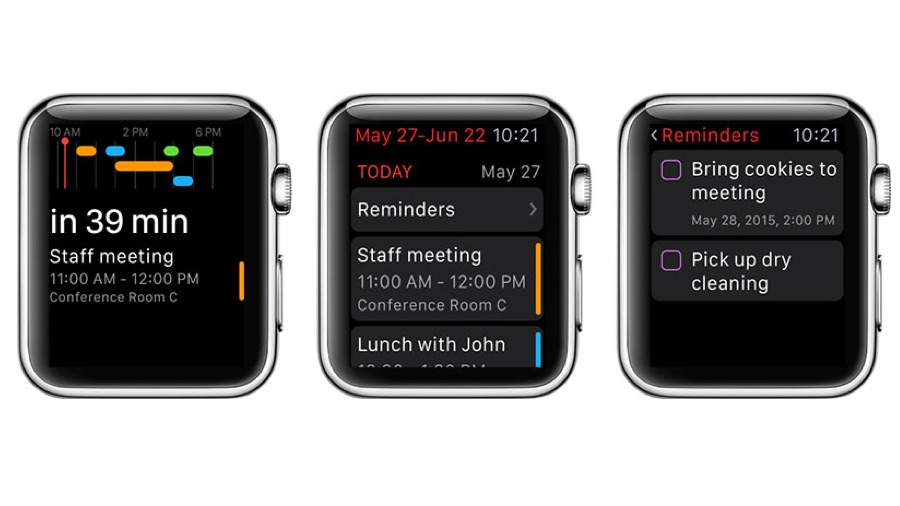 Getting Fantastical 2 up and running on your watch can be time consuming, but it's worth it: one of the very best iPhone calendar apps around develops even more powers when you add its app to your watch.
You can also add it as a complication, which means you'll see details of your schedule right there in the watch face.
To actually make it work you'll need to install Fantastical to your watch and then open the iPhone app, not the Apple Watch one. This is where you specify what information should be sent to the watch, and the options are extensive.
You can choose from events, calendars, reminders and lists, include a map of the event location, show end times and specify how reminders should appear, and you can even specify what should happen if you tap on the Fantastical 2 complication on your watch face.
It's that kind of thought and attention to detail that makes us love the app so much.
The best thing about Fantastical 2, though, is that it understands you. Force Touch the app, tap on Add Event and Siri starts listening.
It knows what you mean by "lunch with Dave", automatically putting the appointment at 12 noon, and it knows that if you say "to-do get dinner on the way home" you're adding an item to a to-do list. Siri's voice recognition performs brilliantly when it's limited to such a specific set of instructions.
SimpleCommands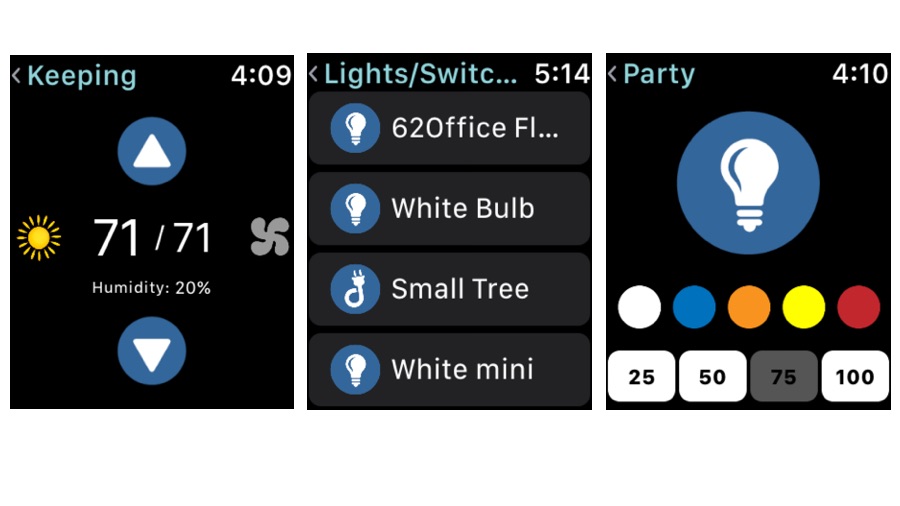 This is an intriguing one. SimpleCommands enables you to connect your Apple Watch to various other devices – LIFX lights, TP-link switches, Wink doors, Nest thermometers, Netatmo home automation and so on – and soon, services such as Spotify, Lyft, IFTTT, Todoist and Twitter.
Once you've established a connection, you can then control that connection via your iPhone or Watch (you need to set them up in the iPhone app first). Your Watch then becomes what the developer calls a listener.
All you then need to do to make something happen is tell the listener what to do. The main benefit is that to paraphrase Radiohead, everything's in its right place: whether it's your aircon or your lighting system, it's all done from a single app on your wrist.
Brilliant, right? Well, potentially. The list of coming soon connections is longer than the list of currently supported ones, and early adopters say it's a bit flaky: we're still in version one-point-something territory, so you should expect bugs.
But if you're fed up having to use different apps to control every different digital thing in your life, this could be the thing to make your digital life much more comfortable.
IFTTT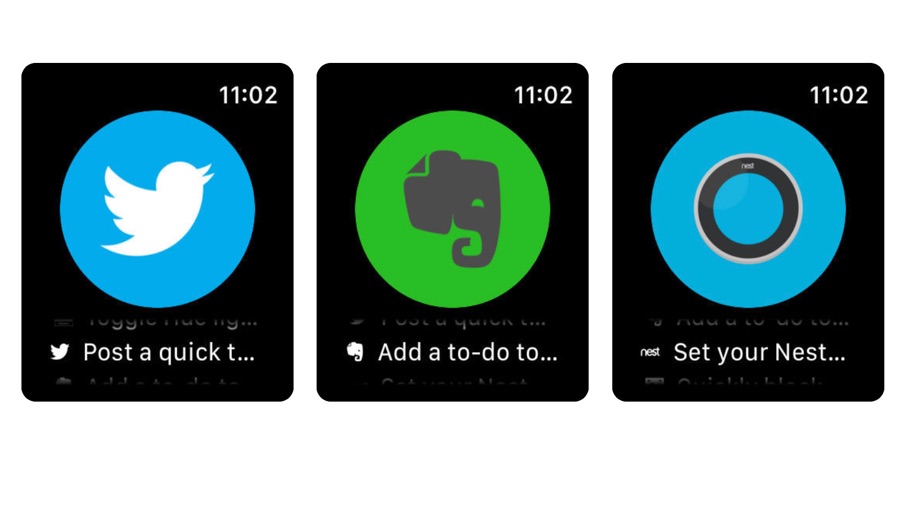 If This Then That, IFTTT for short, may be one of the most useful things on the internet. As the name suggests, it enables you to create scenarios where if this happens, it does that. And the 'that' can include all kinds of things, with a selection of connectors for software and hardware alike.
For example, you can automatically change your thermostat based on the weather forecast, or send someone a message when you're near the shops, or backup your photo collection to a cloud storage site at a particular time or when a particular event occurs. It's absolutely brilliant, and the main iPhone app enables you control more than 600 different apps as well as smart home devices such as Hue lights and Nest thermostats.
As you'd expect the Watch app doesn't do everything. What it does do is provide quick access to IFTTT functions you've already installed or created on your phone, so for example you might post a quick tweet or turn your smart lights on or off.
That simplicity is no bad thing, because of course the whole ethos of IFTTT is to reduce the amount of effort you use to communicate with your various bits of technology.
1Password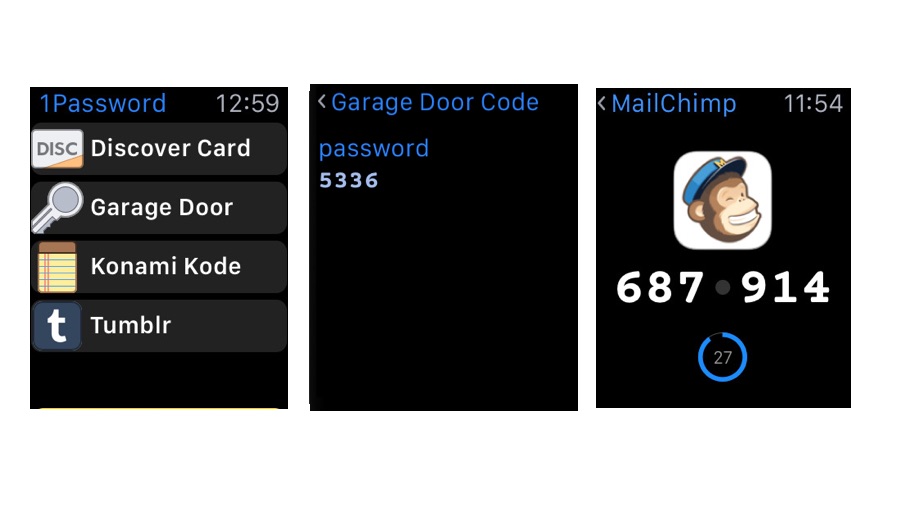 A reliable and secure password manager is a must-have in these days of security breaches and hacks, and 1Password is one of the best. And it turns out that it's also one of the best password managers you can use on your Apple Watch.
Our favorite apps don't just port entire iPhone apps across. They think about what you're actually likely to need on your wrist, and do that instead. In the case of 1Password that means you choose the pieces of information you want available on your Watch, so for example you might want details of a few logins, one credit card and a couple of notes, or perhaps the PIN codes for everyday locks.
If you've ever frantically scrolled through an iPhone app or contacts list to try and find the PIN for a bank card you don't use very often, the appeal should be obvious.
Where 1Password gets particularly clever is in its support for team and family accounts, so you can share sets of information with everybody who needs it. And if a site you use has been compromised, 1Password will alert you to change your password. It's great stuff, and comes with a glowing recommendation from Apple.
Drafts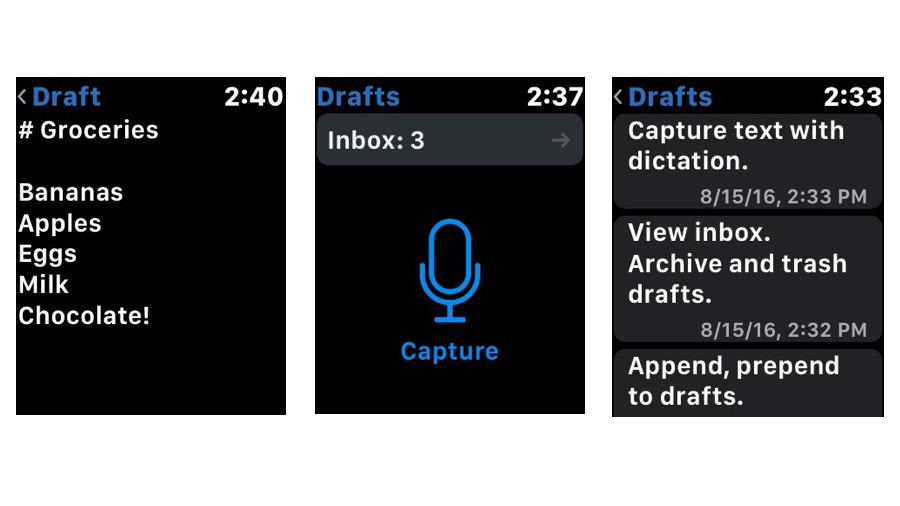 On the face of it, and by face we mean Apple Watch face, Drafts doesn't seem to offer much for six quidbucks: it enables you to dictate text and save it for later. But it turns out that it does an awful lot...it just does it in a really simple way.
On the iPhone, Drafts is designed to make it easy to capture ideas, thoughts, to-dos or anything else.
It has an email-style interface for easy navigation and it enables you to send your Drafts to a whole bunch of other apps and services: email, message, apps in your Share sheet, social media and so on.
It supports Markdown for easy formatting, and it hooks into the iMessage app to provide stored "snippets" of text and/or emoji for instant replies.
Bringing Drafts to the Watch makes it even faster. Tap on the microphone icon to capture and it does just that - but it also enables you to add to existing drafts using either your voice or the Scribble input, which means it's brilliant for those moments when you think of something really clever to write or something you'd missed from your to-do list. It's the kind of app you'll quickly learn to love.
Hours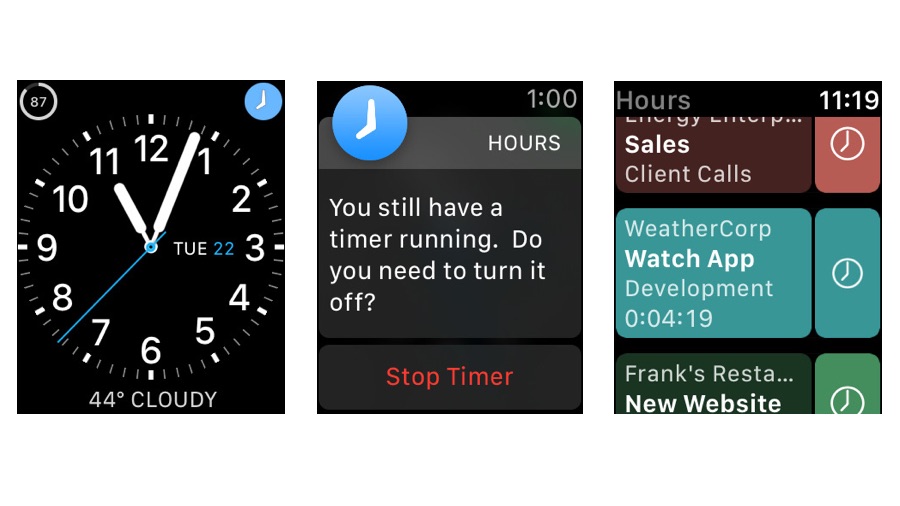 Many of us need to track the time we spend on specific tasks, but the team behind Hours rightly point out the three big pitfalls of time tracking: we forget to start tracking in the first place, forget to stop when we change tasks, or just forget to stop the timer(s) altogether. Hours hopes to address that by making it really, really easy to start and stop and switch.
The iPhone app is a very beautiful thing, with a visual timeline that makes it easy to see what you've been up to. The Watch interface is much simpler, but just as effective: you can see the list of tasks with a timer icon for each, and if you tap on a task you can add a verbal note as well as starting or stopping the timer.
There's a Complication for instant access, and the app will prompt you from time to time to see if you want to keep the selected timer running.
The standard version is free and ideal for self-employed or freelance types, but the $7.99/£5.99/AU$12.99 upgrade to Pro adds multi-device synchronization, web access, reporting and data visualizations, team creation and management, and online backup, which means it's a great team tool too.
Just Press Record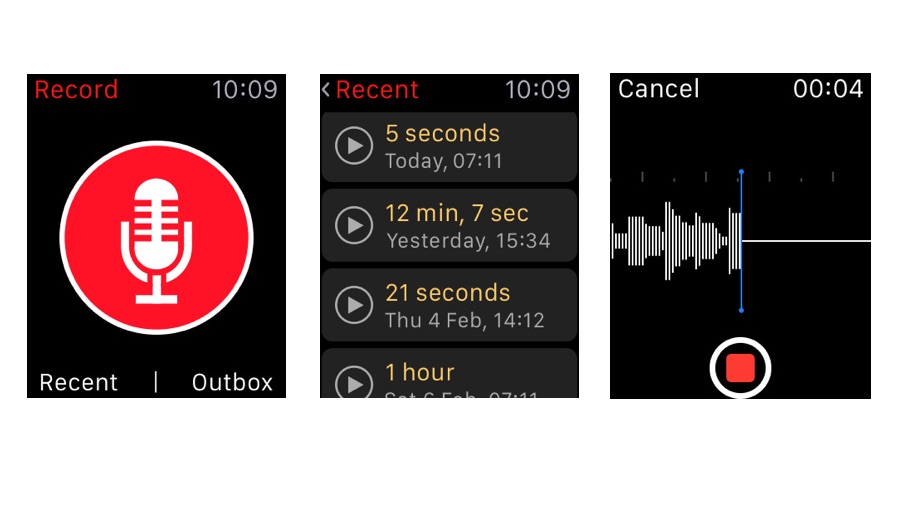 One of the most useful things about the Apple Watch is that it enables you to do things without having to take your phone out of your pocket or bag. Just Press Record brings that handiness to voice recording, enabling you to capture bright ideas, rambling monologues or memos when you're out and about.
The interface is just a big red button with a picture of a microphone on it, and as you might expect you tap it to start recording. The phone app can transcribe your recording to turn it into text - which means your recordings become searchable by keyword - and it recognises formatting commands such as "new paragraph" and "comma".
To use it is to feel like you're living in the future: we remember when dictation and transcription required a powerful PC and endless patience, and now you get much better results with a watch. Isn't technology brilliant?
In addition to its recording and transcription features, the app syncs automatically via iCloud, so you can access it on all your devices - including macOS, for which there's a separate app - and it uses the Watch's own local storage so that you can record even if your phone isn't currently connected.
Evernote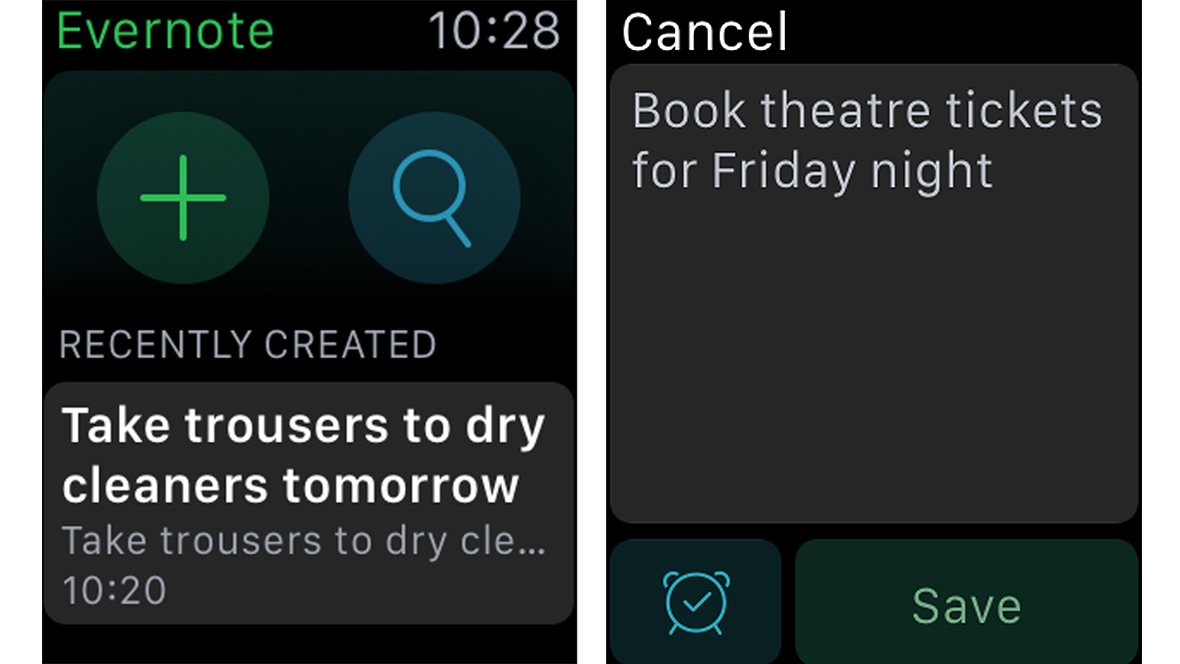 Organize your life better with Evernote, the brilliant note-taking app which saves photos, text, recipes, bookmarks, voice notes and more. On Apple Watch you can set reminders and check off tasks easily enough.
You can dictate new notes for those brilliant ideas you mustn't forget just by tapping the Plus button or Force Touching the screen. The Watch app can search existing notes using voice – though this wasn't as reliable as I'd have liked. Even so, if you're an Evernote fan it brings an extra level of convenience.
OneNote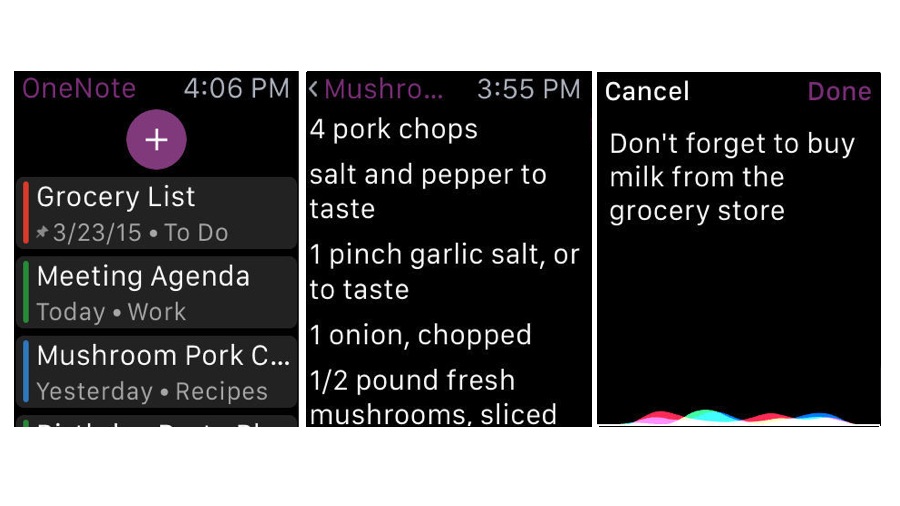 If there's one thing the App Store isn't short of, it's note-taking apps. But it's worth taking a look at OneNote, especially if you work across a range of Mac and PC devices, because as it syncs via Microsoft's cloud, it's a very good cross-platform app with particularly well-designed iPhone, iPad and Mac apps to organize pretty much everything.
We use it for shopping lists, to-do lists, random scribbled ideas in the wee small hours and anything else we think we might need to refer to later, and unlike some rival cross-platform services it's completely free. Microsoft hopes you'll like it so much you'll embrace Office, which is available for a very low price as part of a premium OneDrive plan.
Microsoft has become rather good at keeping its Watch apps simple, and OneNote is no exception: tap the cross icon to dictate a new note, or tap a notebook or note to see its contents.
And that's pretty much all it does - and that's all it needs to do, because any watch screen is poorly suited to complex tasks. We'd much rather have speed and simplicity than any ill-conceived bells and whistles.
Knock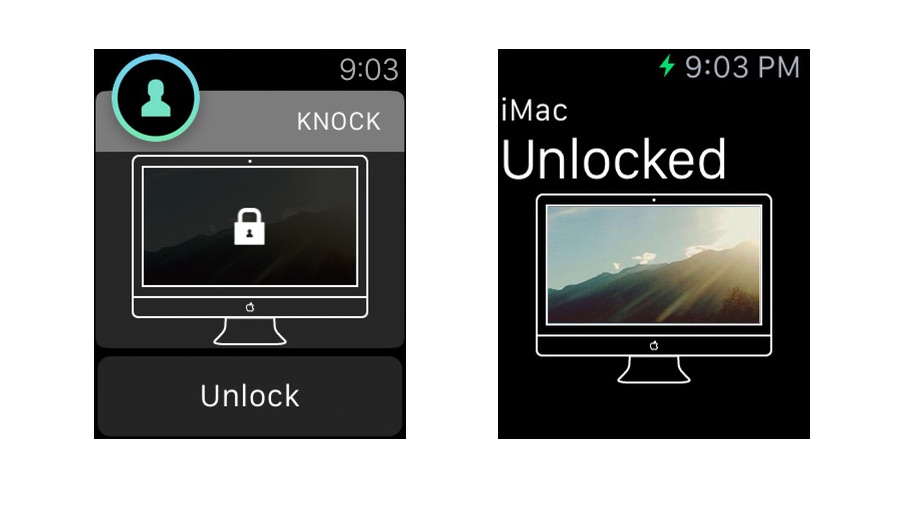 Passwords are essential, but they're also rubbish. The ones you can remember are easy to guess, the ones that are hard to guess are equally hard to remember, and if you do passwords properly it can be a pain to enter complicated strings of text and characters when you're in a hurry.
Wouldn't it be better if you could prove your identity to your Mac with your Watch? That's exactly what Knock does.
Knock is a simple idea brilliantly executed. Provided your Mac is of relatively recent vintage - an Air from 2011 or better, a MacBook Pro or iMac from late 2012, a 2013 or later Mac Pro and so on - you can use Knock to automatically unlock your Mac or Macs by tapping the Apple Watch app.
It's connecting via Bluetooth Low Energy - hence the reliance on relatively recent Macs; older ones don't have Bluetooth LE - which uses tiny amounts of energy, so you don't need to worry about the app killing your Watch's battery any more than usual, and it works instantly if your Mac isn't in sleep mode.
It may seem quite pricey for such a simple app, but think about how much time you spend locking and unlocking your Macs in a year.
Note that you may not need this if you have a recent Mac running macOS Sierra, as there's a similar feature built in, but Knock is compatible with slightly older Macs too.
Find Near Me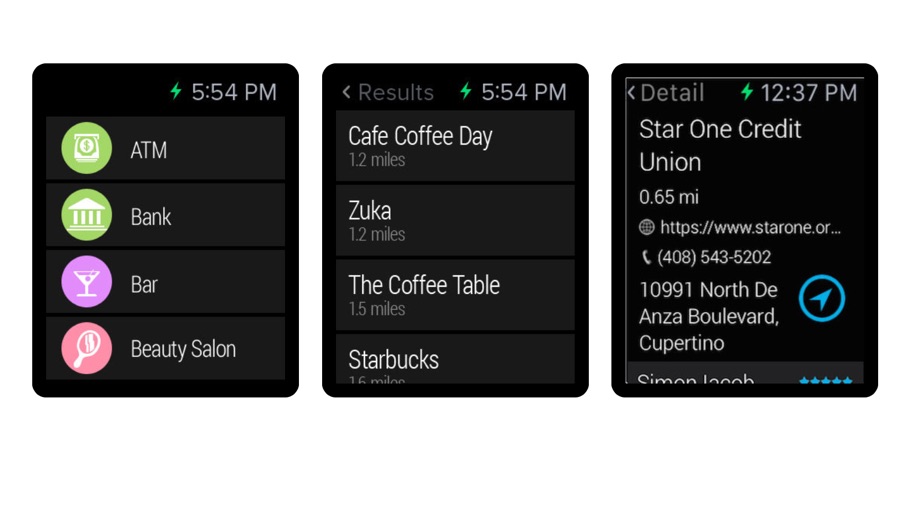 Guess what this does. Go on, guess. Yep: it finds things near you. Sadly that doesn't mean the TV remote, your keys or the gaming controller – whoever finds a way of doing that which doesn't involve sticking Bluetooth tags to everything will become a trillionaire – but it does mean cash machines, bars and coffee shops. The only in-app purchase is $2.99/£2.99/AU$4.49 to remove adverts from the iPhone app.
It works exactly like you'd expect. First, you choose the category of thing you want to find. Then, you scroll through the results. And to finish, you tap the one you want to find out more about. From there you can then be guided on foot, in the car or on your bike.
The app makes extensive use of Google Maps, and that means it's only as good as the Google Maps data: some users report inaccuracies such as long-shut businesses. If you're wondering why you can't just use Google Maps and cut out the middleman, it's because Google canned its Apple Watch app last year: if you want Google Maps on your wrist, you need a third-party app that hooks into it. Like this one.
Deliveries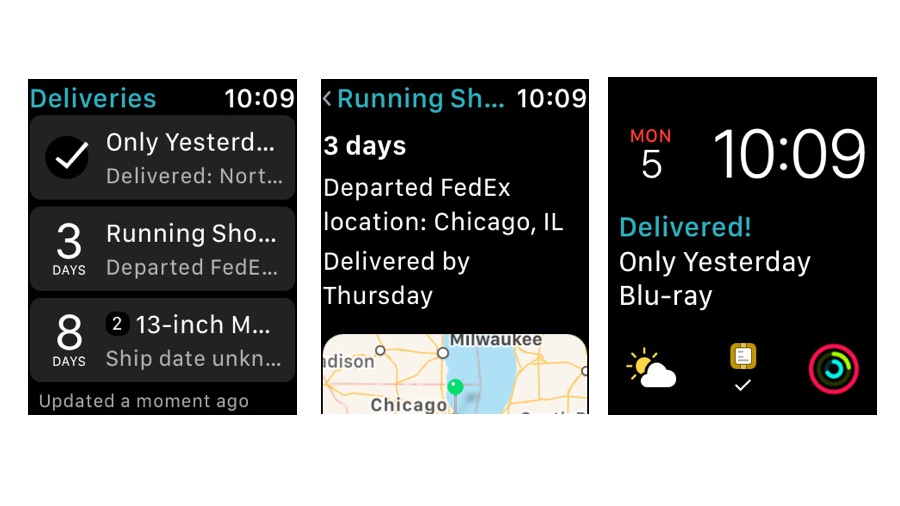 Is there anything more annoying than missing a delivery of something you're really excited about? Yes: there's missing a delivery of something that you really need to have in a hurry. Deliveries can help ensure that neither of those things happen to you.
It supports stacks of services including UPS, FedEx, US Postal Service, DHL, TNT, Canada Post, City Link and Royal Mail, can track packages, can add delivery dates to your calendar and can record past deliveries in case you need to refer to them later.
It's unnecessary for the odd package, but it's useful if you do a lot of online shopping or if you're in the middle of a project, such as furnishing a flat.
On the Watch the app acts as a ready reminder of what's in and what's incoming, so for example it'll show you if an item has just been delivered as well as the ETA of any other outstanding deliveries.
There's a Complication too, which works particularly well on the Utility watch face and shows you the most recent delivery. If you have the macOS version of the app too you can automatically sync between Mac and mobile via iCloud or the developer's own cloud sync service.
Stocard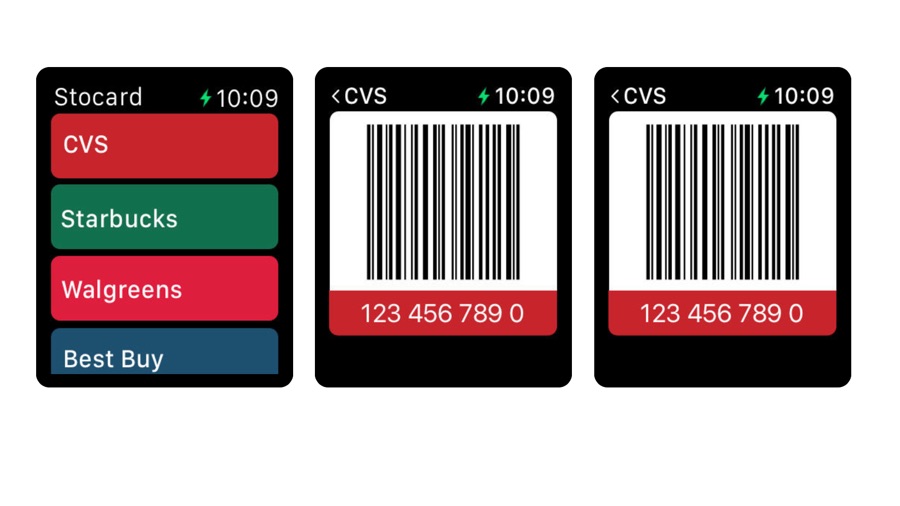 One of the things we hoped Apple's Wallet/Passbook app would deliver was an end to purses and wallets full of loyalty cards: our purse is so packed with the damn things that if we sit down with it in a back pocket one of our buttocks is a good six inches higher than the other. Wallet hasn't quite changed that yet, but Stocard has a pretty good try.
Stocard enables you to scan and store your loyalty cards (and some other cards such as some membership cards; generally speaking if it has a barcode or QR code on it, Stocard can probably digitize it), and then access them from your iPhone or Apple Watch when you're at the checkout.
Whether it works or not depends on the store infrastructure: until recently the self-scanners in Tesco didn't like it, but now that they've been upgraded they scan happily. The cards are automatically added to your Apple Wallet as well as kept inside the Stocard app.
The main benefit for you is convenience, as not only does Stocard reduce the amount of cards you have to carry without forcing you to miss out on loyalty points, but it also provides you with details of relevant special offers as you shop.
Best Apple Watch apps for email, chat and messaging
Microsoft Outlook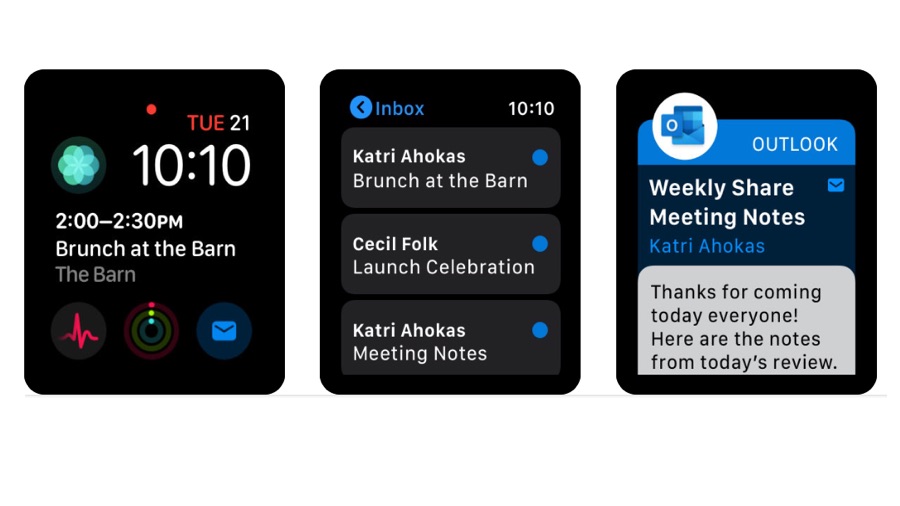 Microsoft makes some lovely iOS and Apple Watch apps, and this is one of them: it brings the power of Office apps together with Siri Shortcuts, enabling you to ask when your next meeting is or tell the team you're running late. The Apple Watch app has been re-engineered to make it incredibly fast (the iPhone app is faster too), and it's a great way to access email on the go if you're in a Microsoft-based environment.
In addition to improving things under the hood, Microsoft has also made some visual improvements. It has been updated to take advantage of the Complications available on the Apple Watch 4, so if you use the Infograph or Infograph Modular watch faces you can now configure a Complication to show the next event in your Outlook calendar.
As with other iOS Office apps, Outlook is freemium: the app itself is free but it really needs an Office 365 Home or Office 365 Personal subscription to be truly useful. They're currently $9.99/£8.99/AU$13.99 and $6.99/£6.49/AU$9.99 a month respectively as in-app purchases, but you can save a bit of money if you buy them directly from Microsoft instead.
Shift Keyboard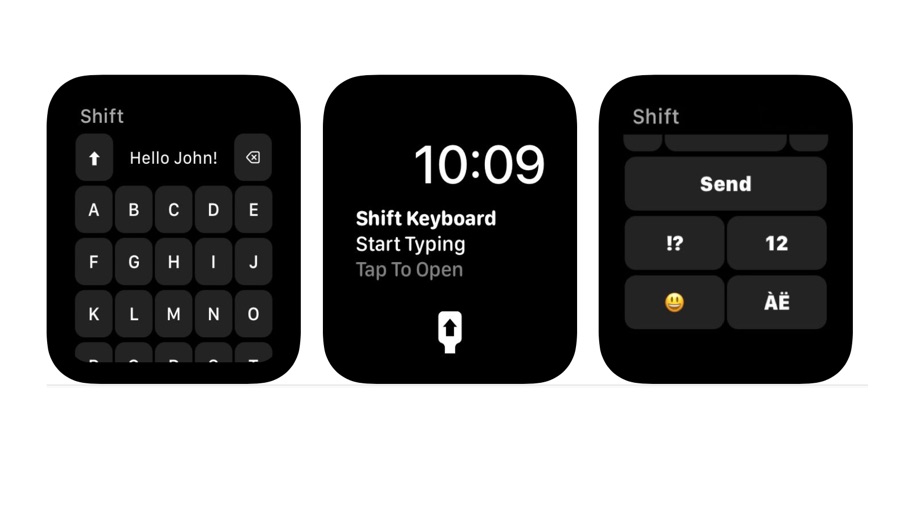 If you think putting a normal keyboard on such a small screen is a step back, developer Adam Foot hopes to prove you wrong. The keys are sized for easy, accurate typing and compared to voice recognition or Scribble handwriting recognition there's less risk of errors: what you tap is what you get.
It's worth noting that while Shift Keyboard can replace the keyboard on your iPhone, Apple doesn't let apps do that on the Apple Watch: on your wrist, Shift Keyboard runs as a stand-alone app. It does provide a complication for your Apple Watch face so that you can quickly access it, though.
The main attraction here isn't so much the keys as the ability to add multiple emoji to your messages, something the Apple Watch isn't brilliant at. All you need to do is create your emoji-packed message in the app and send it to Messages. If you tend to send messages that rely on a lot of visuals then Shift Keyboard will pay for itself quickly in terms of time saved, but if like us you tend to be more about plain text then it might be a harder sell.
FlickType Keyboard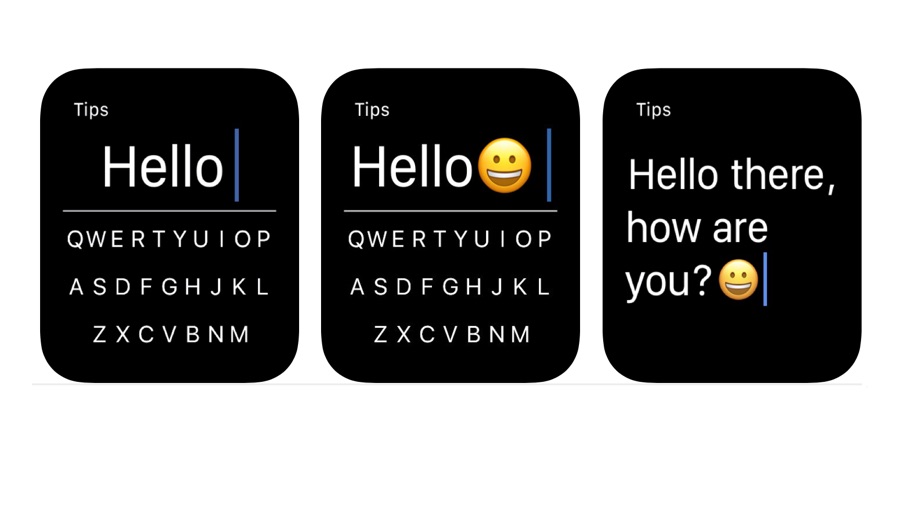 FlickType wants to make your Apple Watch text input faster and more accessible, promising up to three times faster input than using dictation or Scribble handwriting recognition. It uses the standard QWERTY layout but can read your letters aloud, enabling you to type eyes-free, which is particularly useful for blind or partially sighted users.
The app uses an algorithm to try and guess what you're trying to write based on the pattern of your taps – so it should get the right result even if you make a typo or two. If it does get things wrong or your typos are too hard to comprehend you can edit with a quick flick of the finger. The app also supports emoji and text shortcuts for even faster input. And it is very, very fast, with impressive accuracy.
In an interesting reversal of the usual pricing model, the Apple Watch version of FlickType is free – but if you want to use the app on your iPhone or iPad you'll need to subscribe. That's presumably because Apple doesn't let third-party keyboard apps replace the default Scribble service, so the app isn't quite as flexible on your wrist as it is on your phone: you have to copy your text from FlickType into the app you're using.
Telegram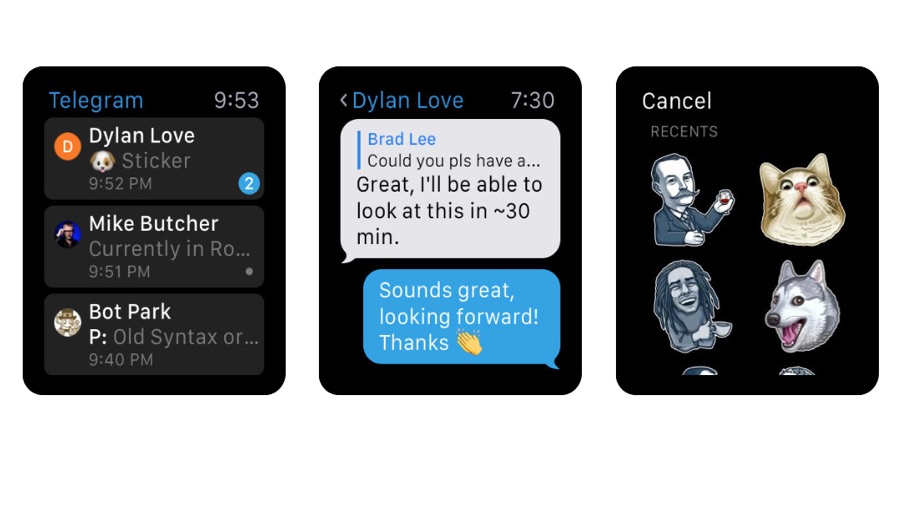 Oh, the drama: Telegram 5 initially dropped its Apple Watch companion app, but now it's back! Back! BACK!
The reason for this is that Telegram 5 has been rebuilt from the ground up to make it faster and more efficient; the Watch update simply wasn't ready in time.
Telegram is a secure instant messaging service that works on iPhone, iPad and once again, Apple Watch. It enables you to group chat with up to 30,000 people, which is more than enough for most of us, and unlike other messaging services it's really good at sharing things like documents, zip files and other useful things.
It's both free and ad-free, and if you're worried about privacy you can take part in Secret Chats where messages self-destruct after a specified time. As with all private apps that doesn't stop somebody taking a screenshot, taking a photo or duplicating content in some other way, but the end-to-end encryption does mean you can be confident that others aren't listening in.
Telegram's main selling point is its efficiency. It's designed to do its job with the minimum amount of data transfer necessary, something that's important in places with poor network coverage or for people with metered data connections, and it's also designed to operate with the minimum load on your battery.
Tweetbot 4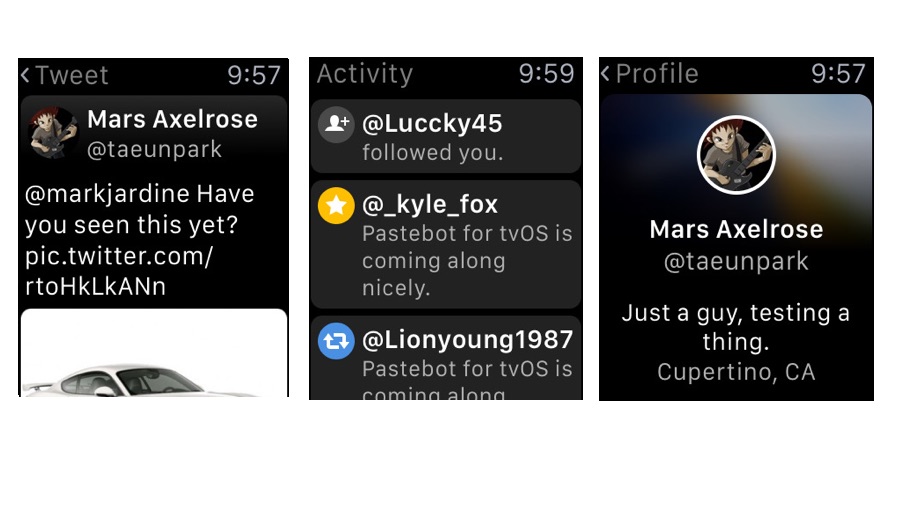 If you aren't already familiar with Tweetbot 4, it's the best Mac and iOS Twitter client bar none. This is why it can charge $4.99/£4.99/AU$7.99 for an iOS app and people gladly pay it, and it's worth checking out on the Apple Watch too.
Tweetbot doesn't unleash the Twitter firehose onto your wrist - we can't think of anything guaranteed to kill your battery more quickly - but it does give you exactly the information you need when you aren't looking at your phone.
The developers have rightly assumed that if you have your phone to hand you won't be using the watch instead, so they've concentrated on making an app for when you can't or don't want to pull your phone out of your pocket or purse. And that's clever.
Its Activity pane shows you what's happening in your feed, so if somebody's followed you or replied to you or tweeted you then you'll see it in Activity. Tapping on the item opens the appropriate tweet or user page, and with tweets you'll see icons for a quick reply, a retweet or a like.
If you push into the screen using Force Touch you get an offer to create a new tweet, and both it and the reply option use Siri for dictation, because on-watch typing would be frankly horrible - and you can dictate a direct message or follow/unfollow accounts from the app too.
Outlook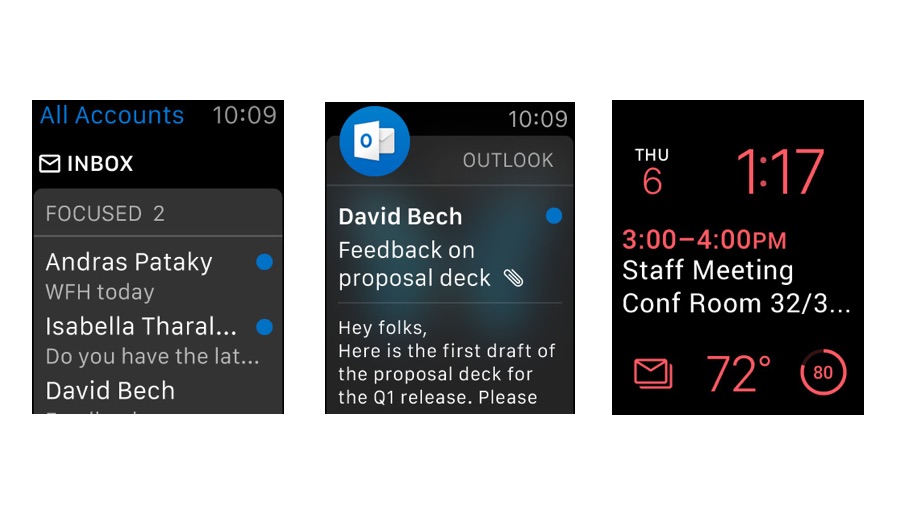 Microsoft earned well-deserved death stares from many Watch users when it bought and retired the excellent Sunrise Calendar iOS app, but its Outlook app is worth adding to your wrist.
It's from the new, interesting Microsoft, not the staid bore of old: it works well, looks great and won't crash your watch.
Outlook is a combined email and calendar app that connects to Microsoft Exchange, Office 365, Outlook.com, Hotmail, MSN, Gmail, Yahoo and iCloud, and its main claim to fame is the focused inbox: instead of showing you everything emailed, it shows the most important stuff only and learns by watching your swipes.
It's particularly good in a corporate environment, where its talents cope admirably with endless meeting requests, time changes and backside-covering email traffic, enabling you to prioritize things that matter and forget about things that don't.
That doesn't mean it's only for corporate types, though. Outlook is a really, really good email app and boasts a useful Complication that enables you to see what's next on your schedule from the main Apple Watch display. If you have a busy life, a busy inbox or both it's a very useful app to have on your arm.
Spark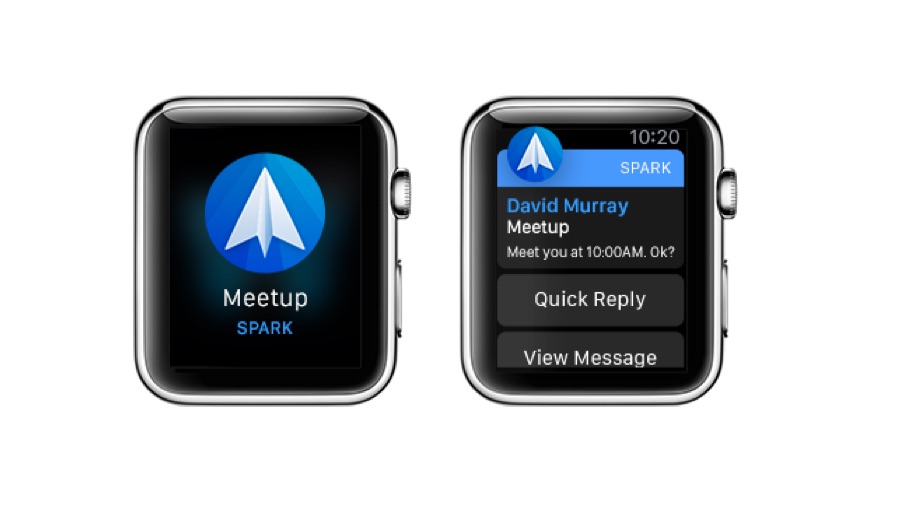 There's no shortage of apps promising to make email fun again, and Spark is one of our favorites: on our Mac and on our iPhone it does a superb job of showing us what we want and hiding what we don't.
The Apple Watch app is as well thought-out as its siblings, with the ability to use Messages-style quick replies as well as emoji and dictation. It's quite possible to reply to most everyday emails without reaching for your iPhone, although the option to Handoff is there if a message is too long to bother scrolling through on your wrist.
The main selling point for Spark is its Smart Inbox, which groups messages from multiple accounts into personal, notification and newsletter categories. It then displays how many unread messages you have for each category in the Watch app's home screen.
You can pin messages for quick access, and you can snooze them to hide them for a specified period of time. We find ourselves using that last one a lot: messages we can't process properly on our wrists are quickly snoozed so they'll resurface when we're back at our Macs. If you have to handle a lot of email Spark is a massive time saver.
Twitterrific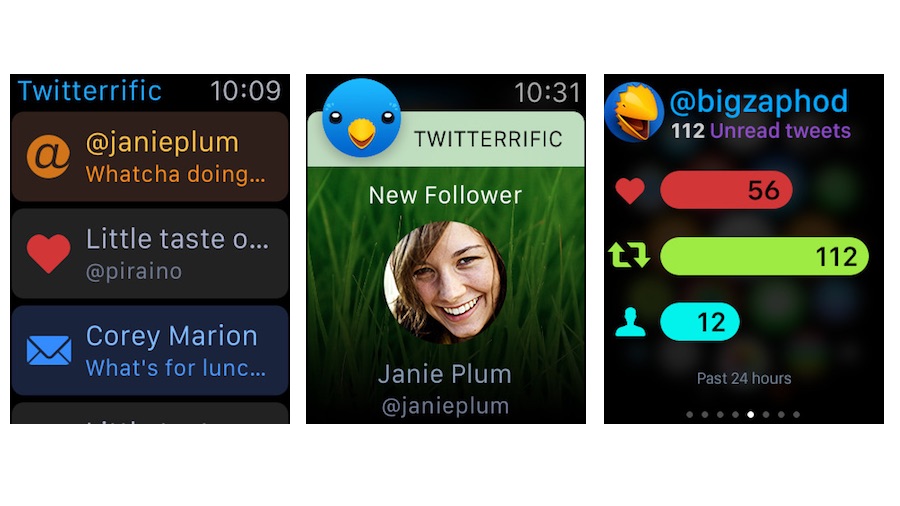 There are lots of reasons to love Twitter, but there are lots of reasons to find it annoying too. Promoted tweets filling your timeline, people talking about subjects you couldn't care less about, people retweeting people you couldn't care less about, Piers Morgan… wouldn't it be great if you could have a Twitter without all of those things? Don't look to the official app for that any time soon. Go for Twitterrific instead.
Now in its fifth incarnation, Twitterrific on iOS is a superb Twitter tool. The Watch features require a $2.99/£2.99/AU$4.49 in-app purchase to work fully, and they're worth paying for: you can track your stats, be notified about direct messages, favorites, new followers and other action, use Handoff to start replies on your phone, compose tweets via dictation and block idiots instantly.
We'd recommend keeping notifications to an absolute minimum unless you only follow a few people - Twitter can be incredibly noisy when you follow and/or are followed by lots of people - but the Watch app is a great way of staying on top of Twitter while you're out and about. It also reduces the risk of picking up your phone and thinking "while I'm here I'll just check…" and losing hours to trivia.
Canary Mail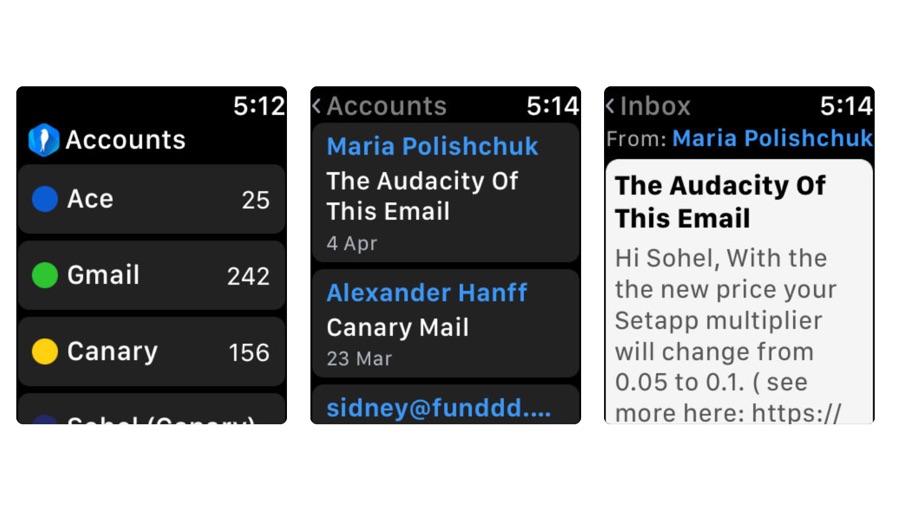 Canary Mail is a first: it's the first third-party email app to use the Apple Watch 3's 4G/LTE connection so you can access your email without lugging your iPhone around.
The feature is officially in beta but if you're in the market for a new email app it's a compelling reason to consider Canary over other iPhone email clients. The Watch support delivers short extracts of emails and the ability to quickly reply via scribbling or voice dictation.
The main iPhone app is very good indeed, supporting all the main email providers (including iCloud and, if IMAP's enabled on the server, Exchange) and enabling you to use PGP, to use natural language search and to bulk-delete irrelevant or spammy emails. It offers email templates for frequently used messages, easy unsubscribing and integration with cloud storage, to-do and calendar services, and the none-more-black interface looks particularly good on the iPhone X's OLED display.
It's worth keeping an eye on the price if you're considering Canary: it's gone from being offered as a free trial for a few days with in-app purchases to $4.99/£4.99, and then to the current price of $9.99/£9.99/AU$14.99.
Best Apple Watch apps for education and learning
MiniWiki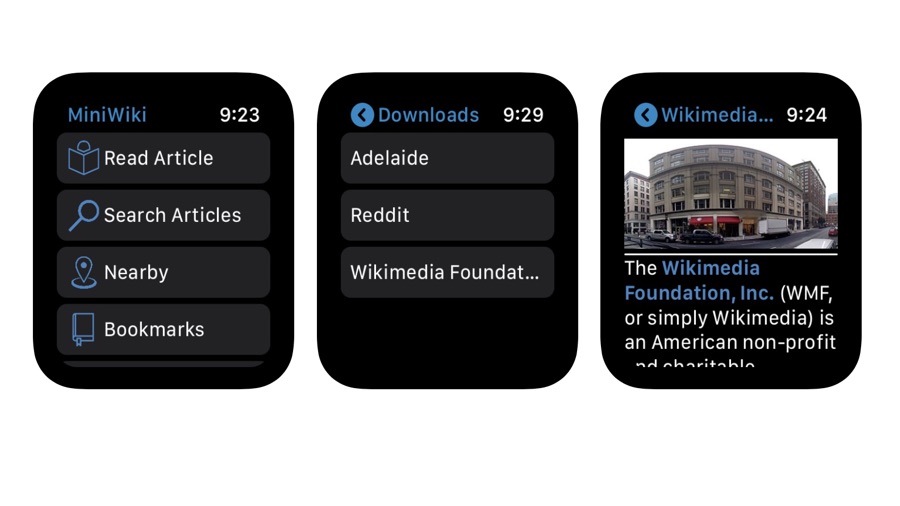 Some apps are designed for iPhone first and Apple Watch second, but not MiniWiki: its entire raison d'être is to bring you all of Wikipedia on your wrist.
It enables you to get content in four main ways: to read articles you've already downloaded, to find articles you've bookmarked, to find articles about things that are near you, and to find articles by search.
There's also a most-read section that lets you see what other people have been looking for and a random button that does exactly what you'd expect a random Wikipedia button to do.
There's only so much you can fit into a tiny rectangular display, but MiniWiki does it sensibly: there are no bells or whistles here, just the article text and inline images. In a nice touch you can set the Apple Watch app's language independently of your iPhone, and if an article in your chosen language isn't available you can see it in English instead.
If you're wondering "why look at wikis on your watch?" the short answer is speed. MiniWiki is much faster than grabbing your phone and using your browser, and it's faster to get there than by getting Siri to search the web.
LookUp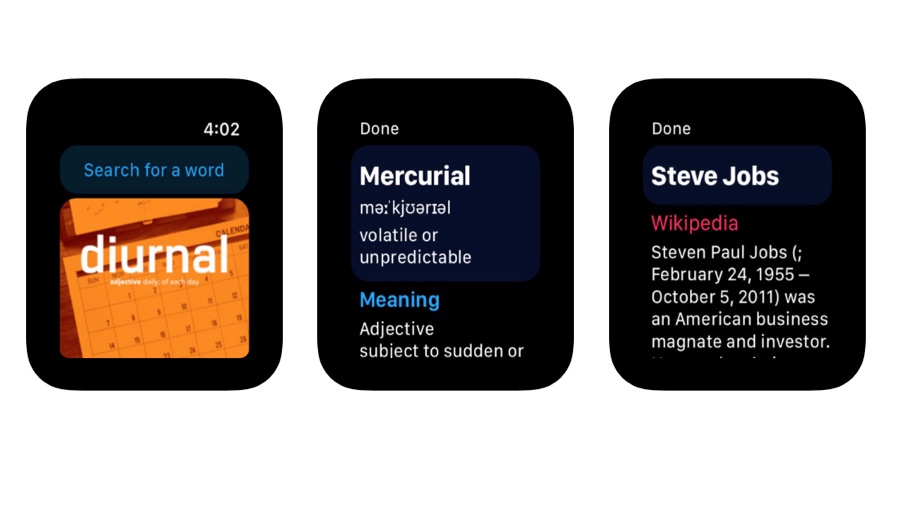 If you're going to charge four bucks, dollars or smackeroonies for a word-of-the-day app it had better be good – and LookUp is good, satisfying, pleasing and agreeable. Yes, we've been playing with its thesaurus.
The main LookUp app has extensive definitions, the aforementioned thesaurus and the ability to create collections of favorite words, and it also comes in a user-friendly Watch form so you can improve your vocabulary when your phone isn't handy.
As you'd expect from a word-of-the-day app, every day you get a word – but it's what happens afterwards that makes LookUp good. If you tap on the word on your wrist you get not just a definition but also example sentences, details of where the word came from and even the Wikipedia entry where appropriate.
The app also supports Handoff, so you can move to your phone if you want to look into more detailed information or access the thesaurus.
The natural home for LookUp is in the Siri watch face, but it also comes with complications you can use to call the app up whenever you feel like boosting your vocabulary. The app has also been tweaked to improve its performance, making it noticeably faster than before.
Daily Dictionary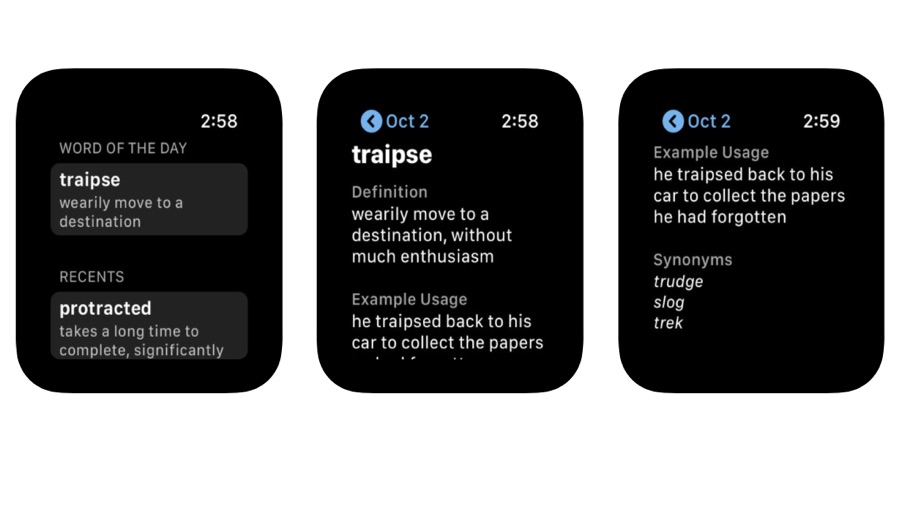 Daily Dictionary is a great example of the kind of apps that really work on your wrist: rather than blast you with notifications or try to cram tons of things into that relatively tiny screen, it delivers a little nugget of information that you might otherwise miss.
That nugget, of course, is a word. Every day, Daily Dictionary comes up with a new word. That can appear in your Apple Watch face's complication, or as a push notification, or you can call the app directly. The complication is well designed, as it also includes today's date, so you don't need to have as separate date complication, enabling you to use your limited complication space for something else.
The word selection is practical rather than esoteric. The aim is to provide you with words you'll actually use, so there's no jargon or scientific terms you're unlikely to use in your everyday conversations or writing. And the app enables you to see recent updates to catch up on any words you might have missed.
The core app is free, although a small purchase of just £2.99/$2.99/AU$4.49 a year unlocks the ability to customize the Apple Watch display.
Rosetta Stone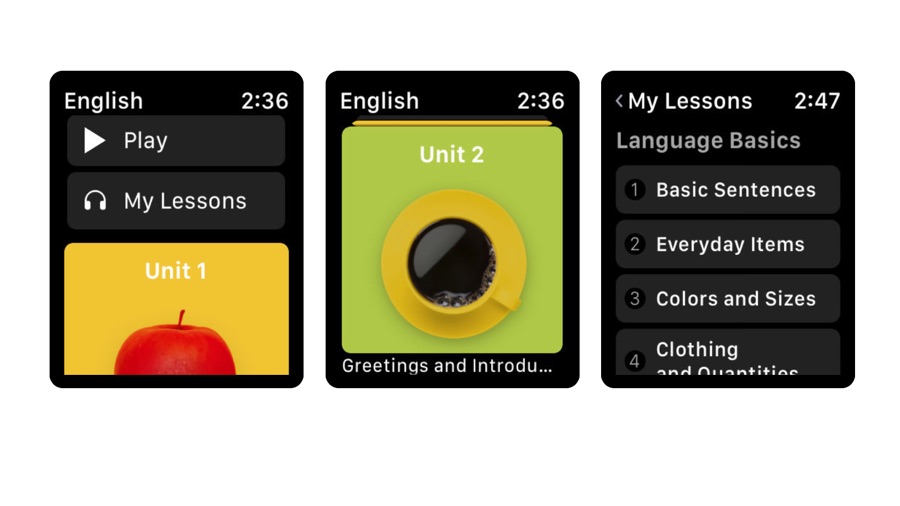 Rosetta Stone is one of the big brands in language learning, and its various apps have won shelves full of awards for its combination of effective teaching and user-friendly app design. The Apple Watch counterpart to its main iPhone app is a good example of how the Watch can be used to supplement more fully featured apps: it's tailored to the kinds of environments where the Apple Watch is the perfect device for a quick practice.
Rosetta Stone is all about real-life situations: ordering in restaurants, choosing things in shops, saying hello to people and so on. The Watch is ideally placed to practice that, and it's set out with sensible categories and simple and fast navigation to get you to the bit you need, with audio examples of how to do it.
The main thing to watch out for here is the price: while the app itself is free, it's useless without a language subscription. There are 24 languages to choose from and they start at $109.99/£93.99/AU$159.99 per year per language, with bundles for languages such as Spanish and French offering 5 levels for $199.99/£199.99/AU$319.99. Think of the app as a demo for the Rosetta Stone service rather than a stand-alone app.
Best Apple Watch apps for news and sports
Nano for Reddit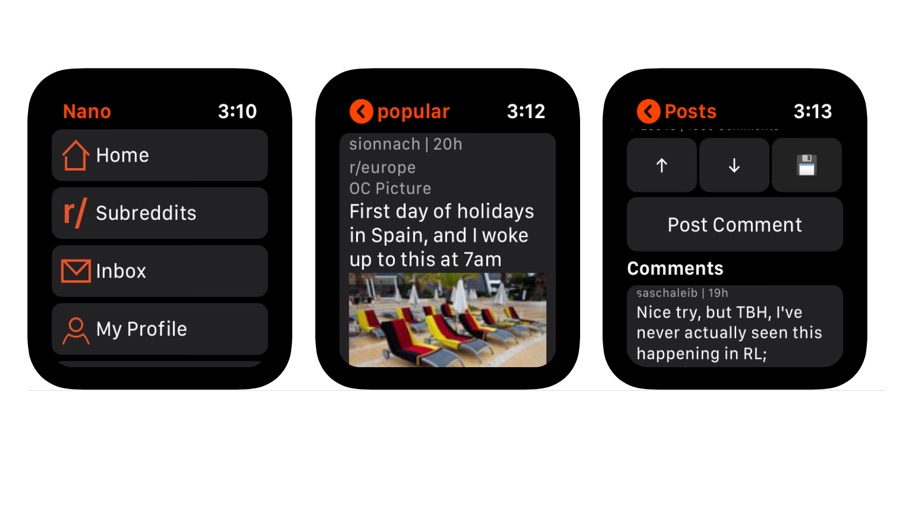 Cramming Reddit into an Apple Watch app sounds as simple as getting an elephant into a small family hatchback: it's a huge, sprawling mess of a site with subreddits so busy that it's impossible to read every post. And yet Nano has managed it. It's a wrist-based Reddit reader that enables you to keep on top of your favorite subreddits, read messages, and, of course, upvote and downvote other people's posts.
It displays images inline, including GIFs, and there's a built-in article reader for external links that does a very good job of presenting articles without unnecessary page items.
The app is free, but there's also a Pro upgrade that's relatively inexpensive and unlocks additional features: without it you're limited to 5 subreddits (and if you have a lot of subs you can't choose which ones you get in the free version: it brings your subscriptions in and then shows you the first five in alphabetical order). It also enables you to track favorites, see combined subreddits in multireddits, and handoff between phone and Watch.
Given the choice between Reddit on our iPhone or Reddit on our Apple Watch, we'd go for the iPhone every time – but for quick check-ins and for cellular Apple Watch users, Nano is a very effective and useful app for serious Redditors.
BBC News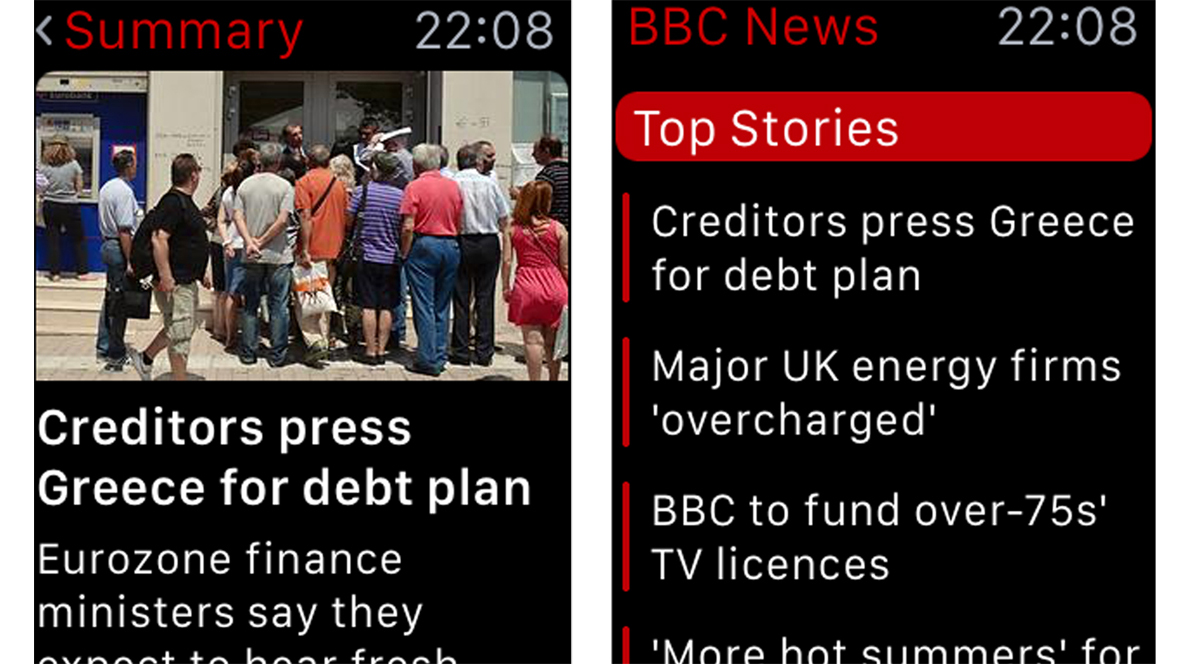 Of course, bigger screens such as phones and, you know, TVs are best for expansive looks at the news, so the Watch's little face is reserved for headlines and photos with BBC News. These appear in Glances and tapping on one takes you to a very slightly fuller version, and lets you access the other headlines.
You can create a personalised news list on the iPhone and these show up in the Watch app, too. Ideal for snacking on headlines and letting you follow up with the main story elsewhere. 
NHL
NHL isn't just for American hockey fans, its app is one of the few legal ways to watch NHL games in the rest of the world.
The official NHL app has been given an extensive update for the 2018/2019 season, including the addition of Apple Watch support to display scoreboards and summaries and to notify you of the most exciting happenings. Sensibly there's also an option to turn off notifications if you can't tune in live and don't want to spoil your viewing later.
The main iPhone/iPad app is very comprehensive, offering highlights, radio broadcasts and video streams as well as tons of in-game information. For US fans actually visiting the games, it even shows you where to get food and drink in the arena. In a nice touch you can also customize the app to reflect your favorite team's colors.
High quality sports apps don't tend to come cheap, and NHL is no exception: if you want to access the NHL.tv video you'll pay £17.99/AU$27.49 per month to access the content from outside the US or $24.99 if you're a US customer. We're hoping the latest update crushes some of the bugs that seem to have plagued earlier versions of the app. There's nothing worse than an app that freezes just before something really exciting happens.
Best Apple Watch apps for math and money
Elk Travel Currency Converter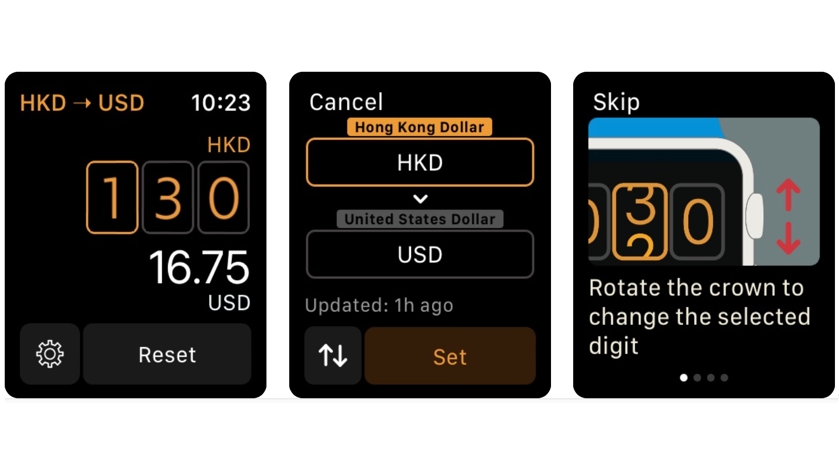 Elk is a brilliant example of an app that uses the Apple Watch well by playing to its strengths: portability, location awareness and simple controls. It's a currency converter that enables you to quickly convert between two different currencies, and its interface has been designed in such a way that you can do it really, really quickly.
It's all in the Digital Crown, which you use to spin the on-screen digits, and in its use of GPS to work out where you are – so if you're flying to Hong Kong, it will automatically set the currency to Hong Kong dollars when you arrive.
It's very well thought out: when you start a conversion it pre-populates the amount field with a sensible amount, such as £100, and it's just a matter of spinning the Digital Crown to change it or swiping left to increase a value ten times.
You can download the app for free but this is essentially a demo, as you need to unlock the Pro version to access your currencies after the 14-day trial period is up – but at $3.99 / £3.99 / AU$5.99 that's hardly a hugely expensive ask for what is a beautifully designed, intuitive and efficient app for travelers and anyone who has to work with multiple currencies.
BlueWallet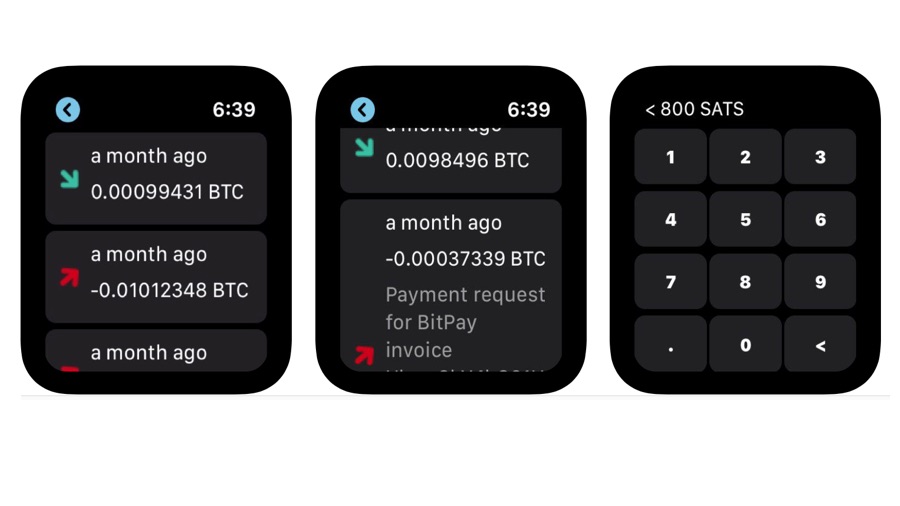 This one's more of an experiment for early adopters than a prime-time app for mainstream users: it's a way to bring Bitcoin to the Apple Watch, and if you don't have any Bitcoin or even know what Bitcoin is then it's definitely not an app for you.
It's a spin-off from the popular BlueWallet Bitcoin app and based on the same Lightning Network, but unlike the main app there's no opportunity to spend your riches in the included Marketplace: the Watch component is strictly read- and receive-only.
If you're wondering why anybody might want to receive Bitcoin payments on their Apple Watch, that's a question that the app is designed to address: it has been released partly to find out whether people would actually use a Bitcoin app on their wrist. 
Speaking to coindesk.com, product and UX engineer Nuno Coelho suggests that "sometimes the convenience… with two taps from your wrist can be a relevant user experience, specially on the go or if you need to be fast." Coelho says "if feedback is good, we'll spend more time on the project… we're trying to figure out how to build this stuff properly."
Calzy 3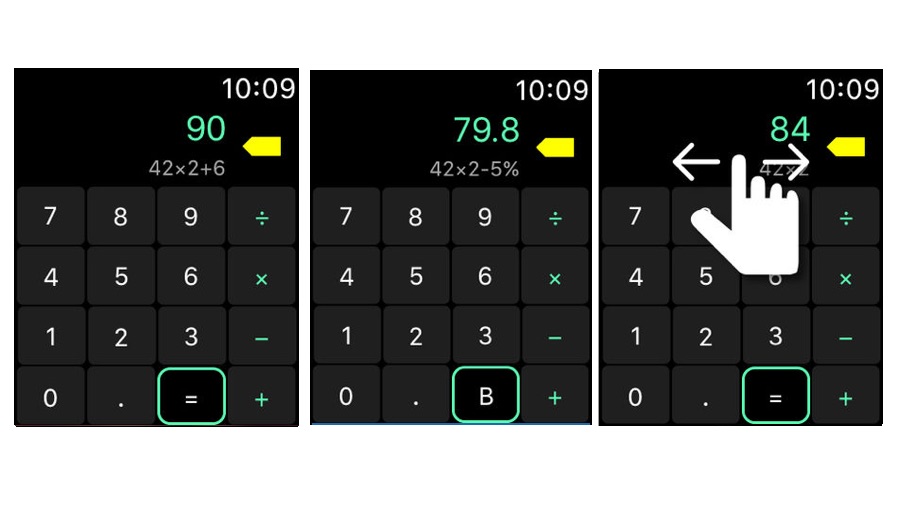 We've raved about the excellent PCalc calculator app, but Calzy is a worthy rival. The latest version, version 3, is a significant redesign that's been optimized for iOS 11.
The most obvious difference is that the operators – plus, minus and so on – are on the same screen as the numbers, and that means it's much faster to carry out multiple calculations, provided your fingers are fairly accurate: more buttons means a smaller tap area for each one.
It also shows you the running total as you go along, so for example if you're doing a calculation where it's this plus that times whatever you'll see the results as you tap. It's not as comprehensive as PCalc, but if all you need is a straightforward calculator on your wrist it's a good bit cheaper.
The main iPhone app, as you might expect, does a lot more than the Watch app. It has light and dark themes, a customizable keypad, Handoff support and even a searchable history of every calculation you've made. It also offers currency rounding to keep numbers to two decimal places, and you can tap and hold to edit part of a formula if you realize you've made a mistake halfway through.
PCalc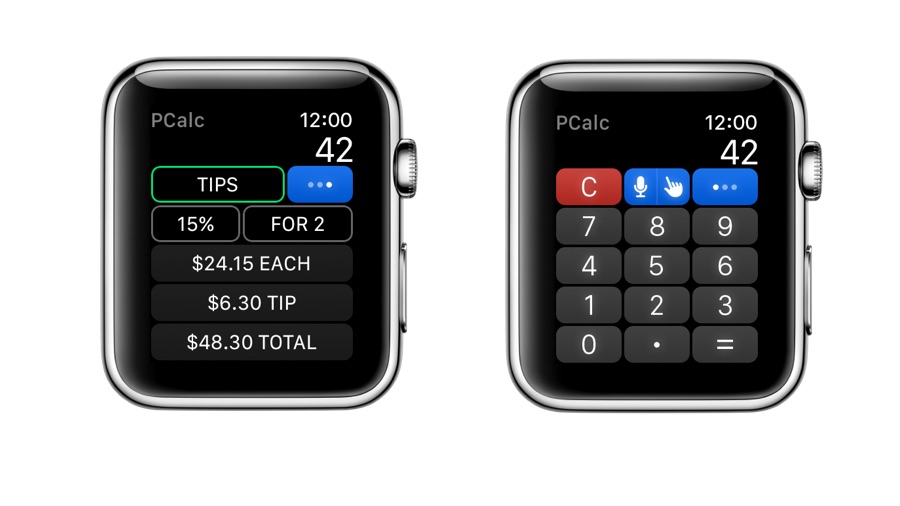 The apps we tend to love the most are the ones that solve real-world problems, and PCalc falls into that category. Yes, it's a fantastically useful calculator and scientific calculator, but much more importantly it prevents fisticuffs in restaurants.
That's because of its handy bill splitter. Simply tell it how much the bill comes to, how many people are paying and how big a tip you want to leave, and the Watch app calculates how much each person should hand over. It supports watchOS 3's Scribble feature too, so you don't need to dictate or tap on a tiny keypad if you've downed that second bottle of wine. Alternatively you can use the Digital Crown to enter the figure in the tip calculator.
That's not all the Watch app can do, though. It includes a converter for distances and other measurements, and if you Force Touch the app you'll see a Send To iPhone icon as well as the clear and undo buttons.
And on the iPhone the main app is a great tool for serious calculating (and quick sums: there's a mini-calculator if you Force Touch the app icon). It's not the cheapest calculator app, but it's worth the money.
Pennies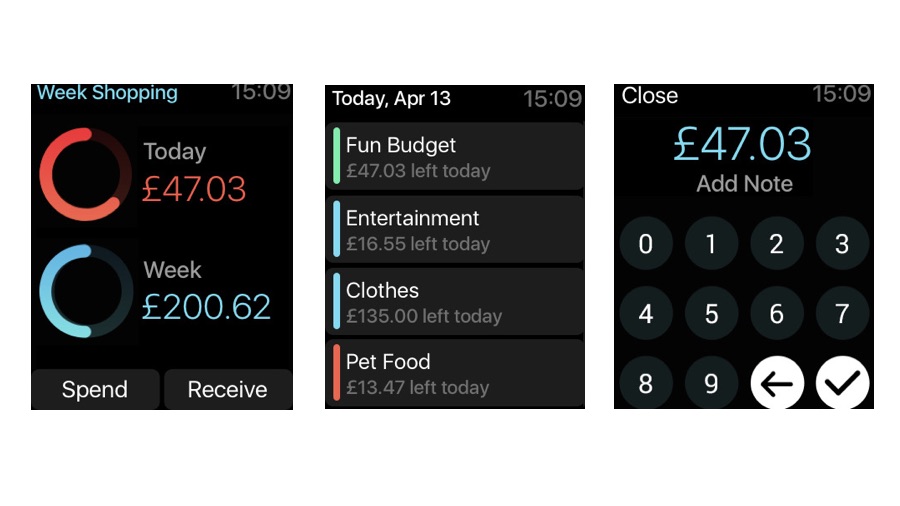 Pennies was a recent Apple Editor's Choice, for good reason: it's a very simple and effective budgeting app that allows you to get on top of your spending without having to spend too much time doing so.
You can set weekly, monthly, bi-weekly, bi-monthly, one-off and custom budgets, track in multiple currencies - great for holidays or business travel - and on the Watch, all you need to do is record how much you've spent against a particular budget, so for example if you have a shopping budget you'd tap it, tap Spend, and then enter the total.
The app then recalculates the amount you've got left, and if you wish you can have it displayed as a permanent Complication on the Watch face.
Pennies isn't interested in what you've bought; just what budget it should be allocated to. As the developer puts it, "it's all about keeping things easy and flexible so you can get on with having fun, spending what you want, and saving money at the end of the month."
If like us you find personal finance a mix of tedium and terror, Pennies might be the app that helps you take control of your cash.
XE Currency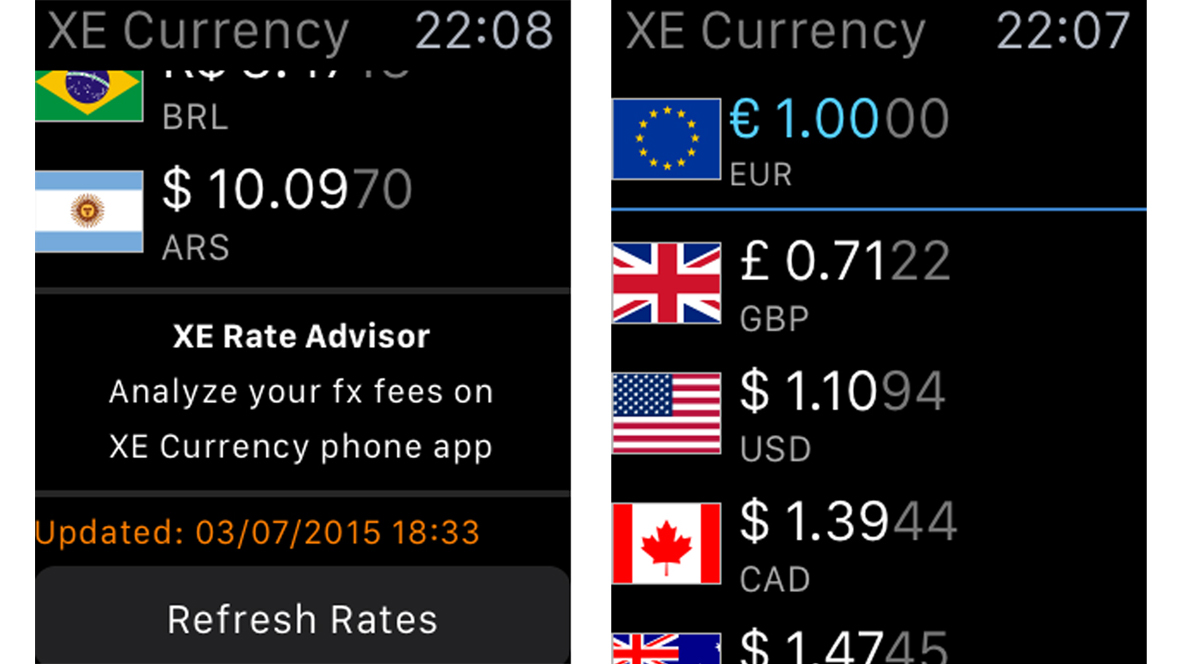 Currency converters abound on the iPhone and XE Currency is one of the best. While the Watch version doesn't have the calculator feature found on the phone, it's a clear chart of how many euros, Argentine pesos or Australian dollars a British pound buys.
You can add more currencies on the phone version – whatever's there is replicated on the Watch. A button at the base of the screen lets the iPhone app control the refresh rates, so you can avoid roaming charges.
Best Apple Watch apps for travel, weather and going out
iTranslate Converse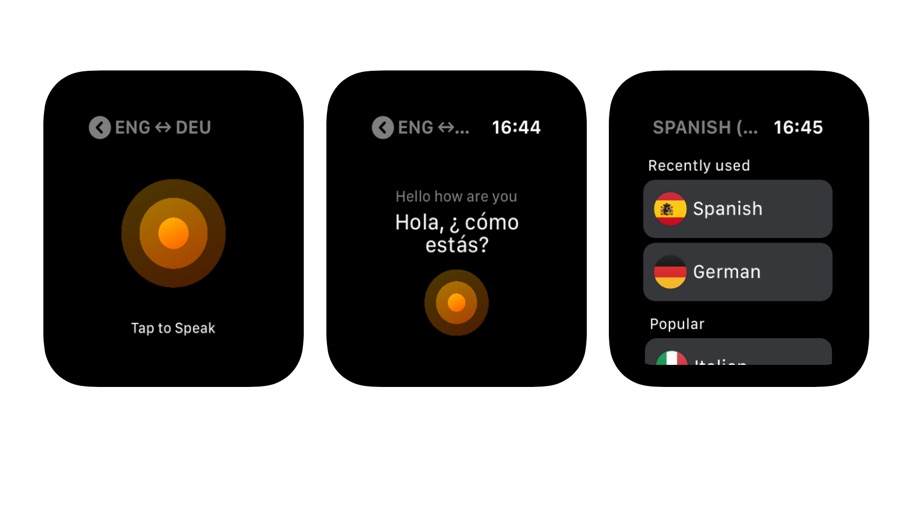 We looked at iTranslate Converse when it had a different name and a different price: today it's a free app, albeit one that requires a subscription to be truly useful. There are three options: $4.99/£4.99/AU$5.99 for a month, $9.99/£9.99/AU$11.99 for two months or $39.99/£39.99/AU$49.99 for a year. You get seven days to try the app for free.
Is it worth it? It's certainly impressive. With support for 38 languages, iTranslate Converse is as close as we've gotten to The Hitchhiker's Guide to the Galaxy's Babel Fish. Unlike the fish, this universal translator goes on your wrist instead of inside your ear – but it delivers very similar results, enabling you to speak naturally with people whose language you don't speak.
Simply tap and hold to speak and then let go to get the translation; you can then get the other person to do the same. In a nice touch the app uses your location to work out where you are and what language you're most likely to need.
The app works well and copes admirably in noisy environments, which can often be the bane of translation apps. Whether it's worth subscribing to really depends on where your travels will take you and how often you're going: if time is money then iTranslate Converse could pay for itself very quickly.
Citymapper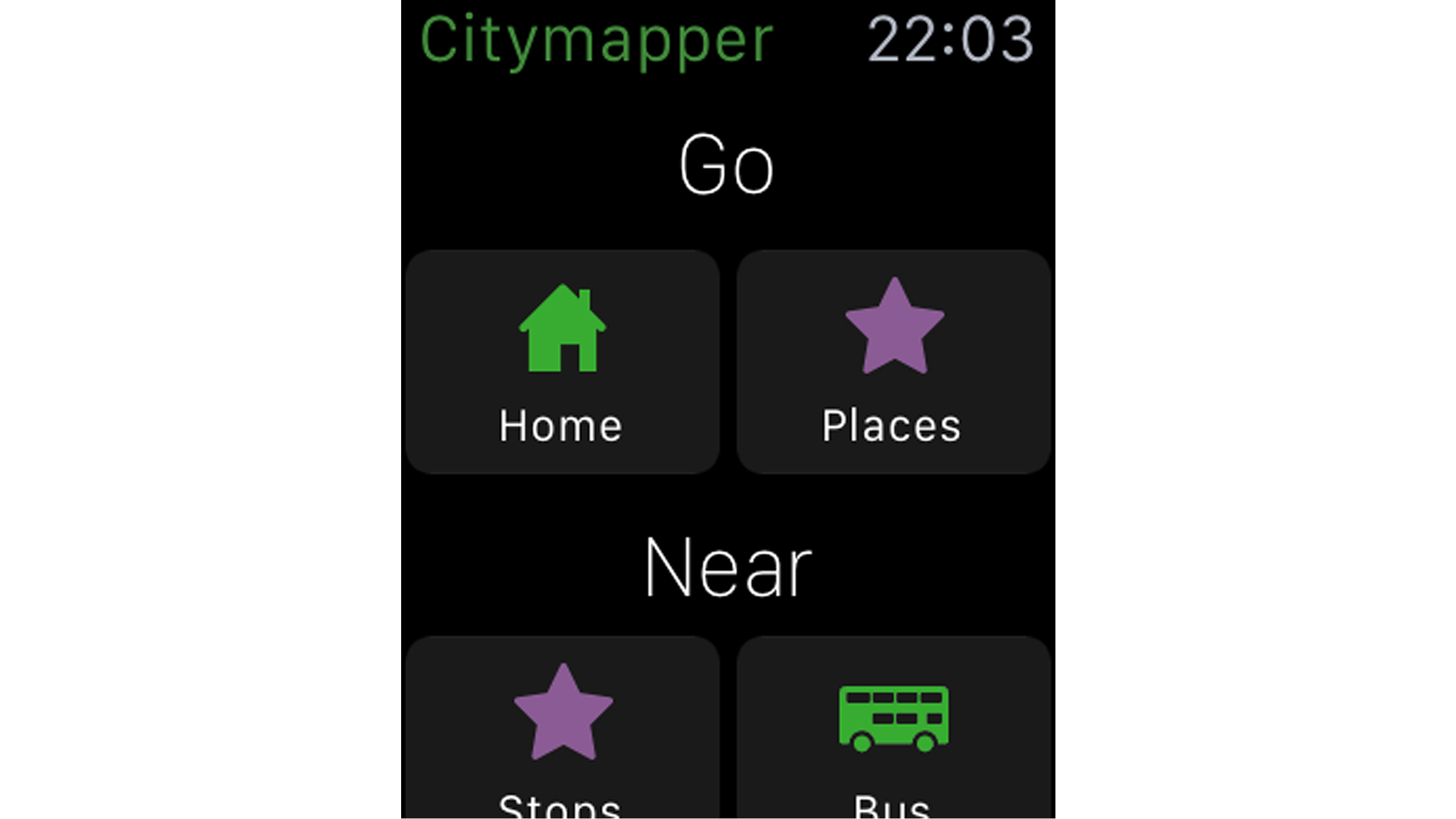 Citymapper is the pre-eminent public transport app, so no wonder it's an Apple Watch essential. It tells you how to get around selected cities including London, Manchester, Paris, Barcelona and New York.
As well as bus, train and subway times and directions, the Watch app even offers cycling routes and bike hire details such as London's rentable bikes. Once you've set up the journey on the phone, step-by-step notifications will appear on the Watch screen.
You can start journeys to home or previously saved destinations right from the Watch, and it will even help you find your way to nearby bus stops and train stations. Brilliant, just brilliant.
Transit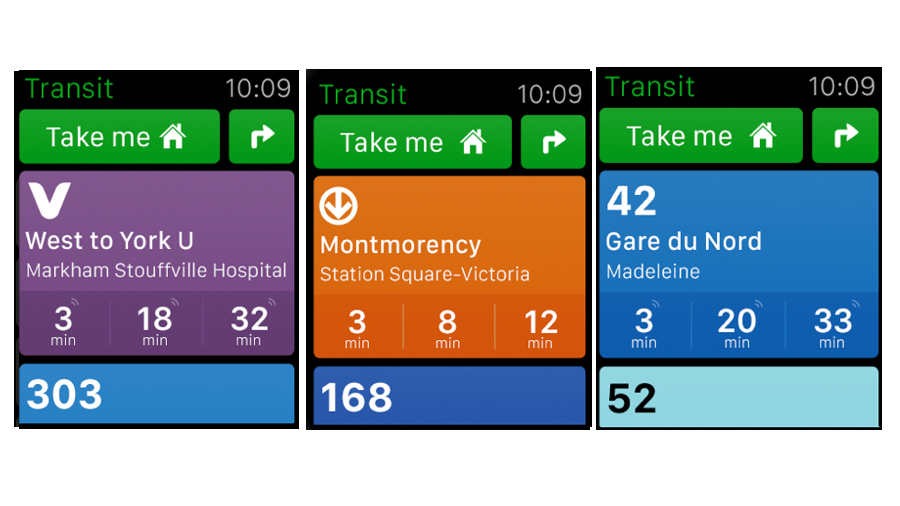 Transit is mainly for American users, but its city coverage extends to more than 50 non-US cities including London and Paris too. It's a public transport app, and it works on a simple and largely accurate assumption: when you use the app, you're in a hurry.
That means instant information for departures on nearby routes and a Take Me Home button that tells you how to get home as quickly and simply as possible. In a single screen it offers directions, details of the station, the next three departures and the number of the service.
Public transport tends to bring out the best in designers - think the simple genius of the London Underground map or the colorful signage on the New York subway - and that's definitely the case here.
Transit makes excellent use of color and typography to provide all the information you need in a very effective way.
It may only shave a few seconds off your travel time, but if you've ever harbored dark thoughts when someone at the gate in front of you is wasting time you'll know that for commuters, every single second counts. If you spend a lot of time traveling, you'll save a lot of time with Transit.
Microsoft Translator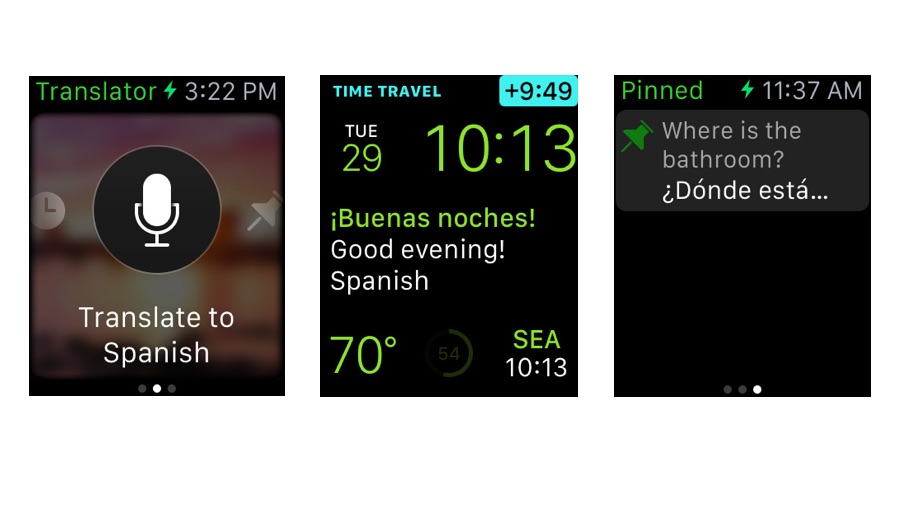 You know you're living in interesting times when one of the best apps for an Apple device comes from Microsoft. But Translator is superb.
We refer to the Hitchhiker's Guide to The Galaxy in another entry, and Microsoft Translator is the closest we've come to its Babel Fish - a fish you stuck in your ear to translate the universe's many languages.
Translator sits on your wrist rather than in your ear canal, but it does much the same thing. Speak into your watch and you'll see the translation, and it remembers recent translations on Watch or phone so you can find them again easily. You can also pin translations for instant access to essential words or phrases.
It gets even better if you use it on your phone, because it can translate in real time as you message somebody. You'll see your typing with the translation in the same bubble, and it can even handle simplified Chinese and Arabic script.
The amount of thought that's gone into Translator is obvious. Want to translate a sign? Point your camera at it. Want to have a conversation in a language you don't speak? The phone display splits with your words facing you and the translation facing them.
Night Sky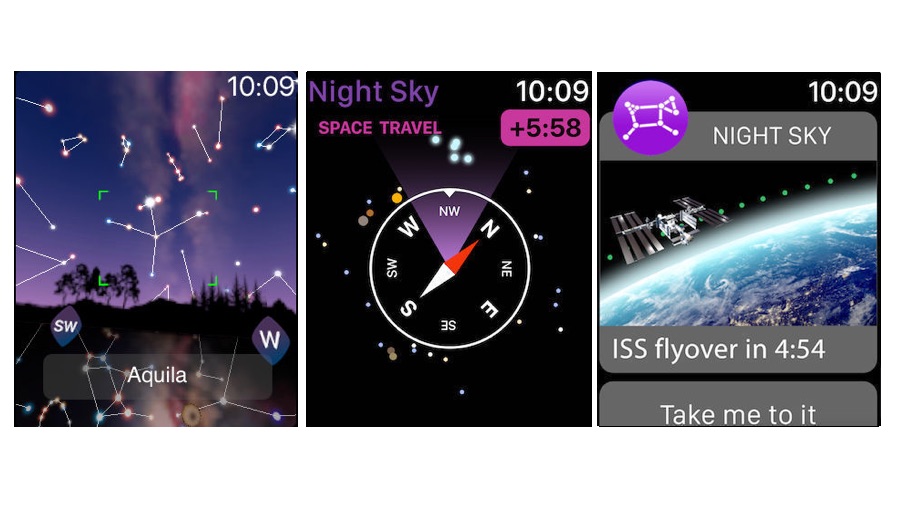 Night Sky is one of those gee-whiz apps that you use to show off your iPhone, and the introduction of a complication to let you know if the International Space Station was overhead was cute in a geeky way.
But the arrival of watchOS 4 has given the developers plenty of new toys to play with, and that means Night Sky is now one of those gee-whiz apps you use to show off your Apple Watch.
With this version of the app, your Watch now gets the same Sky Tracking features as the iPhone app has: you can now raise your wrist and identify the stars, planets and constellations around you.
There's a time travel feature too, so you can track how the various heavenly bodies will move. It's enormously clever and very impressive, and the main iPhone app isn't bad either, as its Sky View knows of 115,000 celestial objects and enables you to increase or decrease light pollution, explore animated 3D models and customize notifications.
If you sign up for the $1.99/£1.99/AU$2.99 monthly premium subscription you get access to worldwide sky tours that you can save for future use - for example if you're planning to visit a particular location in the near future.
Foursquare City Guide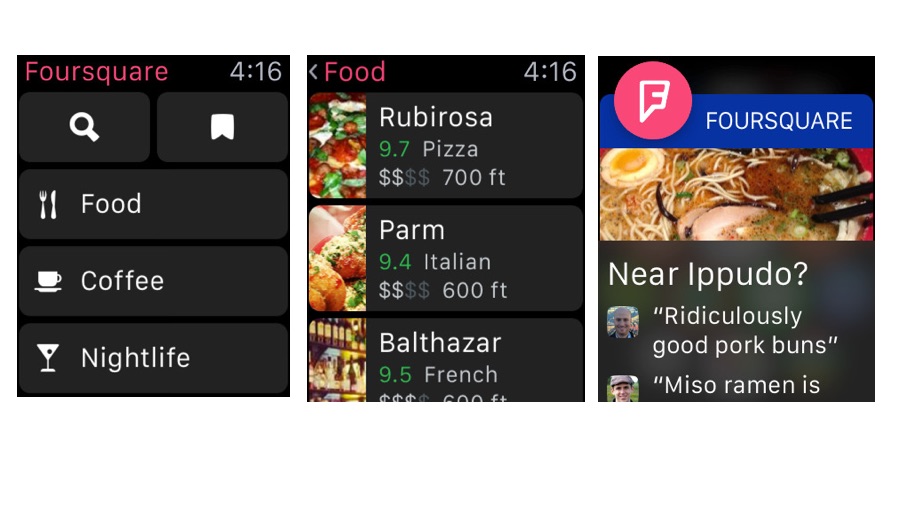 Foursquare's mission has changed somewhat over the years: what started off based around location check-ins and "king of the castle" bragging had to change when Facebook promptly copied the idea.
Robbed of its raison d'être, these days Foursquare has separated the check-ins from the venue recommendations. Foursquare City Guide's job is to find decent bars and restaurants wherever you are in the world (if you still want to be the mayor of wherever, that's the companion app, Foursquare Swarm).
The main interface of City Guide has five tappable areas: Search, Favorites, Food, Coffee and Nightlife.
Tapping on the appropriate option takes you to a list of venues, but instead of just filtering by distance the app also filters by Foursquare user ratings - so a rating of 9.5 that's 500m away will appear below a 9.7 that's 100m further.
The list gives you the name, price bracket, average rating and distance for each venue, and if you tap on a venue you'll see reviews, photos, maps and other key information. The big selling point here is Foursquare's global reach: it's a really good app for travellers who don't want to spend their time in the hotel bar or eating in faceless chain restaurants.
ETA - Arrive on time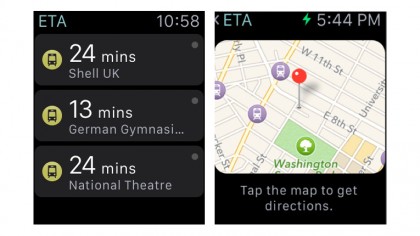 Like Citymapper, ETA will help you get somewhere. The title refers to its front-and-centre information. You add a location on the iPhone and save it. Then it'll give you timings for driving, walking or taking public transport.
Some watch faces allow it as a complication, where it'll show the time it'll take to your top saved route. It knows what traffic is like so allows extra time for a drive in rush hour, say. On the Watch app you tap the chosen saved destination and it'll take you through to Maps for directions.
Similarly, for public transport directions in select cities Maps will provide the directions.
iTranslate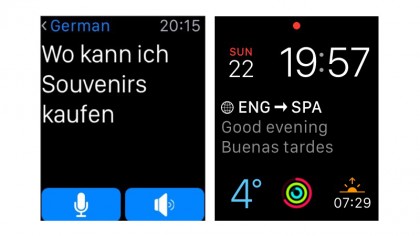 This powerful translation app works in 90 languages. It's free but for full Watch use you'll need the $6.99/£6.99/AU$10.99 in-app purchase which offers voice recognition and unlimited translations.
A Watch complication means you can tap on the screen to start translating straight away and if you'll let it, iTranslate will use your location to figure out what language it should be translating to or from.
It also responds to Time Travel so by winding the Digital Crown you can see phrases which change such as "Good afternoon" which is replaced by "Good evening" as you scroll forward.
Dark Sky Weather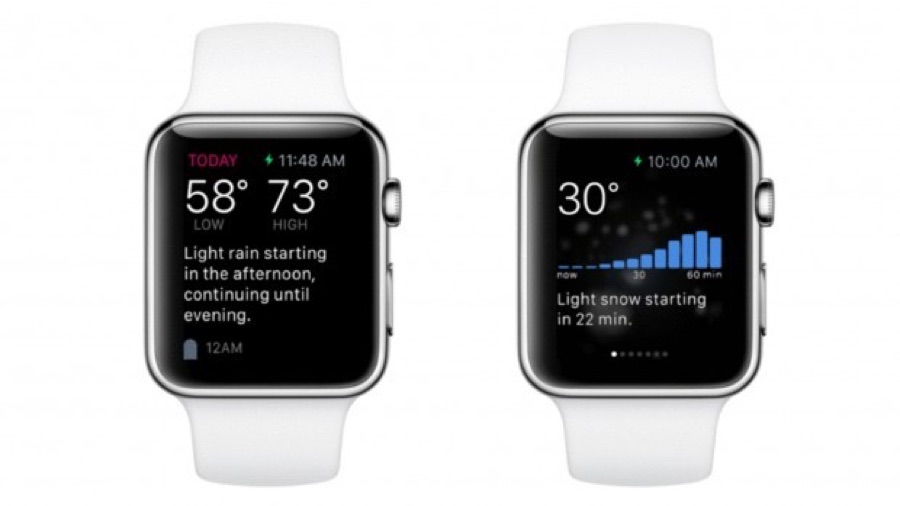 Dark Sky is the first app we put on any new Apple device, and the Apple Watch is no exception. In fact, we think Dark Sky is at its most useful when you're wearing it on your wrist.
What Dark Sky does seems very simple, but is actually very clever. It tells you what the weather's going to do - not in a vague sense, but as in telling you that it's going to bucket down in ten minutes and that the storm won't stop for an hour.
That means it's the perfect app for anybody who's thinking about going outside for any reason, or who's already outside and really ought to be getting inside in a big hurry.
In more dramatic climates it alerts of dangerous weather such as storms, and you can set it to notify you of specific kinds of weather that you select in the companion iPhone app.
We use it to decide if now is a good time to walk the dog, if it's time to get the kids back to the car or if we really shouldn't be going out dressed like that; you might use it when you're hiking or biking, or doing any other activity that could be affected by changes in the weather.
If you used Dark Sky in the early days of the Apple Watch and found it painfully slow and unresponsive, give it another go: the current version runs on the watch, not on the phone, and the difference in performance really is dramatic.
Yahoo Weather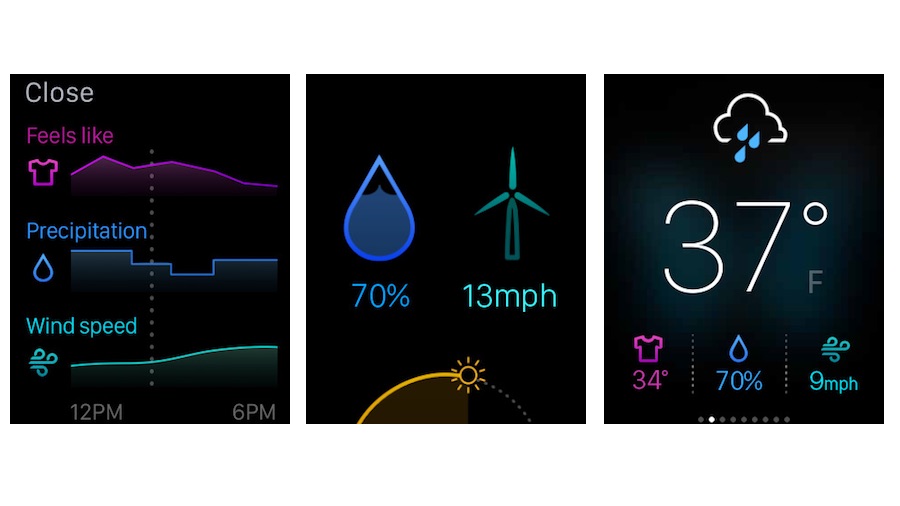 Dark Sky and CARROT Weather get all the reviews, but Yahoo's weather app is a lovely thing on the Apple Watch.
It takes the same colorful, minimalist approach as the iPhone/iPad app, with screens showing trend lines for temperature, precipitation and wind speed, along with sunrise and sunset times and where the sun is right now, whether it's going to rain and what the temperature highs and lows will be.
You don't get the right-now weather warnings of Dark Sky or the sass of CARROT, just a clear, easy to understand and really well-presented set of predictions.
It's not all sunshine and flowers, though. The host app is pretty big - 137MB, which is on the large side for a weather app, given that the UK Met Office app is 80MB and Dark Sky 20.8MB - and the accuracy of the weather forecasts seems to depend on where you live.
US users seem very happy with it, but UK users say it's a little pessimistic: while it rains a lot in Britain, it doesn't rain quite as often as Yahoo Weather says it will.
Then again, it's better to warn of rain and be pleasantly surprised than to predict good weather when the skies are about to open.
Circa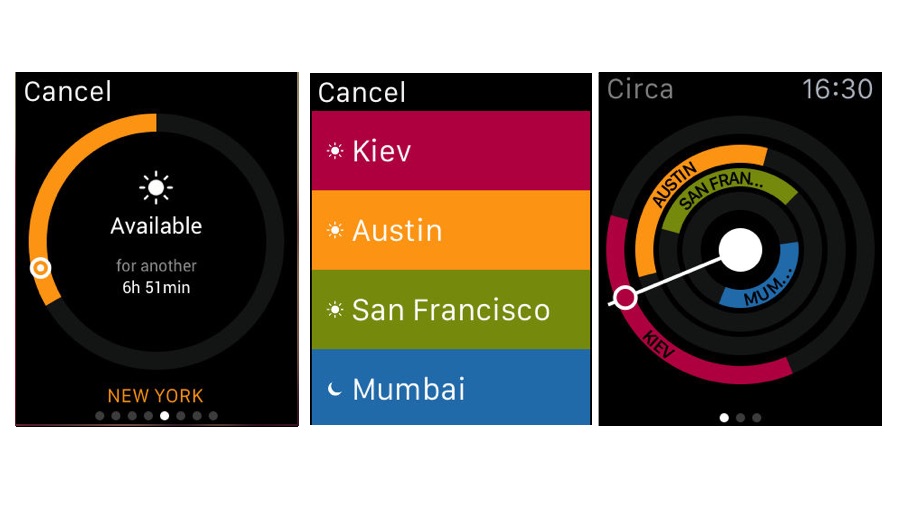 It's not a surprise that the Apple Watch attracts a lot of apps built around the idea of time, but few of them are as simple and as useful as Circa. It's designed for global travellers or people whose life involves communicating with people around the world, and answers a simple and important question: is this a good time?
It may be a simple question, but it's often a tough question to answer. If you've ever tried to find a time for a virtual meeting that works not just for you and your local colleagues but for colleagues halfway across the world you'll know how much of a pain in the neck it can be.
Are they EST or PST? Are they behind us or ahead of us? Circa remembers these things so you don't have to, offering crystal clear guides to when people are going to be available and when they should be in their bed.
It's a niche app, but many of the very best Apple Watch apps are: it's simple, beautifully designed and does exactly what it sets out to do. If you need this kind of thing, this is exactly what you need.
TripIt - Travel Organizer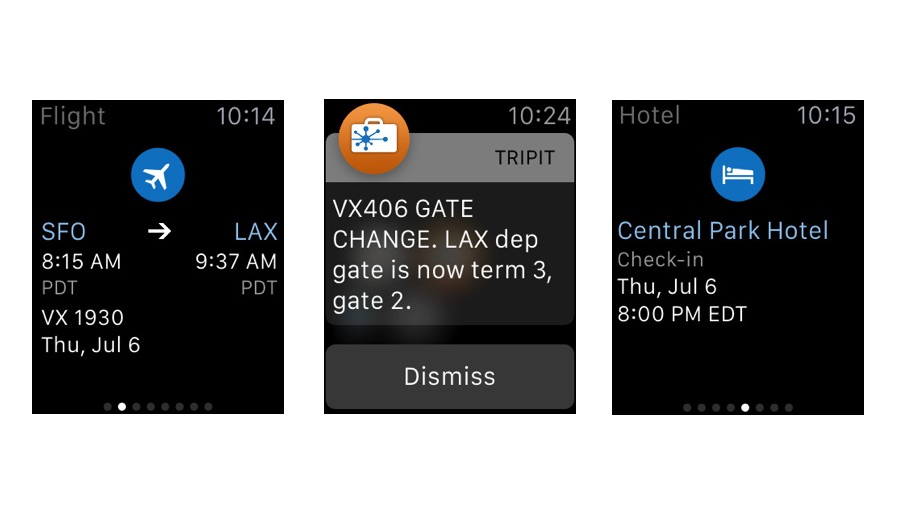 Whether you're a road warrior or an occasional holidayer, keeping track of the various aspects of your trip can be a pain. TripIt solves that by pulling all your travel-related documentation together.
All you need to do is send your travel confirmation emails - flights, hotels, car hire - to TripIt and the app will automatically organize them and tell you the information you need when you need it.
If you use Gmail, Outlook.com or Yahoo mail you can get TripIt to monitor your mailbox automatically, which makes things even easier. If you're in the US, it even tells you when it's time to head for the airport.
The phone app stores your itinerary and key documents, and the Watch app lets you know what's important right now - so if you're about to board a flight you'll see the flight number and departure time, if you're checking in you'll see a booking reference and so on.
Things get really clever with the Pro subscription ($48.99/£38.99/AU$77.99), which adds live flight notifications, seat tracking and alternative flight finding should your plans change.
That's probably unnecessary for most people, though: the free version of the app includes all the essentials you need for any kind of travel.
CARROT Weather
We've mentioned CARROT Weather before: it's our go-to app when we want the weather forecast delivered by a hyper-intelligent artificial entity that wishes we were dead. In this massive update the app becomes even more horrible, and we mean that in a good way.
There are complications for your Apple Watch face as well as a completely misanthropic Watch app with all the weather information you could possibly need, displayed silently or spoken aloud depending on your preferences.
We particularly like the way you can specify just how horrible CARROT is to you, along with its political leanings. And on the accompanying iPhone app there's a really fun feature that uses Apple's ARKit to bring the forecast into augmented reality.
The developers are upfront about their pricing: if you want to use Weather Underground data instead of the default Dark Sky and take advantage of its radar pictures too, those features cost the devs extra money so you'll need to pay another $9.99/£8.99/AU$14.49 per year for the Ultrapremium Club in-app purchase.
There's also a cheaper Premium Club ($3.99/£3.49/AU$5.49pa) that enables you to customize the complications, to receive weather alerts and to have background data updates. It's worth it.
Best Apple Watch apps for food and drink
Grocery - Smart Grocery List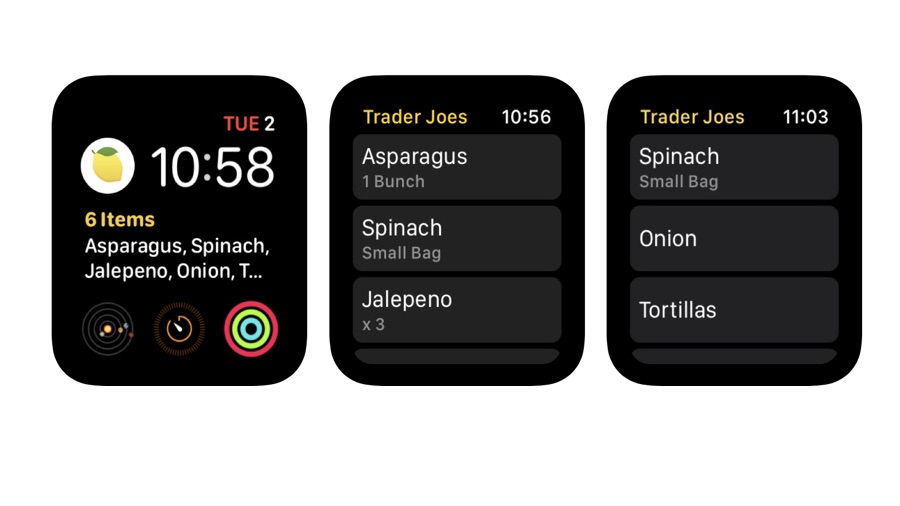 It's hard to get excited about grocery shopping, we know, but we're all in favor of any app that makes it easier to ensure we actually get the things we need when we go shopping. Now in version 2, Grocery does just that.
As you'd expect from the name it's a grocery list app, but this particular app is built around Apple's own Reminders, so it's easy to access your lists and to share them online with others. It features Siri support so you can say things such as "Add eggs to my grocery list", and you can create Siri shortcuts for groups of items – which is handy if there are specific ingredients you tend to buy together for particular meals.
One of the cleverest features is the way Grocery analyses your shopping: as you tick off items it remembers the order in which you did them, so the next time you hit the shops your list will be in an order that reflects where things actually are in the shop rather than the order in which you remembered them. It does this on a per-store basis, and the different stores can be geofenced so that your Watch knows exactly where it is and where to find what you need.
Just Eat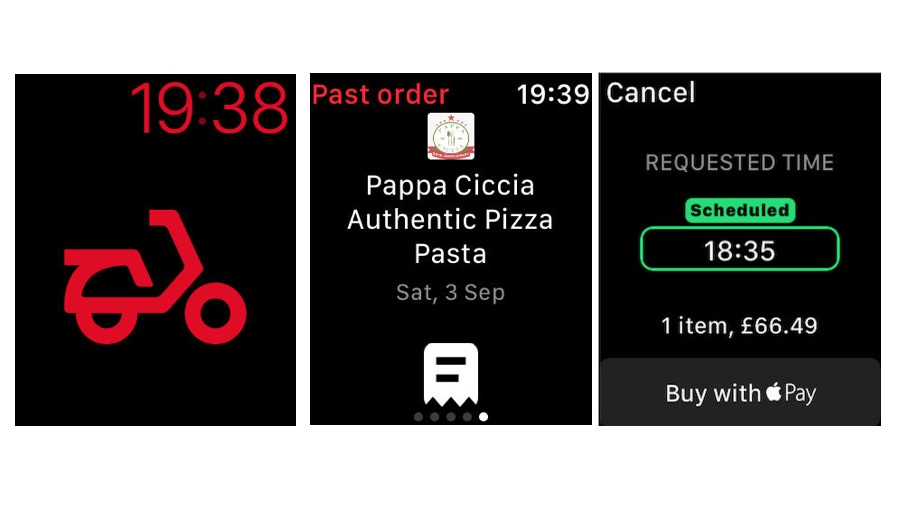 Proving that you should never underestimate our basic laziness, Just Eat created an app for people who couldn't be bothered using the telephone to call for a takeaway. Now, it's added an app for people who can't be bothered reaching for their iPhone to open the Just Eat app.
One day historians may look back on this as one of the key steps in the downfall of western civilisation. Then again, easy pizza!
The Just Eat app is UK-only - if you're in the US, try the Domino's Apple Watch app instead - and it enables you to choose, order and pay for takeaways from the comfort of your wrist thanks to Apple Pay integration.
You can also choose to collect instead of having the meal delivered, but let's be honest: if you can't be bothered getting your phone you're hardly going to want to go outside to collect your food - although if you're driving it's handy to order a pickup with a few taps.
The main iPhone/iPad app is much more attractive and informative, but when it comes to ordering regulars from your favorite local takeaways it doesn't get much easier than having Just Eat on your wrist.
Yelp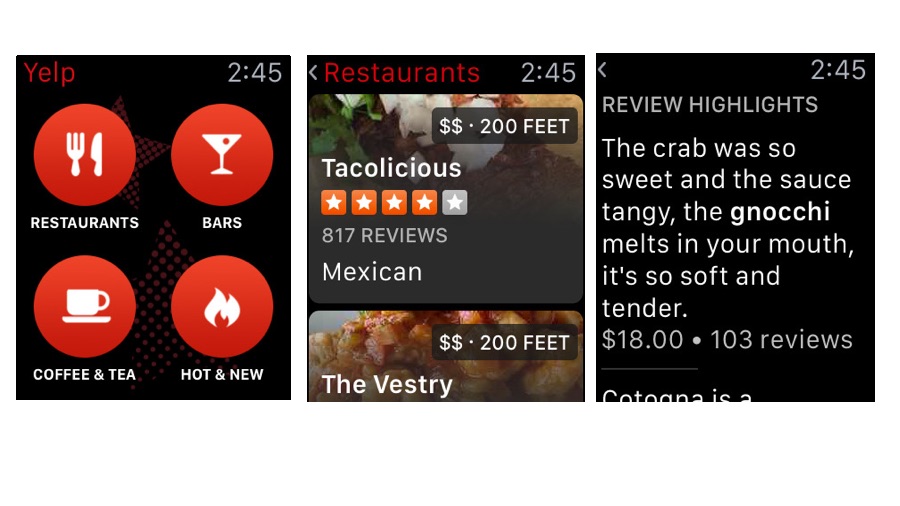 You've probably noticed something of a trend in our favorite apps: they tend to approach their mission by asking what useful things the watch can do rather than trying to cram an entire phone app into that tiny screen, irrespective of whether that's sane or useful. Yelp is a great example of an app that gets it right.
When you open it you'll see just four icons: Restaurants, Bars, Coffee & Tea, and Hot & New. Tapping on the one you're interested in then shows you a list sorted by distance, with the all-important star ratings and average cost listed on top of a photograph. Tap again and you'll get the opening hours and a map, and of course you can read the reviews too - that's what Yelp is all about.
It's particularly good for the kind of venues and experiences popular among bright young things in big cities, (the most committed Yelpers), but the database is truly enormous and doesn't turn into tumbleweed whenever you venture into the countryside. Yelp's app is very good for finding places in unfamiliar towns, or unfamiliar places in towns you know very well.
 
Chipotle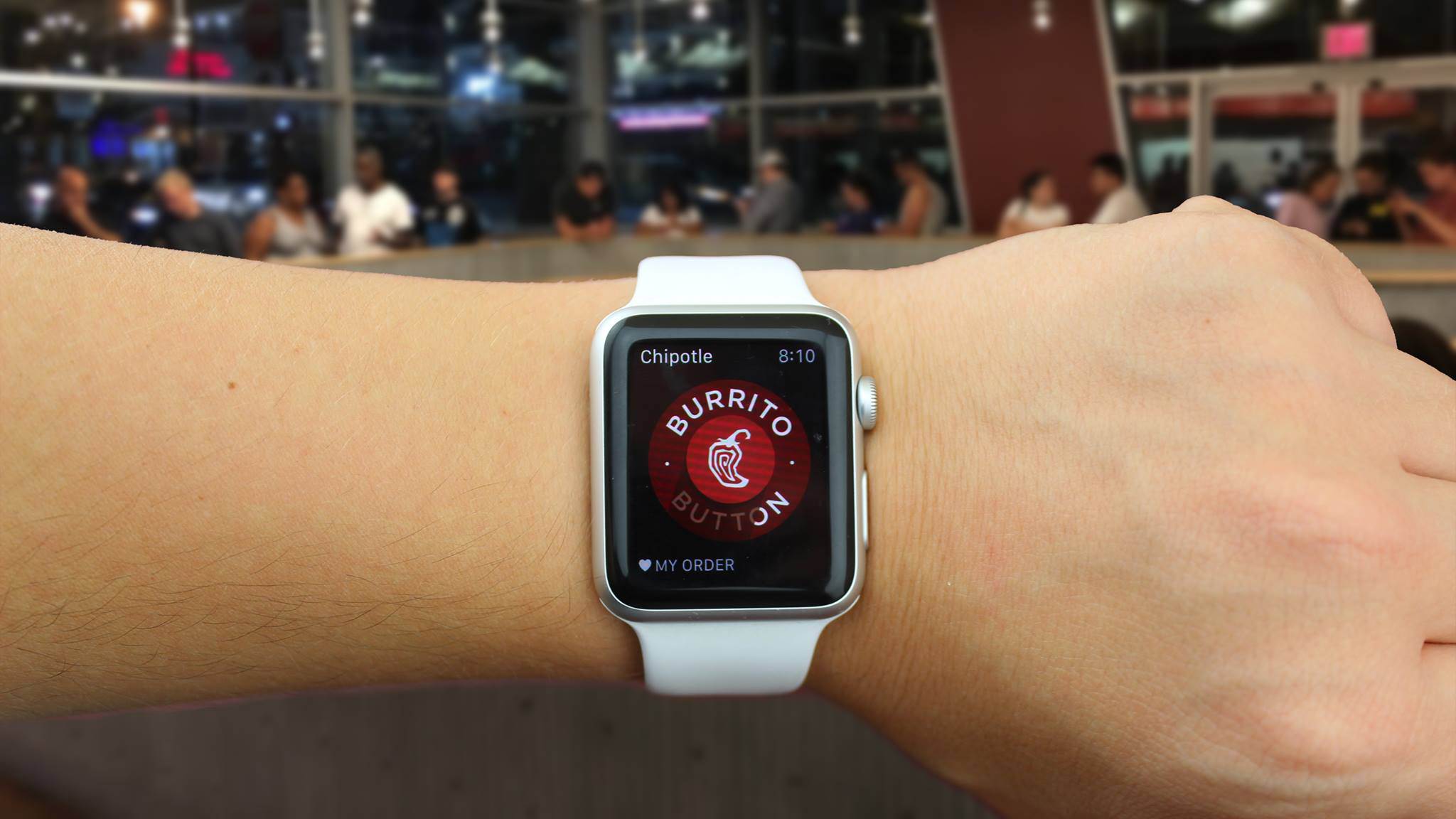 I sometimes wear my messy Chipotle burritos while scarfing down the healthy-ish Mexican platters, but I'm also purposely wearing Chipotle on my wrist to send order to the store via my Apple Watch.
While it's not the most groundbreak app, I can create a one-tap order with the Chipotle Apple Watch app and have my meal ready to go while I'm on the treadmill at the gym next door. It's as efficient as it is calorie rich. The best part is, I get the skip the always massive line.
http://www.techradar.com/news/best-apple-watch-apps-2019
Source: TechRadar - All the latest technology news
By: Carrie Marshall