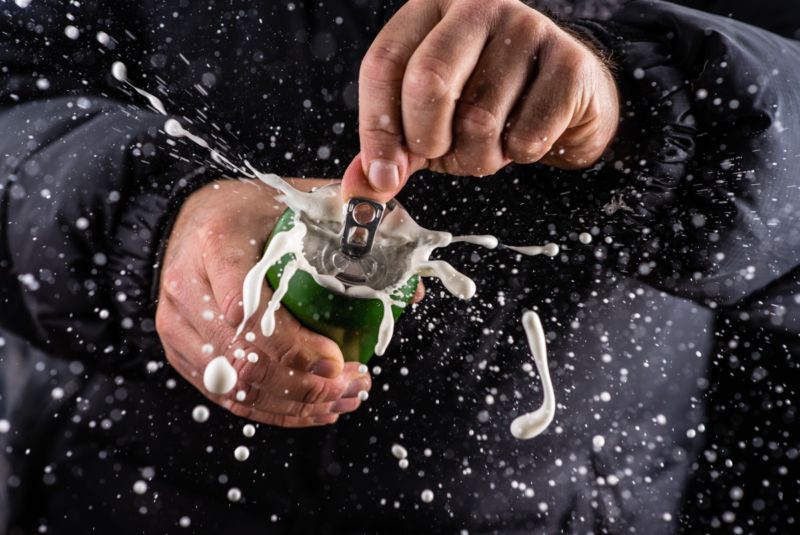 Anyone who's fallen victim to the old "opening a shaken beer can" prank has likely heard that tapping the side of the can before opening it can keep the beer inside from fizzing over. It's a fun bit of folk wisdom, but apparently the science doesn't bear it out. Danish scientists from the University of Southern Denmark (USD) in Odense put the tapping strategy to the test, and found it really doesn't work. They summarized their findings in a recent paper posted to the physics arXiv.  
Beer is a surprisingly popular subfield of study for scientists. There was a 2011 Irish study on bubble nucleation in stout beers, for instance, and in 2016, scientists demonstrated how beer foam reduces sloshing of beer as it's poured into a glass, as well as enhancing the flavor. Back in 2013, Javier Rodríguez-Rodríguez, a physicist at Carlos III University of Madrid, and several colleagues presented experimental and computer simulation findings of why beer cans foam up so much after being shaken, at a meeting of the American Physical Society's Division of Fluid Dynamics. They concluded that the foaming over stemmed from a series of waves.
"Actually, the laws of physics that control the development of these beer mushroom clouds are the same as [those that drive] the development of the cloud in an atomic bomb," Rodriguez told NPR's The Salt at the time. "Obviously, there's no nuclear stuff in the beer. So the source of the explosion is very different, but the mushroom cloud that you see is very similar."
Read 11 remaining paragraphs | Comments
https://arstechnica.com/?p=1637731
Source: Ars Technica
By: